Toshiba XG6 1TB NVMe SSD Review Featuring 96-layer 3D TLC NAND
By
First 96-Layer SSD – Toshiba XG6 Series
Today we are going to take a quick look at the Toshiba XG6, which is a mainstream PCIe NVMe series of SSDs that is aimed at the OEM market. We generally don't review OEM SSDs since they can't be purchased in the retail market, but we are making an exception for this drive. The Toshiba XG6 is the first drive that uses the latest BiCS (Bit Cost Scalable) 4th Generation 3D NAND Flash technology. BiCS 4th Gen is 96-layer 3D TLC NAND Flash, so this is our first chance to look at a product using this technology. We can't talk about pricing since it's not available on the consumer market by itself and Toshiba can't tell us what OEM notebooks are even using it. So, we are just going to look at some performance benchmarks and show you BiCS4 performance as 96-layer 3D stacked NAND Flash will eventually make its way to market on channel drives in 2019.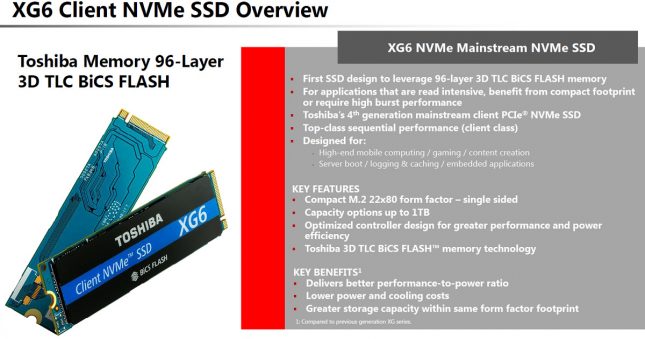 The Toshiba XG6 (BiCS4, 96-layer) replaces the XG5 series (BiCS3, 64-layer) and offers approximately 40% capacity increase per unit chip size over the previous generation. It also uses less power and runs cooler. Toshiba's new BiCS4 memory is the first NAND that we knoe of that meets Toggle 3.0 specifications. The flash bus speed increases up to 800 MT/s, so you are able to get more performance from BiCS FLASH Gen 4 without having to increase the core clock of the SSD controller.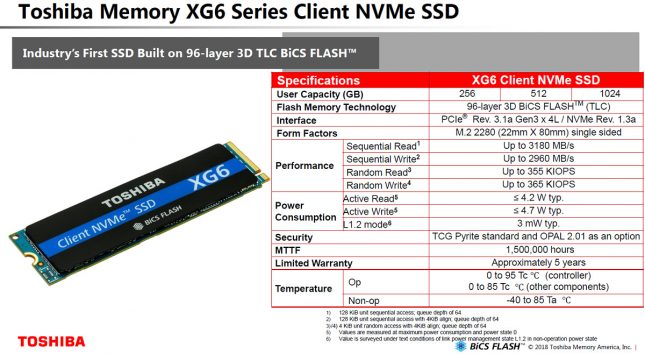 The Toshiba XG6 Client NVMe SSD series comes in the M.2 2280 (80mm) form factor and are available in 256GB, 512GB, and 1TB capacities. Toshiba rates this series as having up to 3.2GB/s read and 3.0GB/s write sequential speeds and up to 355,000 IOPS read and 365,000 IOPS write for Random 4K performance. The Toshiba XG5 series with BiCS3 (64-layer TLC NAND) was capable of sequential speeds of up to 3.0 GB/s read and 2.7 GB/s write, so we are getting some nice performance improvements from the latest BiCS series. The Toshiba XG6 uses Toshiba's TC58NCP090GSD controller, which is the same controller found on the XG5 and XG5-P.
Power specifications are 4.2 Watts typical read and 4.7 Watts typical write. Toshiba isn't giving out idle numbers, but inthe L1.2 non-operating power state it uses just 3 mW. It should be noted that the XG6 series supports TCG Pyrite and OPAL 2.01, so it is up to the OEM using this drive to enable encryption if they so desire. Self Encrypting Drives (SED) are a big deal for business laptops, but very few consumer laptops offer encryption.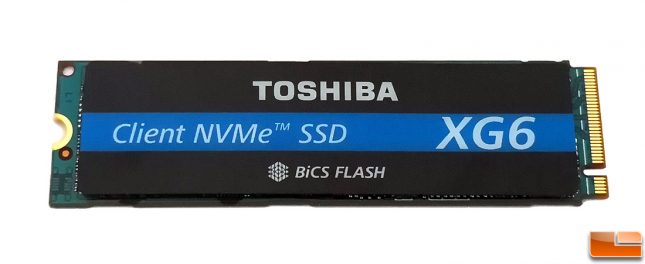 The drive that we were sent for testing is a Toshiba XG6 1TB Client NVMe SSD. This is a single-sided M.2 drive with a DRAM cache chip, controller and two NAND Flash chips on the front. Each of the two 96-layer BiCS4 NAND Flash chips offer 512GB of raw storage space and after being formatted in a Windows enthronement you are looking at 954GB of reported free space.
To test out performance of the Toshiba XG6 drive we installed it on the ASUS ROG Maximus XI Extreme Intel Z390 motherboard (UEFI 0602 from 10/31/2018) with an Intel Core i9-9900K processor. We ran Windows 10 Pro 64-bit v1803 with all the latest updates.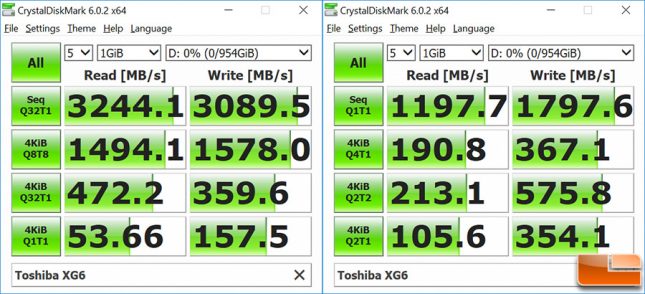 The very first performance benchmark that we ran was CrystalDiskMark 6.0.2 to see if we could hit Toshiba's rated sequential speeds of up to 3,180 MB/s read and 2,960 MB/s write. We managed best these by hitting 3,244 MB/s read and 3,090 MB/s write with one worker at a queue depth of 32. Toshiba sequential performance numbers are from a queue depth of 64, so we are happy to hit these speeds at a much lower QD. At QD1 the sequential read was 1200 MB/s and the sequential write was 1800 MB/s.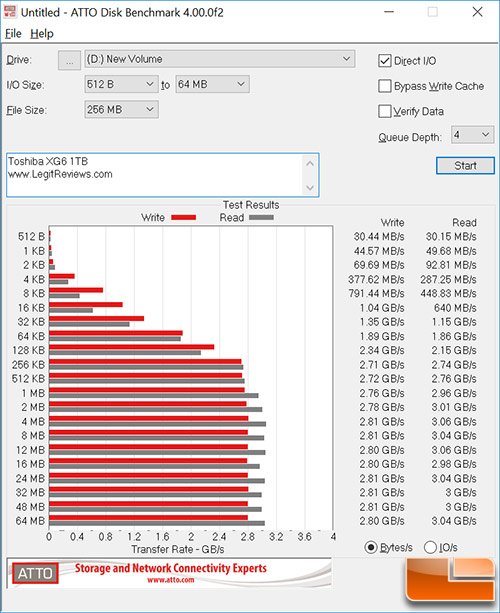 The latest build of ATTO Disk Benchmark showed that we were hitting up to 3.04 GB/s read and 2.81 GB/s write at a queue depth of just 4.
AS SSD Benchmark 2.0.6821.41776 completed with an overall score of 4,506 points and we were getting around 364,000 IOPS read and 383,000 IOPS write. Not bad as this drive is rated at up to 355,000 IOPS read and 365,000 IOPS write.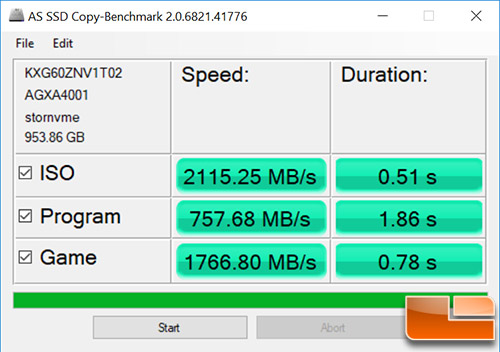 The AS SSD Copy-Benchmark showed impressive results ranging from 757 MB/s in the program workload up to 1225 MB/s in the ISO test.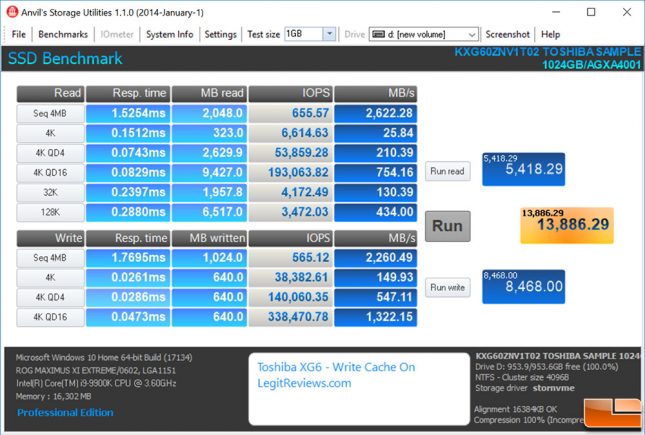 Anvil's Storage Utilities showed an overall score of 13,866 with pretty solid results across the board. The Toshiba XG6 NVMe SSD might be a mainstream client drive, but the performance numbers will impress performance enthusiasts as well.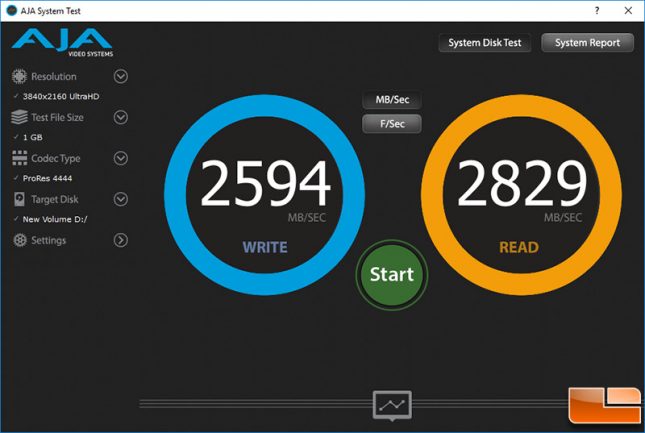 The AJA Video Systems Disk Test showed that we were getting roughly 2800 MB/s read and 2600 MB/s write on a 1GB test file using the ProRes 4444 codec with an UltraHD (4K) resolution.
The last area we wanted to test is power consumption and for that we we used our Quarch HD Programmable Power Module from Quarch Technology. This is a fully programmable power supply and measurement tool comes with power injection fixtures that stop power delivery from system, so all power comes from the power module and can be accurately recorded. Each rail can be programmed from 0 to 120% of its nominal voltage and all sorts of advanced power testing can be done.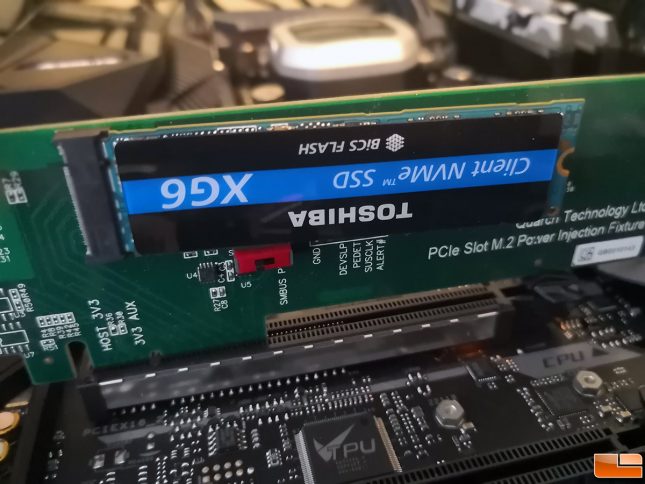 We used IOMeter to run a 128KB 100% sequential read/write on the drive at a Queue Depth of 2 and recorded the highest power draw recorded. At idle we let the drive idle for 15 minutes and then recorded the power consumption. We captured data at 64uS / 15.63KHz over a period of 44 seconds during the start of each power test.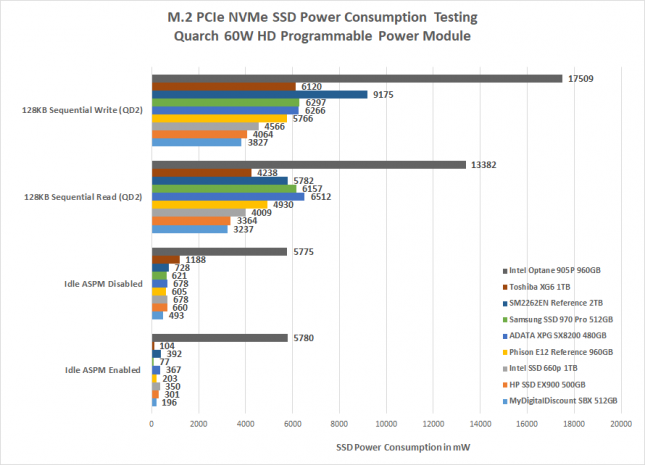 The Toshiba XG6 1TB drive hit 6.1 Watts during the write test and 4.2 Watts during the write operation, which is very respectable compared to the other drives. During our advanced power testing testing we enabled PCI Express Active State Power Management (ASPM) on our desktop board and in Windows 10. Enabling ASPM allows a PCIe link to be slowed down to save power when not being used. When enabling this feature the idle power of the Phison E12 960GB reference drive power dropped from roughly 1,188mW to 104mW. This is because the drive was using the L1 low-power state, so enabling ASPM offers huge power savings. The Toshiba XG6 really shines in the idle power test with ASPM enabled.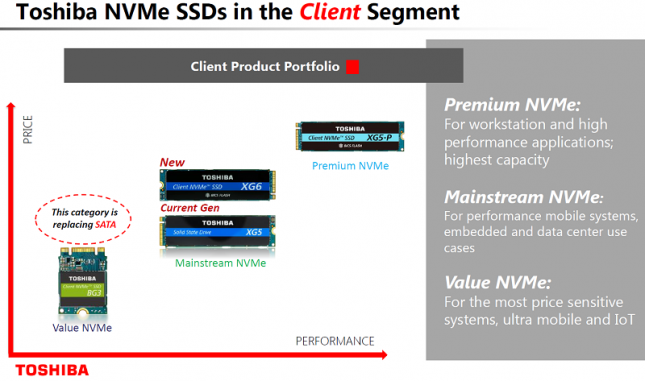 Final Thoughts and Conclusions:
This quick review on the Toshiba XG6 NVMe SSD was mainly to see how a drive with Toshiba's latest 96-layer BiCS 3D TLC NAND Flash memory performs. For a drive targeted at mainstream users we feel that performance was quite nice. The idle power consumption was super impressive if you have PCI Express Link State Power Management enabled in Windows and the BIOS. Consumer drives are idling most the time, so it's great to see such low power draws there.
If you are looking to buy a new laptop or desktop and happen to see it uses an XG6 series drive in it we think you'll be very happy with the performance that it offers. With over 3GB/s sequential read/write speeds and around 100mW of power draw at idle we are left impressed! We also can't wait to see a consumer version of this drive for the retail market come to market. Right now only system builders are able the latest NAND Flash technology from Toshiba and we want that to change!