Toshiba Introduces the OCZ TL100 SATA SSD Series
By
Toshiba Introduces the OCZ TL100 SATA SSD Series
New Value-oriented SSD Solution Delivers Affordable Hard Drive Upgrades that Wont Break the Bank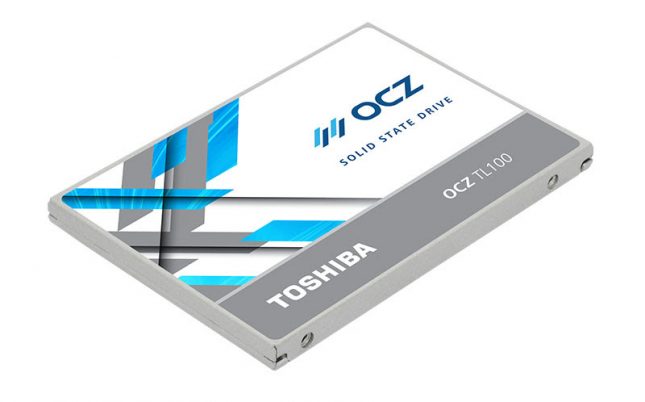 SAN JOSE, Calif. September 27, 2016 Toshiba America Electronic Components, Inc. (TAEC), a committed technology leader, today announces the launch of the OCZ TL100 SATA solid state drive (SSD) series. Designed for entry-level users with traditional hard disk drive (HDD) storage seeking an affordable upgrade solution, the Toshiba OCZ TL100 series provides the performance of SSD technology at an attractive price point.

Offering an easy and affordable way for value-oriented users to enhance their mobile or desktop systems, Toshiba OCZ TL100 SSDs improve home/office computing experiences, enabling increased system responsiveness and productivity over hard drives. With Toshiba TLC NAND flash memory under the hood, the TL100 series prioritizes both quality and affordability delivering the reliable system storage end users can rely on.

The TL100 series is rated for sequential read/write speeds of up to 550 MB/s and 530 MB/s, and random read/write performance of up to 85,000 and 80,000 4KiB[1] input/output operations per second (IOPS)[2], all while providing low power consuming storage that translates into a long battery life for on-the-go users.

The Toshiba OCZ TL100 SATA SSD series demonstrates that value doesnt have to mean end-users need to sacrifice performance or quality, said Alex Mei, VP of Marketing, Consumer SSDs & Storage Outbound Marketing at Toshiba America Electronic Components, Inc. As an affordable upgrade option for home and office users, the TL100 series makes SSD performance and responsiveness more accessible to a wider audience.

The OCZ TL100 SATA SSD series will be available in 120GB to 240GB[3] capacities and will be backed by a 3-year Advanced Warranty Program[4], created to provide reliable customer service and mitigates the frustration surrounding warranty and support claims.

For more information, visit our product page here.

[1] A kibibyte (KiB) means 210, or 1,024 bytes, a mebibyte (MiB) means 220, or 1,048,576 bytes, and a gibibyte (GiB) means 230, or 1,073,471,824 bytes

[2] Read and write speed may vary depending on the host device, read and write conditions, and file size

[3] Definition of capacity: Toshiba defines a megabyte (MB) as 1,000,000 bytes, a gigabyte (GB) as 1,000,000,000 bytes and a terabyte (TB) as 1,000,000,000,000 bytes. A computer operating system, however, reports storage capacity using powers of 2 for the definition of 1GB = 230 = 1,073,741,824 bytes and therefore shows less storage capacity. Available storage capacity (including examples of various media files) will vary based on file size, formatting, settings, software and operating system, such as Microsoft Operating System and/or pre-installed software applications, or media content. Actual formatted capacity may vary.

[4] Limited Warranty, full terms and conditions available at https://ocz.com/us/support/advanced-warranty

About Toshiba Corp. and Toshiba America Electronic Components, Inc. (TAEC)
Toshiba America Electronic Components, Inc. is an independent operating company owned by Toshiba America, Inc., a subsidiary of Toshiba Corporation, Japans largest semiconductor, solid state drive and hard disk drive manufacturer and the worlds seventh largest semiconductor manufacturer (Gartner, 2015 Worldwide Semiconductor Revenue, January, 2016). Founded in Tokyo in 1875, Toshiba is at the heart of a global network of over 580 consolidated companies employing over 199,000 people worldwide. Visit Toshiba's web site at http://toshiba.semicon-storage.com.

About OCZ

OCZ is an enthusiast SSD brand offered by Toshiba for the consumer market. More information is available at

www.ocz.com

.