ThruNite TN12 (2016) XP-L v6 LED Tactical Flashlight Review
By
Today we are taking a break looking at PC hardware and are going to be taking a look at a tactical flashlight by ThruNite. ThruNite, which is short for 'Through Night', is a Chinese company that was founded in 2009 that has striven to become a leader in LED products. They have more than a dozen flashlights available on the market right now and several models have over 1,000 reviews on Amazon with at least 4 out of 5 stars on the user reviews.

This new to us company got our attention as did the popular ThruNite TN12 2016 XP-L LED flashlight model, which is rated at 1100 ANSI lumen and has an all metal enclosure. This is an Every Day Carry (EDC) flashlight that is aimed at military, army, law enforcement, firefighters, police, EMT, security, hunting, tactical, camping and other outdoor activities uses. When looking to the best EDC flashlight, for your situation there are many things to consider. A flashlight is a very useful tool in the dark and even a powerful tool in self-defense with the strobe setting.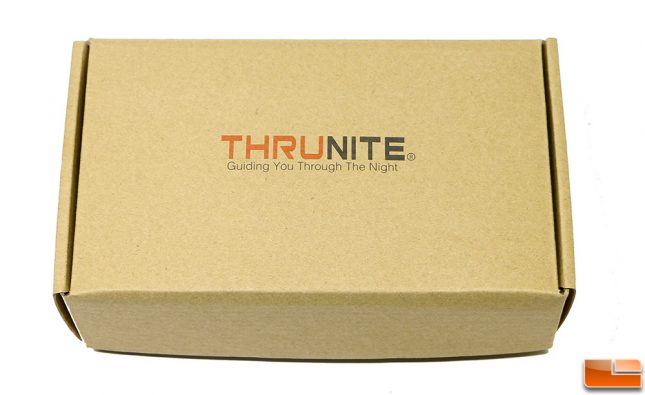 The ThruNite TN12 2016 XP-L is the model that we are taking a look at today and it is available by itself for $45.95 shipped or with the 18650 3,400 mAh battery and USB charger for $89.95 shipped. We got our hands on the latter of two and have been using it off and on over the past six months.
ThruNite TN12 XP-L v6 Features
Adopts CREE XP-L V6 LED with a lifespan of 50,000 hours.
Uses one 18650 rechargeable battery or two CR123A batteries (not included).
Max output: 1100 lumens with XP-L V6.
Working voltage: 2.7V – 9V.
Versatile modes (Tested with a ThruNite 3400mAh 18650 battery):

Turbo (1100 lumens /95 minutes)
Strobe (1100 lumens /3.8 hours)
High (435 lumens /4.2 hours)
Medium (175 lumens /11.8 hours)
Low (18 lumens /5.5 days)
Firefly (0.4 lumens /74 days).

Peak beam intensity: 12800 cd.
Max beam distance: 226 meters.
Reverse polarity protection design to protect from improper battery installation.
Aircraft-grade aluminum body.
Premium Type III hard-anodized anti-abrasive finish.
Toughened ultra-clear glass lens with anti-reflective coating.
Smooth reflector gives perfect beam and throw.
Dimension: 143mm (Length)*25.4mm (Diameter).
Weight: only 86g (without batteries)
Accessories: Holster x 1, Spare O-rings x 2, Lanyard x 1, Tail Cap x 1, Pocket Clip x 1.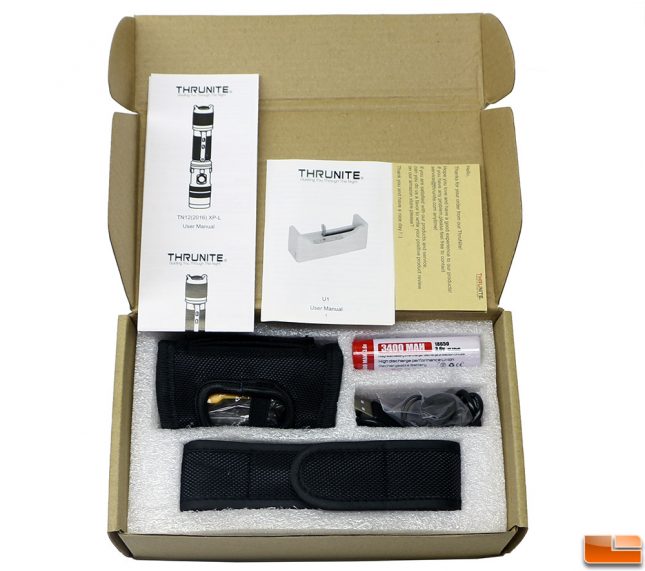 The outside packing of the ThruNite TN12 2016 XP-L was pretty plain, but that doesn't bother us one bit as cardboard boxes usually end up straight in the recycle bin. We were expecting just the flashlight, battery and charger, but were thrilled to find ThruNite includes much more than that with this bundle.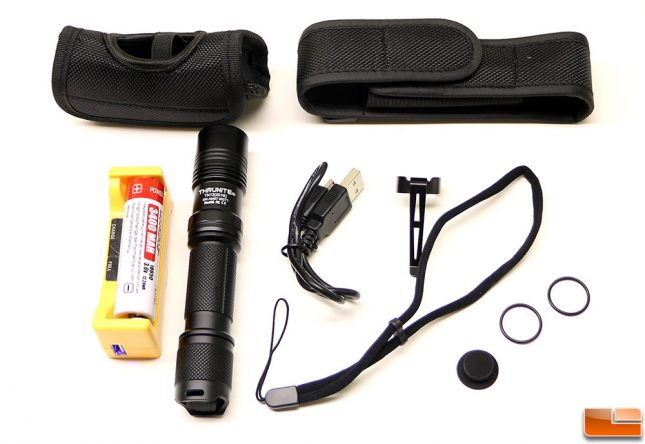 You get ThruNite TN12 2016 XP-L flashlight, flashlight holster, two spare o-rings for the housing, a lanyard, a replacement rubber tail cap, pocket clip, 18650 3400 mAh battery, battery charger, USB battery charging cable and a battery charger case. There is nothing else that we feel is missing with this accessory bundle and over the past six months none of the replacement o-rings or tail cap have been needed. That is pretty impressive considering we've charged the battery a good dozen times, sunk it under couple feet of water multiple times and thrown it around plenty. Our 2-year old loves to play with this flashlight and it has been able to withstand the pounding of a toddler both indoors and outdoors.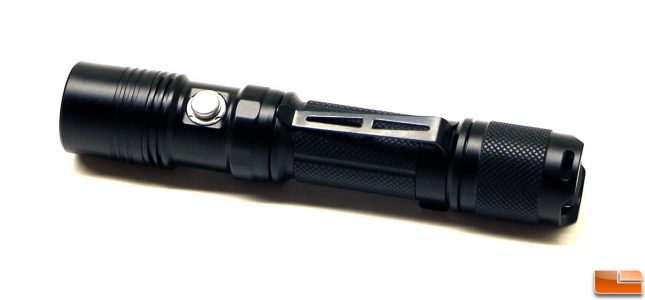 The saving grace for this flashlight is the durable metal enclosure that stands up to the abuse fairly well. At 5.63″ in length (143mm) and 1.0″ in diameter (25.4mm) it fits comfortably in your hand and isn't too bulky in a pocket, purse, bag or wherever you toss it. We've taken this in our carry-on bag at the airport and in 6 trips (12 times through TSA checkpoints) it has only been called out to be checked with additional screening once. The stainless steel side button looks a little out of place, but it doesn't stick out too far and has worked flawlessly for us. The side button is used for adjusting the intensity of the light and if you hold it down you'll get the strobe option. The rubber button on the tail cap is what turns the flashlight on and off.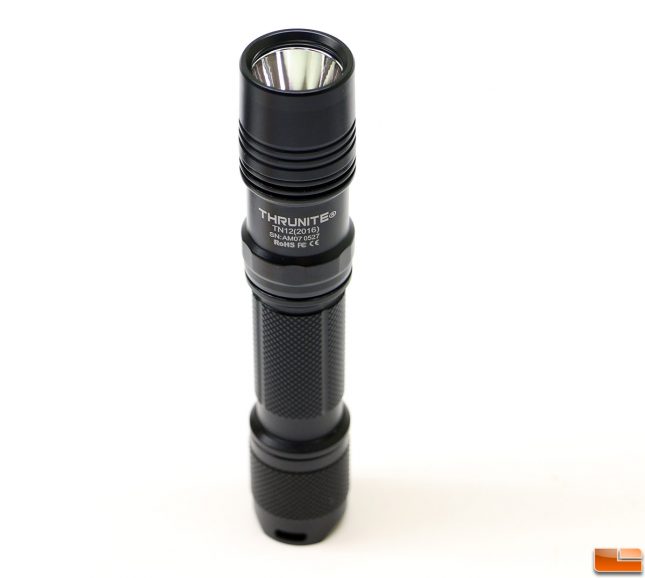 The five power modes of this flashlight are awesome!
Turbo (1100 lumens /95 minutes)
High (435 lumens /4.2 hours)
Medium (175 lumens /11.8 hours)
Low (18 lumens /5.5 days)
Firefly (0.4 lumens /74 days)
We don't use firefly mode too much, but it works well in pitch black situations where you need just a little light. We've also seen EMT's praise firefly mode for how well it works for checking pupils without burning the patient's retinas. The low, medium and high modes are the ones we use the most and have all been good. The high setting is bright at 435 lumens and will last 4.2 hours on a fresh fully charged battery, which is plenty for most situations. The turbo setting gives you 1,100 lumens, but the instructions say you should only use it that bright for up to 10 minutes at a time. The ThruNite TN12 2016 XP-L flashlight gets up to around 120F around the LED light after about 5-10 minutes, so it can get hot to the touch at the brightest setting. The good news is that 1,100 lumens is like looking at the sun and is a mode you shouldn't need to use for long periods of time. The beam distance of 226 meters is impressive for a flashlight of this size and price as most competing products don't have a length that far.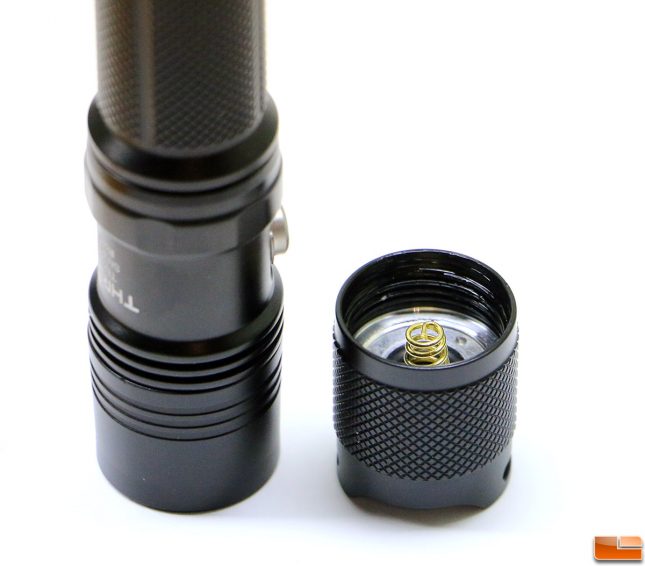 The construction of the metal housing was superb! All the threads were done properly and lubed up for water resistance and the machining of all the parts was spot on. We've seen a ton of cheap tactical flash lights at gas stations and retail stores that have poor construction.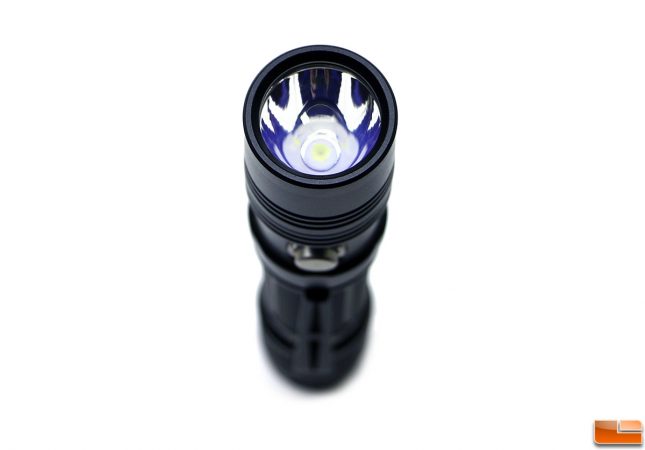 At the end of the day the ThruNite TN12 2016 XP-L has been a great flashlight to use. We've found it to be a versatile device that is the new go-to flashlight in our home and on the go. We've used Maglite flashlights for over 20 years and about 5 years ago we switched over to Maglite LED models. Maglite has a huge following in America with law enforcement officers and emergency responders, but the built-in-America staple looks like it has some competition. Sure Maglite has the MAGTAC tactical flashlight series, but they cost more, have less lumens and a shorter beam distance. The ThruNite TN12 2016 XP-L at $45.95 shipped or with the 18650 3400 mAh battery and USB charger for $89.95 shipped is pretty good for what you get.
ThruNite also offers a lifetime warranty on flashlights (not battery) bought from ThruNite Direct at Amazon Stores. This warranty includes 30-days free return/replacement, 24-months free replacement where you have to pay the shipping to get it to them, and then after 24-months you have to pay shipping both ways for warranty service and the cost of parts. ThruNite has replacement centers in the United States, Canada, Japan, Germany, UK, France and Italy. So, basically you have a good 2-year warranty and then after that paying for shipping and parts for a 2+ year old flashlight might not be worth it considering a new model costs around $45 from Amazon.
The ThruNite TN12 2016 XP-L has proven itself to be a great flashlight and is worth trying if you are looking for a surprisingly well-built tactical flashlight!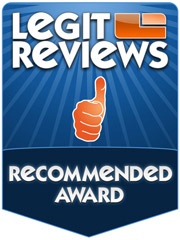 Legit Bottom Line: ThruNite might not be a household name for flashlights, but the ThruNite TN12 2016 XP-L left us impressed and is now our go-to model for when we need a light!