Thermaltake's Silent Power Supply Uncovered
By
The Goods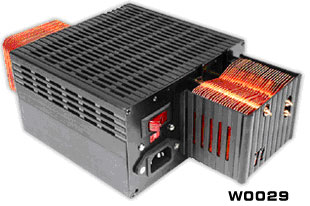 As the digital world infiltrates the living room, silent operation becomes the key. More and more people are investing and building home theater PCs. Thermaltake has since released a power supply that is guaranteed to please even the stiffest of audiophiles when it comes to silent operation. The Thermaltake Silent PurePower Fan-less Power Supply sets the bar high when it comes to power, efficiency, and silent operation.
The Silent PurePower features:
Application For AMD and Intel® system including Pentium 4
Silent fan-less PSU, 0dB Design
No cooling fan is required
Heat pipe technology, ensure the best performance
Huge Heat sink and Extruded aluminum casing , transfer the heat quickly
Muti-direction Vent, transfer heat to exterior through natural convection
The 350-Watt PSU ensures excellent voltage stability
Intelligent Cable management
Thermal overload, short circuit, current overload, over voltage-protection Color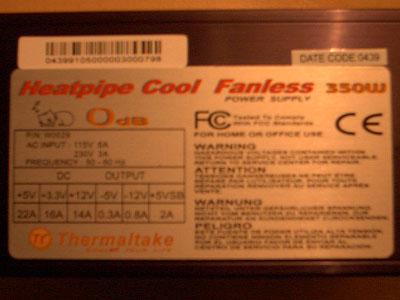 To help put this into perspective I did a little research on Thermaltakes competitors in the fan-less power supply market. A quick survey shows that Thermaltake is compeating directly with Coolmax, Antech, and SilverStone. Coolmax is the only manufacture offering more than 350 watts, This puts Thermaltake right in the running when it comes to top performance. Out of its immidate competitors Thermaltakes wattage per rail is lower. This is however a tradeoff as lower max wattage means less heat, and in the silent PC world, sound is king and heat is executioner. Until I get a unit from Thermaltakes competition the jury is still out on who makes the best fan-less power supply. What I can tell you now is that Thermaltakes amperages are competitive, though on the lower end, and that heat never seemed to be an issue. The difference in temperature between my Enermax Whisper which has two fans and the Thermaltake was virtually nonexistent and can be fully accounted for by fluctuations in room temperature.
Output

+5v

+3.3v

+12v

-5v

-12v

+5v SB

Max. Load

22A

16A

14A

0.3A

0.8A

2.0A

Min. Load

0.3A

0.5A

1.0A

0.0A

0.0A

0.0A

Load Reg.

±5%

±5%

±5%

±10%

±10%

±5%

Ripple

100mv

100mv

200mv

240mv

240mv

100mv

Wattage

110w

52.8w

168w

1.5w

9.6w

10w

162.8w

330.8w

21.1w
Themaltake has a solid offering here, 330 watts on the combined 5, 3.3, and 12v rails is nothing to sneeze at. While that 330 watts will not push your extreme overclocker over the edge it will keep everything running and do so, quiet and cool. So that's enough time looking at the numbers from the manufactures website, let's get into the real deal, the unit on hand.