Thermaltake TT eSPORTS Challeger Pro Gaming Keyboard Review
By
Challenger Pro Gaming Keyboard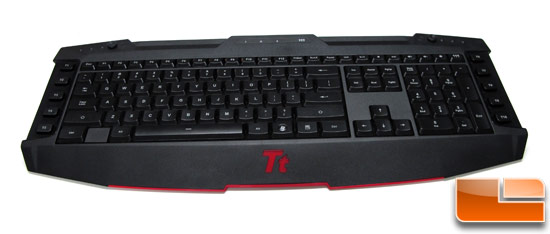 As most of you know, Thermaltake is well known in the gaming industry for their Cases, Coolers and PSUs. Recently, however, Thermaltake has created a new series around gaming keyboards, mice, and headsets under the Tt eSPORTS brand. The Challenger Pro gaming keyboard is their top of line keyboard and retails for $69.99 shipped.
I have been playing a lot of Starcraft II lately and improving my game play has been at the top of list. One of my biggest problems was remembering all the key commands to produce all the different troops and buildings. Thinking a gaming keyboard with macro keys might be the answer I was looking for; I decided to give it a try. This is the official gaming keyboard of WCG 2010 (World Cyber Game) after all.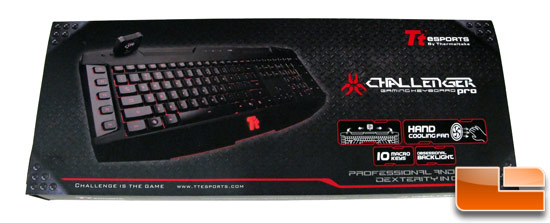 Reading over the feature list, I was impressed with the amount of extras the Challenger Pro gaming keyboard came with. Features such as adjustable red LED backlight illumination, 10 programmable macro keys, 64 KB of on board memory and smart cable management easily make the Challenger Pro a popular choice in the gaming community. The 64KB of on board memory allows you to store up to 40 macro keys, meaning that you can switch what macro keys you are using. Most gamers play a variety of games, so this allows you to change between say your favorite FPS game title and then over to your RPG game with ease and still have macros enabled. There are some limitations to what you can do though. We found that you can store up to five unique keyboard profiles for different game titles with ten customizable macro keys without having to install the software on the PC. This is a nice touch as you don't have to install any software on your PC and bog it down or use up any of your system memory. One of the other interesting features of the Challenger Pro is the fan device that helps keep your hand nice and dry during intense gamers. We all know someone with sweaty palms, so using the optional fan is a nice touch for those that get drippy wet when gaming. The fan is strategically placed near either the WASD key cluster or near the arrow key cluster depending on how you play.


Before opening the box, lets look at the gaming keyboard specifications first.
Tt eSPORTS Challenger Pro Gaming Keyboard Specifications:
Interface: USB
Operational systems: Windows 7/Vista/XP
Number of Macro keys: 10
Number of Multimedia keys: 6
2.0 USB port: 2
Switch lifecycle: 10 Millions
Cable length: 2m
Body dimension (LxWxH): 505x195x25mm
Part Number: KB-CHP001US
Tt eSPORTS Challenger Pro Gaming Keyboard Hand Cooling Fan Specifications:
Fan Speed: 6,000 RPM(+- 15%)
Max. airflow: 2.7CFM
Noise level: 21.7db
Rate voltage: DC 5.0V
Life expectancy: 50,000 HRS
Body dimension: (LxWxH): 30x30x10mm