Thermaltake POLO 735 Extreme
By
Introduction
Thermaltake has been building after-market heatsink and fan combo's since 1998, and in many respect's they are a true a pioneer in the PC-world. The company's use of more exotic materials (blending of aluminum and copper), and unconventional designs such as the Golden Orb has given Enthusiasts an option where practically none existed. It was the Orb which put Thermaltake on the map, as two million Orb-style coolers were sold worldwide. Thermaltake has since expanded and delved into power-supplies, cases, and water-cooling. The company continues to expand their line of HSF's (heatsink/fan), having one of the largest inventories of any other company. From Thermaltake's many designs today we'll be evaluating their Polo 735 Extreme 3 in 1 Cooler. We'll challenge this cooler with what many consider to be the hottest running CPU on the planet, Intel's Socket-478 Prescott, specifically a 3.0E. Let?s take a look at the Polo 735.
POLO 735 Specifications
Compatability
Intel P4 478/AMD A64/AMD FX
Fan specs
26CFM @ 2000RPM/72CFM @ 5500RPM
Dimensions
82x65x49mm (69 fins)732gr
Noise
21dBA at 2000RPM, 41dBA at 5500RPM
Power rating
12V 4-pin molex, 0.08~0.45A
Life Expectation
80,000 hours
Thermaltake paid close attention to the fan design; its blade compliment produces a unique air-flow.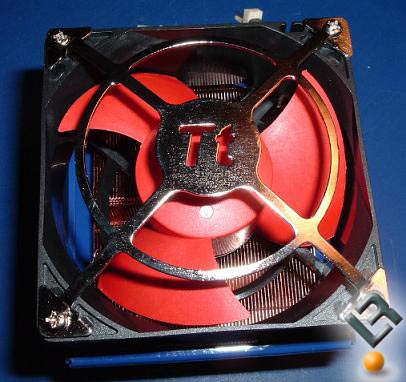 As you can see the cooler uses the time tested thin-fin design. With 69-fins, this translates to a substantial amount of surface area over which to circulate air.
Thermaltake has done a fine job with this cooler, and its 100% copper construction should produce some excellent results.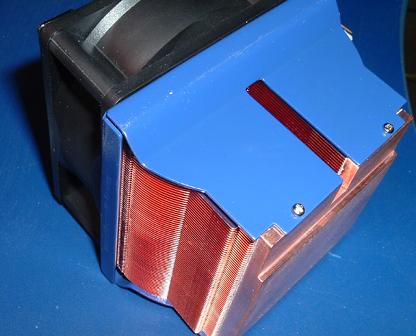 Thermaltake has improved the quality of their heatsinks with each successive model and while I would have liked to see this base with a higher quality finish, most importantly it was flat.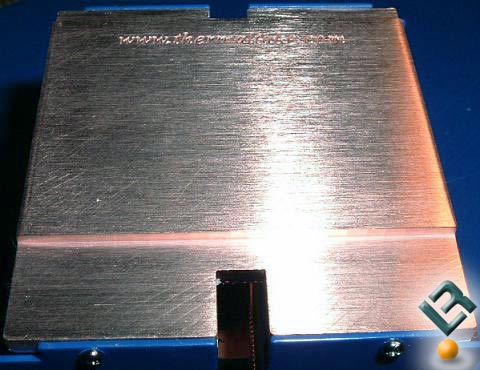 Machining the company URL into the base was a nice touch indicating Thermaltake's attention to detail. Keep in mind that once the heat sink is installed this is a detail that you will never see again.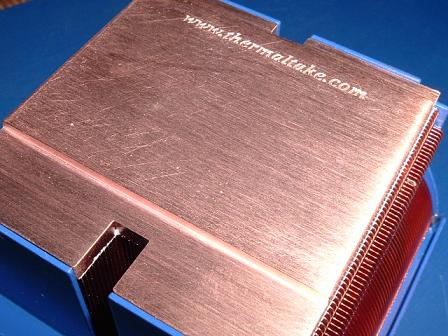 Let's go ahead and see how the Polo 735 performs!