Thermaltake Level 10 M Advanced RGB Mouse Review
By
Thermaltake Level 10 M Advanced RGB Mouse Review
Thermaltake and BMW DesignworksUSA formed a partnership several years ago to develop a line of PC gaming hardware. First came the legendary Level 10 case, which broke barriers with it's modular design and won many awards. Next they worked together on developing the Level 10M, a gaming mouse that featured an aluminum base, height and tilt adjustment, 8200DPI laser sensor, and three custom lighting zones. Now, several years later, Thermaltake has continued to develop the Level 10 products with new features and enhancements. The latest Level 10 gaming mouse is the Level 10 M Advanced. It continues the overall look and feel of the original, with some changes.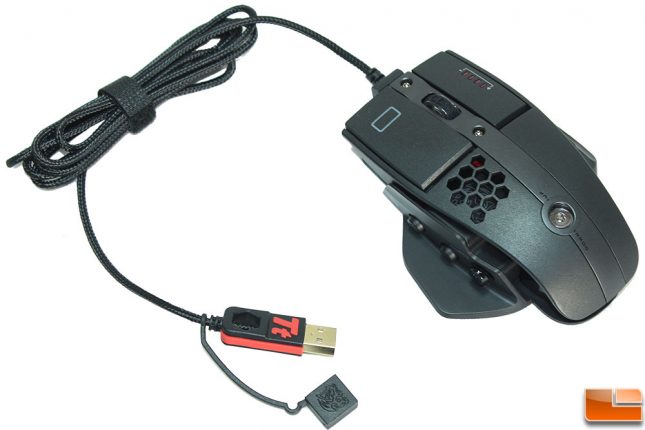 Some of the changes to the Level 10 M Advanced include an increase in the DPI laser sensor, almost doubling it to 16,000DPI. The base plate has changed to include an ergonomic rest-plate, to make prolong use more comfortable. The three lighting zones remain, however now they are RGB capable. Also, while the original Level 10 M was available in multiple colors, the Level 10 M Advanced is only available in black. There are other differences between the mouse, which we will discuss at the appropriate time. The Level 10 M Advanced gaming mouse is currently available as part number MO-LMA-WDLOBK-04, and can be found online for $69.99 with free shipping.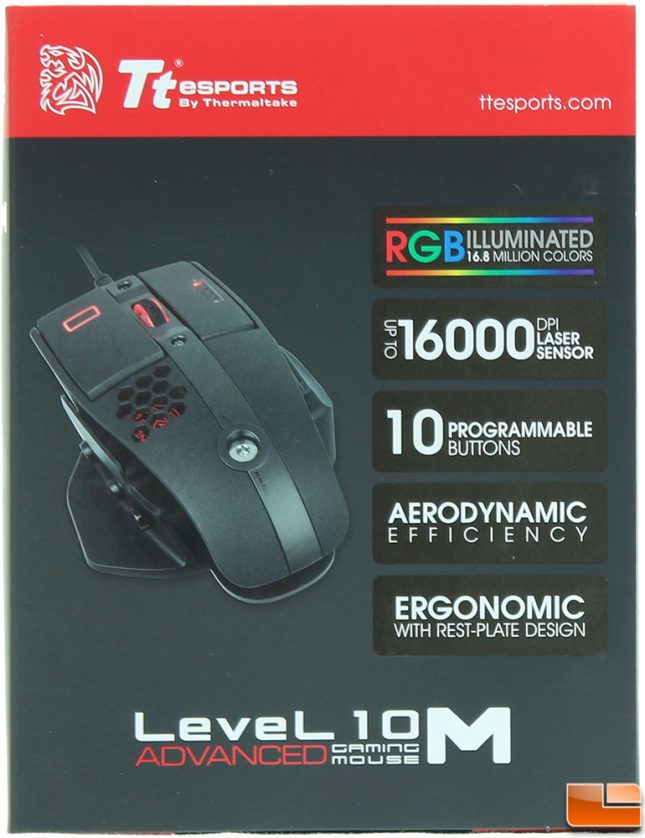 Thermaltake Level 10 M Advanged Mouse Features and Specifications:
LED DPI Indicator
50 Million Click Omron Switches
ARM Cortex M0-32Bit Controller SONIX-SN32F248
AVAGO 9800 – 16000 DPI Laser Sensor
2D Steering Axis System
Air-Through Ventilation System
Level 10 M Advanced Specifications
Color
Black
Shape
Ergonomic Designed for Right and Left Hand
No. of Buttons
10
No. of Macro Keys
50
No. of Game Profiles
5
USB Cable Length
1.8M
Omron Switches
Rated for 50 Million clicks
Weight-In Design
No
Graphics UI
New TT eSports GUI
Gold-Plated USB
Yes
Dimension
130.75 x 87.35 x 40.53mm
LED Color Options
RGB Illuminated 16.8 Million Colors
Lighting Effect
Static, Pulse, Spectrum Running
Sensor Specifications
Sensor Name
Avago 9800
Sensor Type
Laser
DPI
Up to 16,000 DPI via Overdrive Mode
Default DPI
400, 800, 1600, 3200
IPS
150
Acceleration
50G
Polling Rate
1000HZ, 500HZ, 250HZ or 125HZ

(1MS, 2MS, 4MS or 8MS)
Being a Thermaltake product that is engineered for any type of consumer, they have packaged the Level 10 M Advanced mouse in a pretty standard retail oriented package. The front provides a high level overview of the mouse and it's key features. While the back of the box goes into more detail. You can open the package and get a good overview of the mouse itself, along with a view of the mouse behind clear plastic.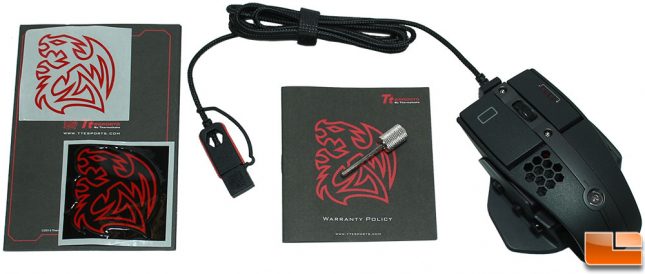 Not many things are included in the box for the Level 10 M Advanced mouse; then again, a mouse doesn't need many accessories. The only required accessory for the Level 10 M is the 2D Steering Axis adjustment tool. Documentation is provided by two booklets, one that covers the Warranty Policy (a 2 year warranty is included on the mouse), and one over the mouse and software. Thermaltake also includes two stickers of their Thermaltake Tt esports Dragon icon.