Thermaltake BlacX Duet HDD Docking Station
By
Thermaltake Blacx Duet Intorduction
External hard drive docks are becoming more common as the price of hard drive storage drops while users are migrating to Solid State Drives (SSD's), leaving them with extra drives. Rather than trying to cram all of those drives into an already cramped chassis, an external dock is a smart alternative as drives can be easily moved to multiple computers, NAS units, and other devices that are configured to accept external storage. Thermaltake has released an external docking station that holds two drives simultaneously connecting via both USB and eSATA connections which can be found online for just under $50.00 USD.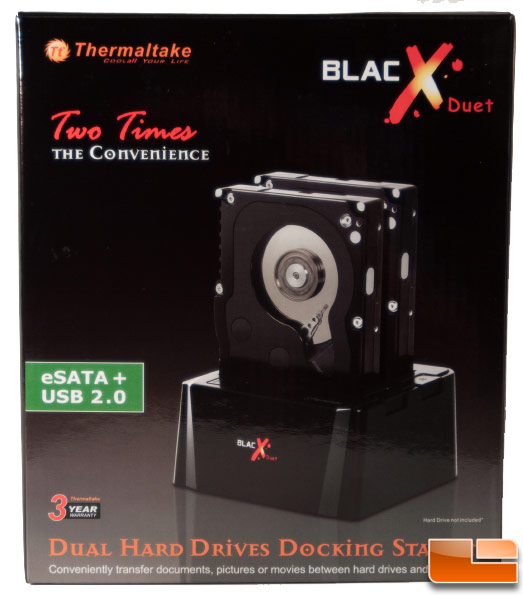 Having the option for an eSATA connection is a great feature as you'll see in some of our benchmarks because the data transfer rates for USB 2.0 just aren't fast enough when you are accustomed to the speed of hard drives connected to SATA ports on the motherboard. With USB 3.0 still on the distant horizon, eSATA is really the way to go for fast data transfers for external storage.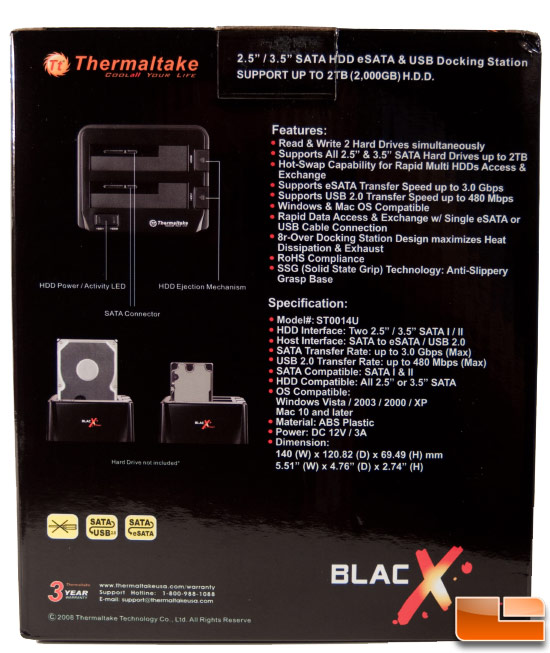 Features:
Read & Write 2 Hard Drives simultaneously
Supports All 2.5 & 3.5 SATA Hard Drives up to 2TB (per slot)
Hot-Swap Capability for Rapid Multi HDDs Access & Exchange
When utilizing eSATA interface, Port Multiplier feature is required on the host systems eSATA controller for two hard disk drives to be seen at the same time. All USB supports Port Multiplier function.
Supports eSATA Transfer Speed up to 3.0 Gbps
Supports USB 2.0 Transfer Speed up to 480 Mbps
Windows & Mac OS Compatible
Rapid Data Access & Exchange w/ Single eSATA or USB Cable Connection
Open docking station design maximizes heat dissipation
RoHS Compliance
SSG (Solid State Grip) Technology: Anti-Slippery Grasp Base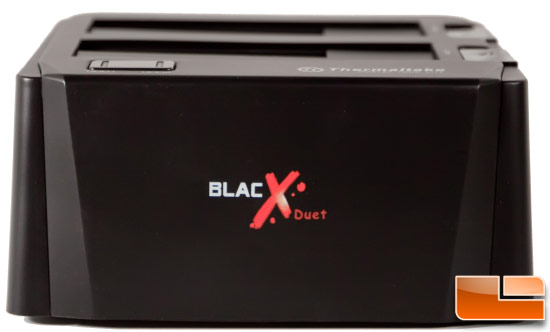 Specifications:
Enclosure Interface
eSATA
USB 2.0
Transfer Rate
eSATA: up to 3Gbps
USB 2.0: up to 480Mbps
HDD Compatible
SATA I
SATA II
HDD Capacity
All 2.5 or 3.5 SATA HDD up to 2TB (per slot)
OS Compatible
Windows 7 / Vista / XP / 2003 / 2000 ; Mac 10.3 and later
Material
ABS Plastic
Power
Input: 100-240V / 50-60Hz ; Output: 12V / 2A
Dimension
140 (W) 120.82 (D) x 69.49 (H) mm
5.51 (W) x 4.76 (D) x 2.74 (H) in
Accessory
eSATA Cable
USB 2.0 Cable
Power Adaptor
Fan
N/A
Weight
3 lbs
Special Features

Copy & Transfer data between Hard Drives & Computers
Hot-Swap Capability for Rapid Multi HDDs Access & Exchange
Compact Docking Station Design maximizes Heat Dissipation & Exhaust
Supports eSATA Transfer Speed up to 3Gbps
Let's have a closer look at the some of the features outlined above…