Thecus N4100PRO NAS Server Review
By
The Thecus N4100PRO NAS Server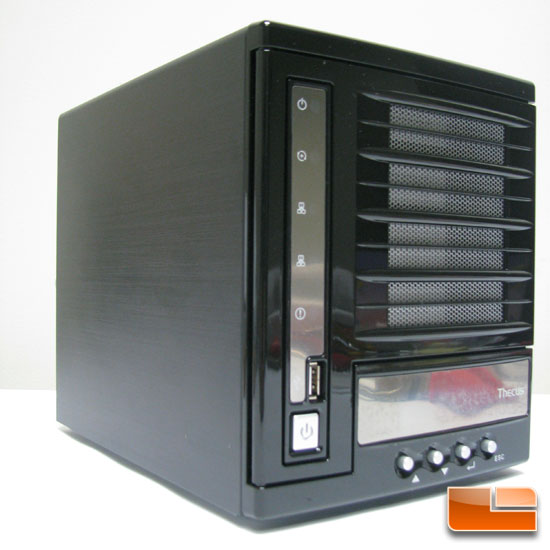 Now any enthusiast will tell you its not IF a hard drive will fail, its WHEN. With that in mind, when data storage and backup is the goal you have a couple of options. A full blown server sitting in the corner, saving the same data to two different drives and hope they dont go out at the same time, or a NAS box. Now, NAS boxes are nice for the fact that they are a purpose-built appliance. Being purpose built, all the non-essential stuff can be removed to not only reduce physical size but to also conserve power. Today, I will be looking at the Thecus N4100PRO 4 bay NAS Server.
The Thecus N4100PRO uses an AMD Geode LX800 processor and 256MB of DDR memory for powerful data-processing capabilities. The N4100PRO has the capacity for four 3.5″ SATA hard disks for up to 4TB of storage! To keep data secure, the N4100PRO features various RAID modes, including RAID 0, 1, 5, 6, 10 and JBOD. Managing your RAID array is easy with the N4100PRO's advanced RAID management features, including RAID expansion and RAID level migration. To top it off, the N4100PRO comes equipped with a big, bright LCM module, which displays useful status messages such as IP address, date and time, and RAID status, making it easy to keep an eye on the condition of the N4100PRO. To backup your data, the N4100PRO comes with the Thecus Backup Application, as well as a feature called Nsync. With Nsync, users can have the N4100PRO automatically upload files to an external storage device via FTP at a designated time. The Thecus N4100PRO includes 3 USB ports (2 rear, 1 front) and Dual Gigabit Ethernet for excellent connectivity options. The Thecus N4100PRO NAS has a ton of features that make it a solid choice for most home or business applications!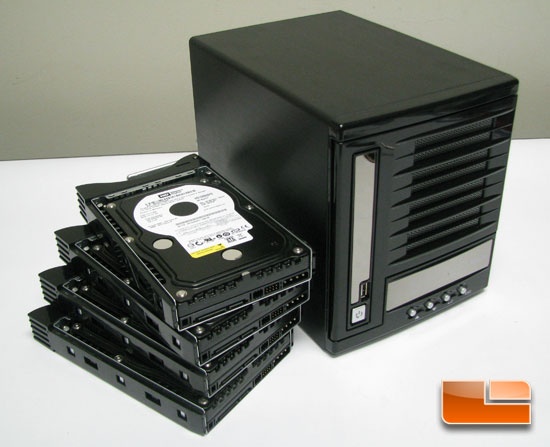 I will be using four Western Digital WD1500 SATA Raptor hard drives in the Thecus N4100PRO. I want fault tolerance from two drive failures (the array continues to operate with up to two failed drives), so I will be using a RAID6 configuration. RAID 6 is often used to make larger RAID groups more practical as it lengthens the time needed to recover from the failure of a single drive. Single parity RAID levels are vulnerable to data loss until the failed drive is rebuilt, which is critical if you don't keep a spare drive on hand. Dual parity gives time to rebuild the array without the data being at risk if one drive, but no more, fails before the rebuild is complete. Let's take a closer look at the Thecus N4100PRO before we fire it up.