The OCZ GeForce 8800 GTX Video Card Review
By
Introduction

If you have built your own computer sometime in the last 5 years there is a good chance you know who OCZ is. Just in case you don't, they are highly regarded and one of the industry leaders in memory technology and are slowly starting to increase their brand name into other areas of the industry. One of those branches is the world of video cards and their first venture is the GeForce 8800 GTX. Combining the fastest practical gaming card on the market with OCZ and their outstanding customer service and warranty is music to the ears of many.
OCZ recently sent us one of their "Binned to perfection" GeForce 8800 GTX's and knowing how well their memory performs, we were hoping it lived up to the marketing. While OCZ follows the reference design of the 8800 GTX, OCZ put a focus on overclocking and as you will see in a bit, they werent kidding.
OCZ backs all of their high quality products with a limited lifetime warranty. As long as your product hasnt been abused, misused, damaged, neglected, replaced, repaired tampered with or modified you can contact OCZ to get a bad part replaced. They also offer a great support forum on their website where OCZ support technicians can quickly get your issue sorted out.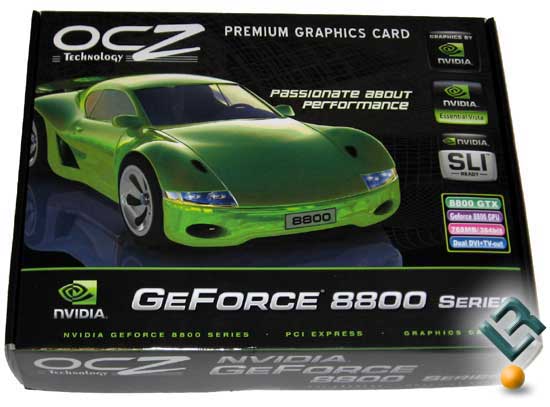 Starting with the box OCZ went a different route than what we have seen with our XFX packages in that it is not as tall and thick. Instead, it is similar to the style of box that most motherboards come in. I am not familiar with the sports car that OCZ uses for the box art but it does stand out in green!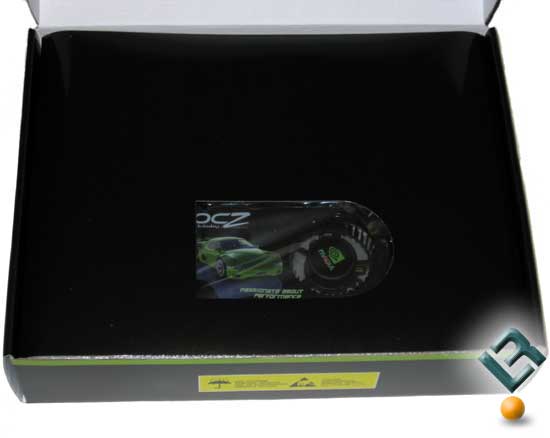 Once we get the package open we are greeted with an all black liner that is laser cut to reveal the graphics card. There is also a thin foam liner directly beneath it that is laser cut as well and adds flair to the plain boxes most video cards come in. Nate would argue that it is an unnecessary added cost but I think it looks great.