The Livio Carmen – Internet Radio for Your Car or Boat
By
The Carmen Internet Radio Player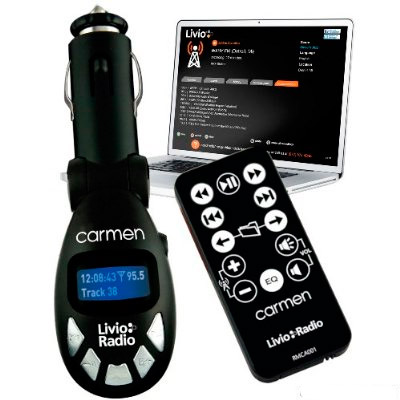 Today we take a look at The Carmen portable internet radio player by Livio. The Carmen is designed to let you take your favorite music with you in the car. It can record live internet radio as well as load up to 45 hours of your favorite radio streams, songs, or podcasts. The Carmen by Livio has an street price of $39.00 shipped and plugs right into your vehicles 12-volt adapter for power and broadcasts to your FM receiver. It even comes with a handy remote to let you control your tunes from the cockpit of your car.
Livio is a fairly young company started in 2008 by Jake Sigal a 28-year old product developer for Numark and professional DJ. His plan for Livio was to make radio (and more specifically Internet Radio) more accessible to the masses. Livio has a number of different products that make internet audio streams available in more places than just your home or office. Their products work without complicated menus and are incredibly customizable. They have a number of internet streaming products, but the Carmen is the one built for road trips in your automobile.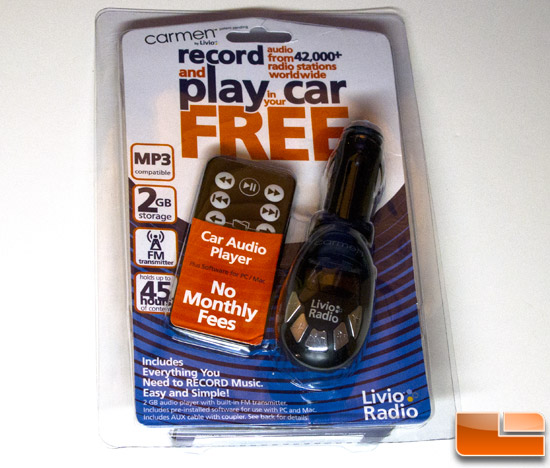 As mentioned, the Carmen is specifically designed to grab programming (music, podcasts, etc) from the internet, record it, and play it back in your car wireless through your stereo. Its designed to be easy to use with either a Mac or a PC and all you need to do to use it is plug it in, record your favorite station and then plug it into your cars 12-volt socket. Livio through RadioTime has over 42,000 stations from around the world available from around the world that you can choose to record from. Just imagine being able to hear hours of commercial-free radio customized to your taste for much less than the price of XM or Sirius satellite radio. Everything is stored on the Carmen which has 2 GB of memory and comes with a very nice 1-year warranty.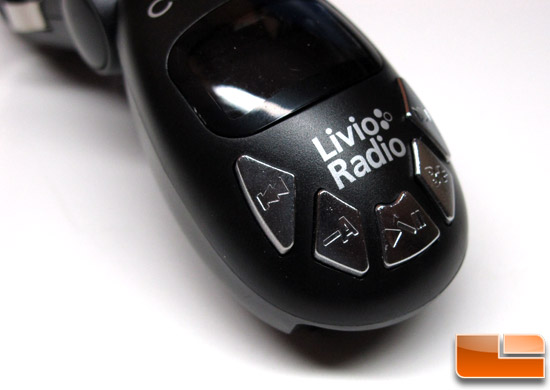 The Carmen has a 1-inch LCD screen with 5 buttons for Play, Fast Forward, Rewind, Tuning/Folder UP, and Tuning/Folder DOWN. There is also an Auxiliary port on the side that will allow you to play your music directly to the automobiles sound system or if you want, you can connect a personal media player like an iPod to the Carmen to broadcast what you have on my MP3 player.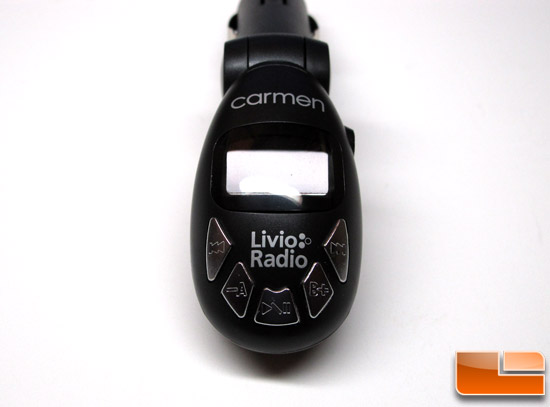 Livio Carmen Key Features
Listen to music on your mobile phone or MP3 player: Enjoy music from your phone or MP3 player while on the go by using the Carmen as an FM transmitter.
Drag and drop MP3s directly from iTunes into the Carmen: Load all your music into one device with the Carmen by simply dragging and dropping music from your iTunes account before hitting the road.
DVR for radio: Record over 42,000 stations and shows from around the world including music, news, sports and talk with bonus PC/Mac software that syncs automatically to the Carmen. Easy-to- use controls on the Carmen also allow the user to pause, rewind and skip through recorded content.
Simple interface: The Carmen plugs into the vehicles 12-volt adapter and features an LCD screen, large buttons and a pivoted design for use in any vehicle or boat.
Minimum total system RAM of 256MB or higher
Intel or compatible CPU recommended
Requires JAVA SE 6 or higher
Minimum OS requirements:
Mac: OSX 1.5 (Leopard) or above
PC: Windows XP (SP3) or above