The Chaintech VNF4 Ultra : nForce 4 Ultra on a budget
By
Introduction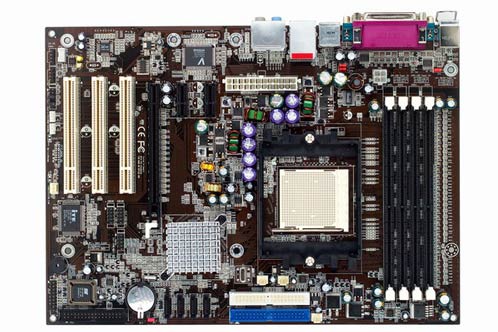 Over the last two weeks I've brought you reviews on a few mainstream video cards based on PCI-Express (ABIT RX600 Pro GURU and XFX 6600 GT), and today I'll finish up on the budget gear by bringing you a mainboard to toss one of those cards in, the Chaintech VNF4 Ultra. Chaintech is one of the smaller motherboard manufacturers, but that doesn't mean they don't make quality products. I have personally used a few of their boards and been very happy, the Chaintech 9CJS immediately comes to mind as a pretty good overclocking board with excellent stability. While companies like DFI, ABIT, and ASUS rule the motherboard roost, companies like Chaintech have found a nice niche in producing quality motherboards with no frills for those of us on a budget.
I'm going out on a limb here in saying that I'm not totally sold on SLI. I know many have extolled its benefits (eye popping graphics using two 6800 Ultras, or good graphics using a pair of 6600GTs), but SLI has some issues that need to be sorted out. First, nVidia's exhorbant fees for utilizing the technology. Companies are paying a hefty, per board fee to use SLI, and I think we all know board makers aren't eating that cost…it is passed directly to us, the customers. Second, I hear alot of people say "Grab an SLI board, throw a pair of 6600GTs in it and you'll get 90% of the performance of a single 6800 Ultra". While that may technically be true, not every game supports SLI yet (It's a new technology) and when you stop to consider that an SLI board costs anywhere from $240-270, then factor in a pair of 6600GTs at $200 a pop…..how are you saving money? You can get a good nForce 4 Ultra board for around $140, throw a 6800 Ultra or X850XT in it and be done with it. I'm really torn here, but i have to say I'm going to wait and let the market mature a little more before I recommend people take the SLI route. Add to this mix ATI's SLI rebuttal coming sometime in the next four to six weeks, and suddenly the market muddies a bit more. There is a market for SLI though, it's the high end enthusiast/gamer crowd that settles for nothing but the best, however I think they represent less than 20% of the overall market.
So, without further adu, I bring you a board for those saving their allowance for other components, Chaintech's VNF4 Ultra for the socket 939.
CPU

Supports AMD Socket-939 Athlon 64 FX / Athlon 64 processor

Processor interface via 2000MT/s HyperTransport bus

Chipset

nForce4 Ultra (VNF4 Ultra)

Memory

Four 184-pin DDR DIMMs up to 4GB

Supports Dual Channel DDR266/333/400 memory

Expansion Slots < ?xml:namespace prefix = o ns = "urn:schemas-microsoft-com:office:office" />

PCI Express x16 port for PCI Express graphics card

Two PCI Express x1 ports

Three 32bit PCI slots (v2.3 compliant)

Audio Subsystem

Supports enhanced NVIDIA 7.1-channel audio

Complies with AC'97 Rev 2.3 specifications

Six audio jacks with automatic jack sensing

Supports 48KHz coaxial S/PDIF output

EAX/Direct Sound 3D/I3DL2/A3D compatible

SATA

Supports four native SATA 1.5Gb/s devices (VNF4)

Supports four native SATA2 3.0Gb/s devices (VNF4 Ultra)

Hot-swap capability, allowing disks to be changed without powering down the system.

Optimized for the high-performance NVIDIA RAID technology

Supports SATA ATAPI devices

UltraDMA IDE Ports

Supports 2 UltraDMA-66/100/133 IDE ports

Embedded system monitoring

Temperature sensing for CPU and system

Fan speed monitoring and control for CPU and system

NVIDIA Gigabit Ethernet

Supports 10/100/1000Base-T Gigabit Ethernet with external PHY

NVIDIA ActiveArmor

A dedicated secure networking engine enhances networking security while reducing CPU overhead

Specialized features defend against spyware intrusions and hacker attacks

An intelligent application manager alerts you when unknown applications attempt to access the network

Supports the new Microsoft networking architecture for fast and secure networking

Award system BIOS supports PnP, APM, DMI, ACPI, & Multi-device booting features

Other Feature
Rear panel I/O ports

PS/2 Mouse and Keyboard port
25-pin D-Sub female Parallel port
Two 9-pin D-Sub male Serial ports
Four USB ports and one RJ45 connector
6-port Audio Jack for 7.1-Channel and S/PDIF output

Internal I/O connectors

Four 3×1 pin fan connectors
Three 5×2 pin USB connectors for additional 6 USB ports
3×1 pin wake on LAN connector with housing
3×1 pin wake on Modem connector with housing
Two 4×1 pin CD-in connectors with 2.54mm pitch housing
5×2 pin Front Audio connector
9×2 pin Front Panel connector
24 pin ATX Power connector
4 pin ATX 12V Power connector