The 5G Era Arrives – Qualcomm Shows Live 5G Networks from AT&T and Verizon
By
On December 5th, 2010, Verizon Wireless became the first carrier in the United States to launch a 4G Long Term Evolution (LTE) network. The roll out happened slowly at first covering just 38 major cities spanning 22 states and 60 airports at launch. Those lucky enough to live in an area with 4G LTE coverage, along with a supporting device, had the ability to get on a network with blistering 5-12 Mbps download speeds and uploads of 1-5 Mbps. These speeds were roughly 10 times faster than what could be had on the existing 3G network. That speed might not sound impressive in 2018, but it is what drove the 4G revolution that dramatically changed how we live.
Think about all of the major companies that were founded right around the time 4G came out and rely heavily on the network for business. Some of the ones that pop into our mind are Uber (2009), Lyft (2012), Snapchat (2011), Tinder (2012), Venmo (2009), Square (2009), and Instagram (2010). All of those companies take advantage of high speed data communications and one could argue that each would have struggled to exist without 4G. Now, we are getting ready to enter the 5G era and the innovations that will come from 5G networks will be most exciting.
5G will bring unprecedented wireless broadband speeds with up to 5 Gbps (gigabits per second). AT&T appears to be leading the pack when it comes to rolling out a standards-based mobile 5G network and plan to have 5G up and running in 12 cities this year, reaching at least 19 cities in early 2019. AT&T's engineering teams used a Qualcomm Technologies powered smartphone with an integrated Qualcomm Snapdragon X50 5G modem to test out and get their infrastructure up and running. Verizon also announced that they they will be bringing first commercial 5G smartphones to market in the first half of 2019 with the first being a Qualcomm powered device from Samsung.
The Qualcomm Snapdragon X50 5G modem was created to usher in the era of 5G networks and is expected to ship in numerous Android smartphones in 2019. Qualcomm has had 20 operators and 18 OEM's who have committed to launching 5G products using the Snapdragon X50 5G modem. Qualcomm recently showed the Snapdragon X50 was capable of a peak total throughput of over 4.5 Gbps in a tightly controlled demo with 8x carrier aggregation and multiple mmWave antenna arrays at Mobile World Congress 2018. The Snapdragon X50 5G modem, paired with up to 4 QTM052 mmWave antenna modules and the number of modules will impact performance.
Qualcomm expects real-world numbers to be around 1-2 Gbps. Moving around will change performance and that is where beam forming (network side) and beam tracking (device side) come into play. 5G is finicky to say the least, but Qualcomm has been able to get mmWave performance on the go to work well and tested it working in vehicles up to around 70 mph. Performance fading happens when moving that fast, but Qualcomm is working on channel modeling to improve that as we speak. Qualcomm has proven yet again that they are able to offer an end-to-end system approach that spans from research and development to commercialization with industry-first mobile platforms.
With performance numbers like this, Qualcomm belives that the Snapdragon X50 5G modem will dramatically impact the mobile device market and even replace the broadband connection to your home. 5G stands ready to dramatically transform how we consume data many expect it to be the catalyst to bring change to the pay TV industry in the very near future. Cord-cutting is fairly common these days and as good as home internet is now, the extra speed from 5G might cause even more people to ditch their cable provider and use streaming services connected to their 5G broadband service instead.
One of the speakers at the Qualcomm Snapdragon summit today was the Governor of Hawaii, David Ige. Governor Ige discussed how his state has many tourists and that they along with his own residents could greatly benefit from 5G connectivity. The higher performance and lower latencies would also help improve education and help the economy here thrive for the next decade.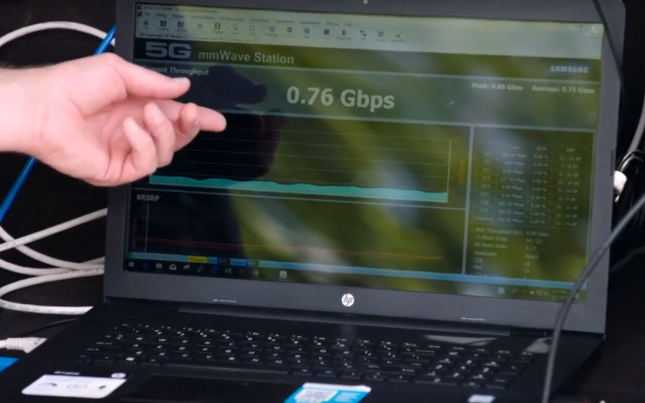 Qualcomm invited Verizons Chief Networking Engineering Officer Nicki Palmer up on stage and she was likely the most innformative speaker of the day. She showed a video that Verizon made about 5G performance in a number of real-world situations. The lowest performance shown in those tests were roughly 700 Mbps or 0.7 Gbps and the tests included being through walls, around foliage, bouncing off buildings and even in the rain. Not bad performance numbers albeit from a closed test network with no other users on it. She also mentioned that 5G will likely bring single digit latencies and that will be huge for gamers.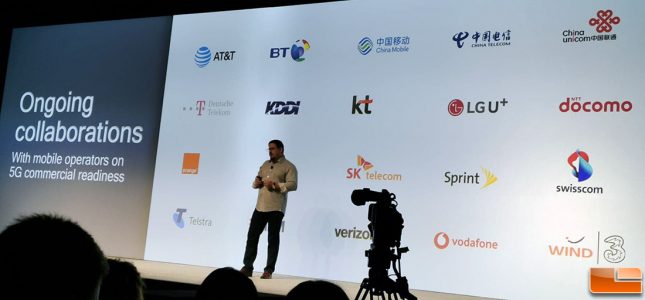 Qualcomm said that their are currently 20 mobile operators that are working on rolling out 5G networks. AT&T, Verizon, Spint and T-Mobile are the most popular providers in the United States and all are currently collaborating with Qualcomm.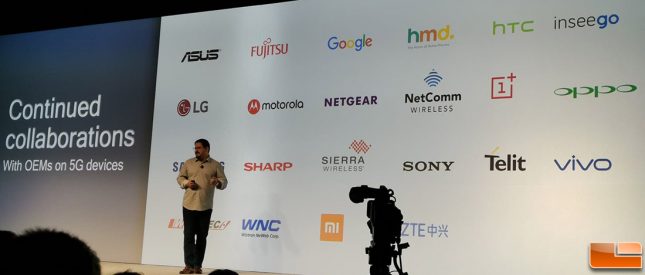 Device makers are also now designing and producing 5G devices with over 20 OEMs on board. Qualcomm showed off a slide that shows ASUS, Google, Samsung, HTC, LG, NETGEAR, OnePlus, Oppo, Samsung, Motorola, Sierra Wireless, Sony, Fujitsu and ZTE are just some of those making devices.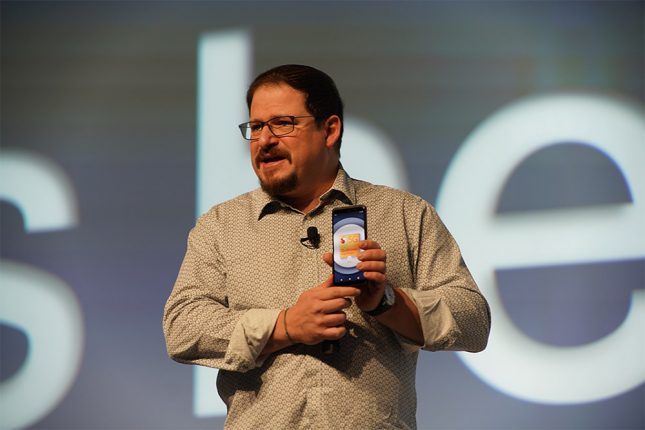 Near the end of the 1st day keynote, Qualcomm President Cristiano Amon introduced to the audience their 5G reference smartphone and noted that it was running on the 5G network. The device did indeed have the 5G network logo on the display and with that the 5G era is finally here.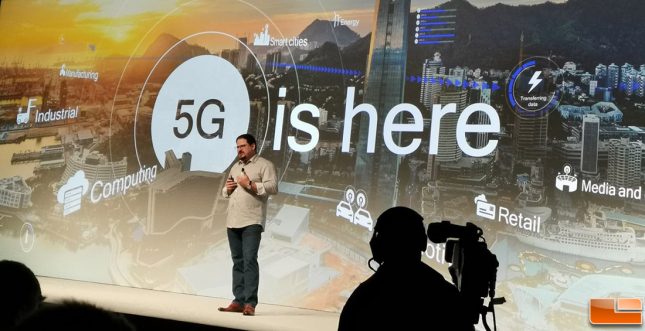 You can watch the entire Day 1 keynote from the Qualcomm Snapdragon Tech Summit below. Also be sure to follow us on Twitter for the latest posts from the 3rd Annual Snapdragon Tech Summit!