TerraMaster F2-420 2-Bay Quad-Core NAS Review
By
TerraMaster F2-420 Diskless NAS Server
The TerraMaster F2-420 2-Bay NAS Server is a diskless model that is priced at $299.99 shipped and backed by a 2-year warranty. This is your basic RAID 0/1/JBOD 2-bay NAS that is designed for home or small business use. It is powered by the Intel Celeron J1900 'Bay Trail' Quad-Core CPU at 1.99GHz and has 4GB of DDR3 RAM (can be upgraded to 8GB if needed) and features 2 Gigabit LAN ports. This 2-bay NAS also has two USB ports (one USB 3.0 and one USB 2.0) on the back. If you don't need something that powerful you could also step down to the TerraMaster F2-220 2-Bay NAS that uses an Intel Celeron J1800 2.41GHz dual-core processor, 2GB of RAM and has just one Gigabit LAN port for $189.95 shipped.
The first step to setting up the TerraMaster F2-420 NAS is to head on over to the Terramaster quick installation guide. Once you are there you just need to select your model.
We selected TerraMaster F2-420 as our model, but we got an introduction video for the F2-220 rather than a quick installation video guide. The primary user manual link gave use an error 404 result and the other Dropbox link dumps you into a folder for all the models. The quick installation video guide for the TerraMaster F2-420 goes to an introduction video for the older F2-220 model and doesn't cover much about setup.
We think TerraMaster meant to link it to this unlisted F2-220 quick guide video that we discovered on another site during a Google search.
The setup for the F4-420 is identical to this older model, so it will work.

After reading the instructions we located on Dropbox we figured out that TerraMaster uses an application called TNAS to facilitate access for users to TNAS devices. So, you need to go to the official website of TerraMaster www.terra-master.com, select the model at Download, and download the TNAS application to setup the NAS.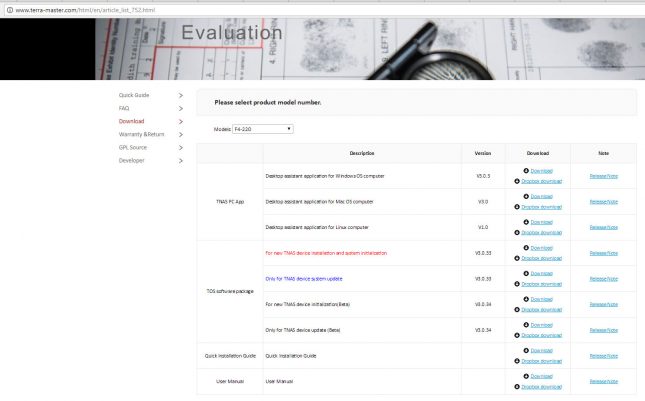 The TNAS PC App, TOS Software Package, Quick Installation Guide and User manual are on the official websites download page, the fundamentals and TOS 3 Operating System instructions are only on DropBox and the YouTube setup video for the older F2-220 was something we found on Google. Terramaster has done a horrible job at putting all this information in one spot for users and should fix this immediately.
Once you download and launch the application you'll likely get a firewall alert as terramaster.exe does not have a valid digital signature, but you'll be able to locate the LAN address for the F2-420.
With the TNAS application installed we were able to get TOS up and running in about 10 minutes. The setup was pretty painless to be honest and it took just a minute to get the drives setup in a RAID 1 array. The drives need to synchronize after they are setup (likely an integrity check) and that took over an hour, but the F2-420 was usable during that period of time. That gave us time to setup the applications that we wanted to use in the TOS management interface that you'll need to log into with the password you setup during the TOS 3 setup.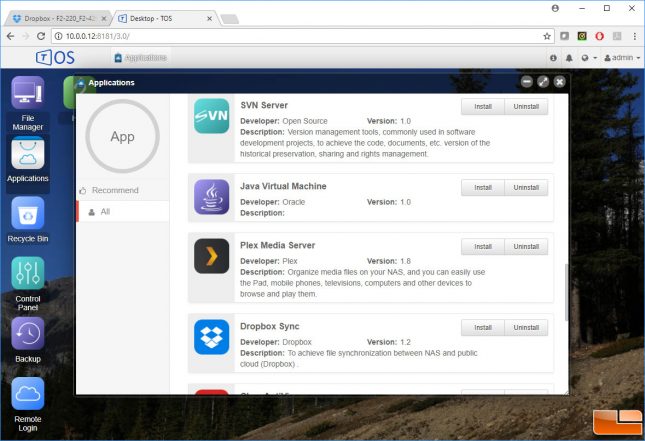 TerraMaster offers 19 service to be installed. Those applications include, Surveillance (by TerraMaster), WordPress, SugarCRM, Apache Tomcat, Node.js, iTunes Server, Aria2, DLNA Media Server, Net2FTP, Gcc build tools, SVN Server, Java Virtual Machine,Dropbox Sync, Clam AntiVirus, Media Server, Mail Server, MySQL Server and finally PT&BT Download. Most people are likely interested in the Plex server and iTunes media server applications and we had no issues with either while we were test driving this NAS.
Let's take a look at the F2-420 performance benchmarks, power consumption, tempatures and noise on the next page.