Synaptics IronVeil Fingerprint Sensor Integrated Into Mice
By
Advancing The Human Interface – Synaptics IronVeil
Synaptics has been working on integrating different sensors into different products to make them more user friendly. One of those sensors is a fingerprint reader, similar to what we are used to on mobile devices. Working with Thermaltake, LiteOn, EVGA and others, Synaptics has integrated their latest fingerprint sensor, IronVeil, into various mice.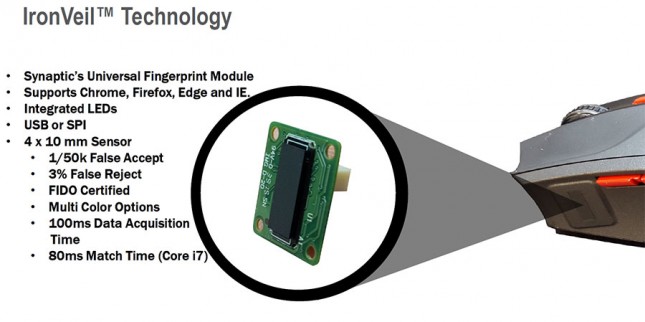 Synaptics IronVeil Technology is made up of a tiny fingerprint module that features a 4 x 10mm sensor that s used to scan your fingerprint. It takes just 100ms to acquire the data from the sensor and then about 80ms to match it. Synaptics noted that processor speed does matter and that the 80ms match time is done using a high-end Intel Core i7 processor. That is very fast considering that it usually takes 4-7 seconds to type in a complicated secure password if you can get it typed in right the first time around. The chance of a false positive, where a user is approved without the correct fingerprint match is one in 50,000 and there is a 3% chance for the correct fingerprint is rejected.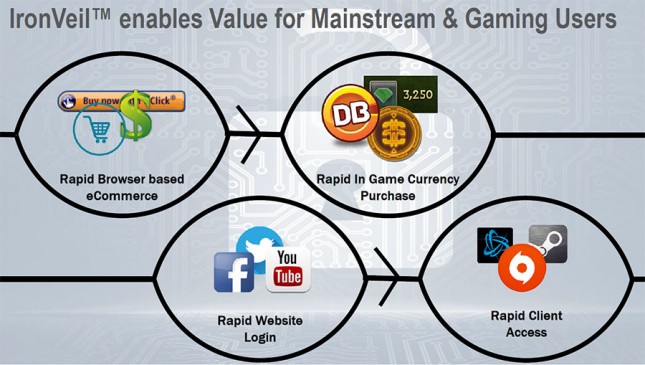 Synaptics IronVeil is FIDO compliant, and is supported natively in Windows 10 with Windows Hello. Synaptics sees IronVeil being a big deal for eCommerece sites, and social media platforms, which are supported in Chrome, Firefox, Edge and IE. For gamers using game client access (Steam, Origin) and they see it making in-game purchases easy as once your credit card is on file you can just opt to buy something and then just verify the purchase with your fingerprint. Synaptics thinks that this will make in-game purchases fluid and quick.
It should also help keep eSports gambling legitimate as more and more people are playing for money. People are 'smurfing' these days on eSports, so IronVeil enables a way for gamer identity verification. If you are betting or even playing competitively you might want to be sure you playing against an appropriately experienced player rather than a very experience player 'smurfing' as a novice player, this is where Synaptics IronVeil Gamer Verification can be useful. In addition, all of those various authenticators we seem to need for online gaming can be replaced with IronVeil's Authenticator.
The Thermaltake Black V2 gaming mouse is one example of Synaptics IronVeil integration in a retail product. The Thermaltake Black V2 mouse has the features that gaming enthusiasts want, making the combination of a fingerprint reader and mouse a great idea. With the Avago laser sensor, it is capable of on the fly DPI adjustments up to 5700DPI, while the Omron switches makes clicking the buttons reliable. Other features of the Black V2 include a customizable weight system, red LED illumination lighting systems, up to 35 macro button combinations, and a new rubber coating.
The Thermaltake Black V2 mouse is a fairly low cost gaming mouse, which by itself can be purchased online for $49.99. There will be a Thermaltake Black V2 mouse with the Synaptics IronVeil fingerprint reader built-in coming soon for around $59.99. We happened to get in an early prototype and have been using it the past couple weeks.
Let's take a look at the software provided by Synaptics to make the fingerprint reader usable.