SYBER ANNOUNCES FULL LINE OF STEAM MACHINES IN VALVE BOOTH AT GDC
By
SAN FRANCISCO, CA (March 2-6, 2015) – SYBER, a new division of CyberPowerPC, today announced a full line of Steam Machines during the Game Developers Conference (GDC) as part of Sybers open platform PC gaming systems.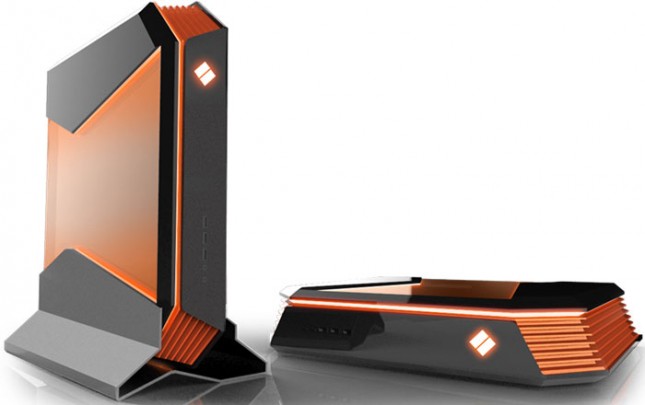 Steam Machines provide the best living room access to the greatest games and user-generated content available. Steam Machines offer the In-Home Streaming capabilities of the Steam Link, plus the ability to locally install and play your choice of over 1000 native SteamOS titles.
For gamers who want to break out of the bedroom and into the comfort of the living room, the Syber Steam Machines offers the best performance at an affordable price, said Eric Cheung, CEO, CyberPowerPC.
Syber Steam Machine Mini
We created the Syber Steam Machines to give gamers more power and more customization than the standard video game consoles like Sony PlayStation, Nintendo Wii and Microsoft Xbox, said Eddie Vong, VP of Product, CyberPowerPC.
Based on the feedback from gamers and stakeholders, we created a full range of Syber Steam Machine models to satisfy customers needs for price and performance, said Tony Crisp, Co-Founder, Syber.
Syber has six Steam Machine models scheduled for the Steam Machine launch later this fall and will be announcing at GDC, three new systems; a preview of Steam Machine-Mini, a prototype of Steam Machine-Mercury, and a concept of Steam Machine-Switch. The expected starting price point at launch is $449 – with the Syber Steam Machine-E, powered by a quad-core AMD processor and NVIDIA GeForce GTX graphics.
The Syber Steam Machine-P provides a step up with an Intel G3258 3.2GHz processor and AMD Radeon R9 270X graphic s at $549. The model introduced is the Steam Machine-K powered by an Intel Core i5-4690K and NVIDIA GeForce GTX 970 with a price tag of $999.
In addition to the six models, the Syber Steam Machines can be fully customized with the latest from Intel, Nvidia, AMD, Radeon and even a new color – Syber fire-orange. This new limited edition color is exclusively available on the Syber Steam Machine-X model through www.cyberpowerpc.com with a starting price point of $1399.
PRICING AND AVAILABILITY
At Steam Machine launch, all six Syber Steam Machines models will be available for purchase online through the cyberpowerpc store in US and the UK, and at retail.
Additional technical specifications, configure-to-order options and accessories are available online at www.sybergaming.com.
ABOUT SYBER
Syber is the consumer products division of CyberPowerPC Inc. and was founded in 2014. We are on a mission to give gamers the power to play games on our full line of PC gaming systems.