SuperSpeed USB 3.0 on the ASUS P7P55D-E Premium
By
USB 3.0 Performance
USB (Universal Serial Bus) is just now beginning to transition from Hi-Speed USB 2.0 to SuperSpeed USB 3.0, which has been a long time coming. SuperSpeed USB 3.0, as it is officially called, is touted as being the next generation in bus interfaces and full backwards compatibility with USB 2.0 and 1.1. In theory, USB 2.0 runs at a maximum of 480Mbit/s, whereas USB 3.0 runs up to 4.8Gbit/s: ten times faster, so you can see how this new interface will open door to new technologies and raise the limits of what we expected in our attached devices.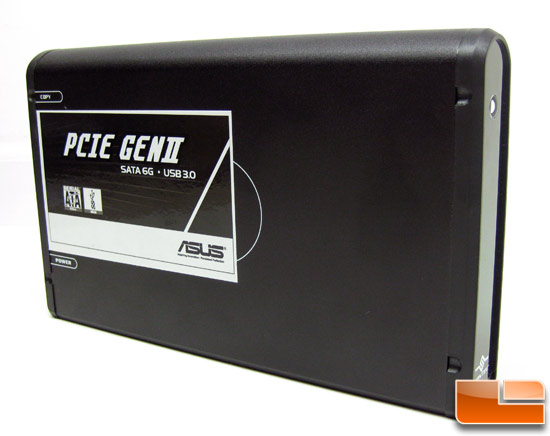 Our friends over at ASUS were kind enough to send us over this joint ASUS/Vantec prototype USB 3.0 hard drive docking station in order for Legit Reviews to bring you some coverage on SuperSpeed USB 3.0 performance on the ASUS P7P55D-E Premium motherboard that supports the technology. This specific enclosure was designed to house a 3.5 SATA hard drive and is onyx black in color. The enclosure looked like nothing more than a slightly modified Vantec NexStar 3 hard drive enclosure to be honest.
The back of the external drive housing has the connections for the AC power plug adapter and the USB 3.0 B cable. The small hole next to the blue SuperSpeed USB 3.0 cable is for what looks to be a reset switch.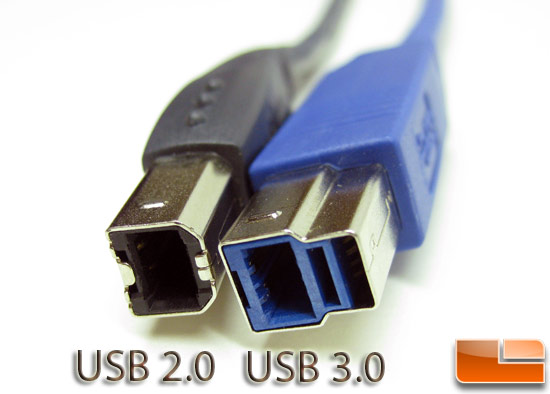 The SuperSpeed USB 3.0 connector is the same as a USB 2.0 connector, but the USB 3.0 B connector is very different and not backwards compatible with a USB 2.0 device as it has a new shape to the cable.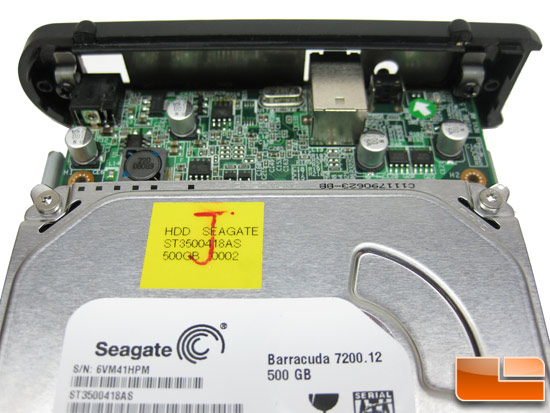 Inside the USB 3.0 enclosure we found that ASUS sent over a Seagate Barracuda 7200.12 500GB SATA 3.5″ hard drive for testing. This drive operates at 7200RPM and has 16MB of cache. While it is not the newest Seagate Barracuda drive on the market it represents what people are buying for storage as it is affordable at less than $55 shipped. Just for fun we took the PCB all the way out of the enclosure and on the back found ASMedia's single-chip USB 3.0 to SATA bridge (1051 series) which is what makes this device USB 3.0 enabled. This chip was just announced on November 9th 2009, so it has been on the market for under a month.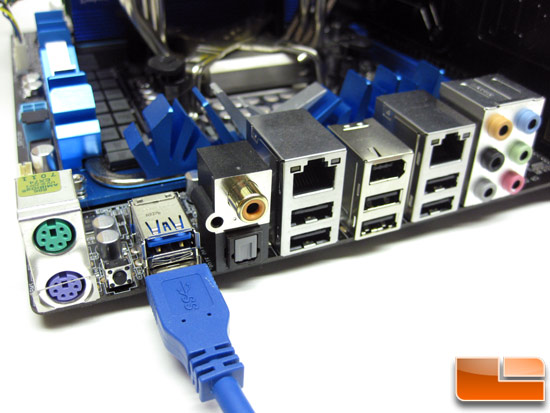 To test SuperSpeed USB 3.0 performance we plugged the ASUS/Vantec USB 3.0 hard drive docking station into one of the two SuperSpeed USB 3.0 that are located on the rear I/O panel of the ASUS P7P55D-E Premium motherboard. The Intel P55 chipset has a limited number of PCI Express lanes, so when PCI Express is in use lanes are taken from the PCH and then combined by the PLX bridge chip on the motherboard to create a gen 2 bus. Four lanes of 1.1 is equal to 1000, so we then have 2 lanes for USB 3.0 devices and 2 lanes for SATA6G devices. ASUS said that this will not impact multi-GPU performance (Crossfire or SLI), but will ding graphics performance by 1-2% since some of the graphics cards PCI Express lanes are being given up while USB 3.0 is in use. The key word here is in use. How many of you really transfer files to an external drive and game at the same time? Let's take a look at performance!