Strontium Hawk Series 120GB SSD Review
By
White Is The New Black
Strontium is not a company that I had really heard of prior to seeing the recent press release and subsequent arrival of a review sample of their new Hawk Series line of SSDs. A little research shows that they've been in existence since 2002 and are based in Singapore where they pound out flash memory products per month with a "total manufacturing capacity of 500,000 memory modules and 1,200,000 flash products". A quick perusal of their product line reveals variety of flash storage devices like USB drives, memory cards and of course, SSD's.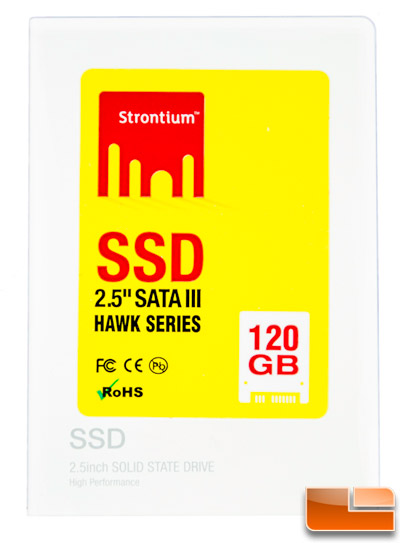 The 120GB Hawk Series drive we received claims read and write specifications of up to 510MB/s and 470MB/s respectively, all via a SATA III (6Gbps) interface. Not record setting specifications by any stretch, but solid just the same. They also offer a 240GB version which, oddly, has the very same specifications. Typically the larger drives are a bit faster though perhaps they are a bit conservative in their published performance numbers. The warranty covers defects for the standard three years and the 120GB version is priced at exactly $100 and not quite double the price of $170 for the double-capacity 240GB version.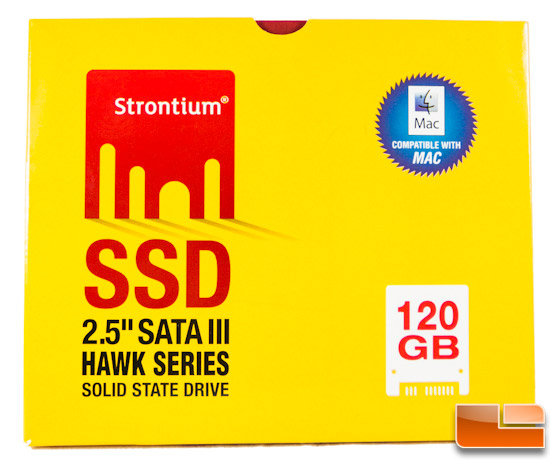 Strontium Hawk 120GB SSD Features and Specifications:
SSD Form Factor: 2.5 for portable computer need
Interface: Sandforce SATA III Interface with 6Gb/s of Data Transmissions
Connector: 2.5 Standard SATA
SandForce 2nd Gen SSD SF-2281VB1-SDC Processors
Consists of ONFI synchronous NAND Flash memory
MLC NAND Flash for Fast Performance
Sequential Performance (256KB, MAX):
Read: 510 MB/s
Write: 470 MB/s
Random Performance (4KB, MAX):
Read: 50,000 IOPS
Write: 38,000 IOPS
Supports 1.5/3.0/6.0 Gbps SATA I/ II/ III Interface
TRIM support (O/S support required)
High Compatibility with MBP series
Mean Time Between Failure (MBTF): 1.2M
Bit Error Rate (BER): 1 error in 1015 bits transferred
Power Consumption:
Active: 0.82W (Typ.)
Idle: 0.26W (Typ.)
Voltage: 5.0V5%
Temperature Range Operating, (Storage): 0C to 70C (-55C to 95C)
Three year Strontium warranty
Available Capacities: 120GB and 240GB
Dimension: 100 x 69.9 x 6.8 mm
Weight: Nearly 66.9g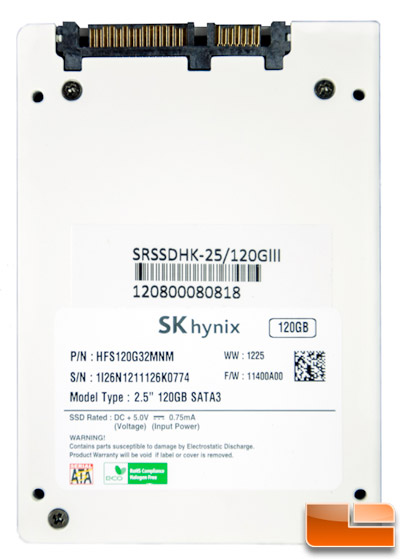 We love the styling of this drive. As evidenced by the images, they are entirely white which is rare for and SSD; although a lot of PC components are getting the blanched treatment. This is a trend typically attributed to originating with Apple products whose OS logo is listed prominently on the Hawk packaging in terms of compatibility. Either way, the white looks killer in a system although for product photography, I have to admit, is a pain.

Another somewhat unusual feature is that the one long side of the drive (left, above) has a curved edge down the length and square at the ends as opposed to the more traditional 90 degree edge. We find that on the opposite side but with rounded corners. Confusing to explain but that's what the pictures are for. While serving no functional purpose, it is visually appealing. This in addition to the 7mm overall height of the drive make it feel very svelte in the hand. How ya like me now?