SteelSeries M750 TKL Mechanical Keyboard Review
By
SteelSeries M750 TKL Mechanical Gaming Keyboard
The PC gaming peripheral market is chock-full of quality RGB mechanical keyboards from various manufacturers, but SteelSeries is looking to stand out with their latest keyboard, the M750 TKL. A tenkeyless beauty that features SteelSeries QX2 linear mechanical switches, the SteelSeries M750 TKL has a small, lightweight aluminum frame and it has been designed with competitive gamers in mind. SteelSeries customers have been asking the company to release TKL versions of their full size keyboards for quite some time and the team decided that now was the right time.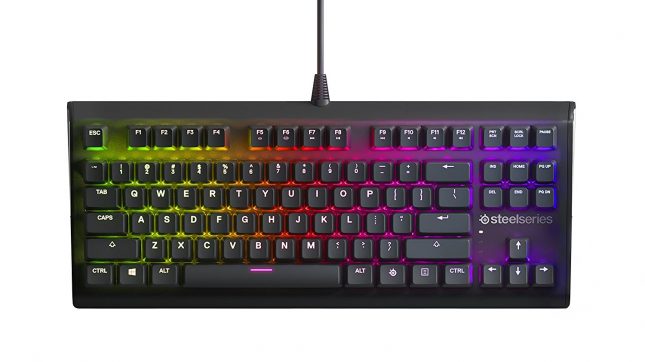 With a smaller footprint than standard keyboards thanks to the omission of the number pad, tenkeyless keyboards have gained some popularity over recent years, though they still remain a small portion of the overall keyboard market. The PC gaming peripheral market has some quality TKL units available, but it is a market that I think can be capitalized by manufacturers since there are only a few RGB TKL keyboards out there that I can currently recommend, such as the Corsair K65 RGB, Ducky One TKL RGB and Logitech G Pro. We'll see if the SteelSeries M750 TKL gets added to that list.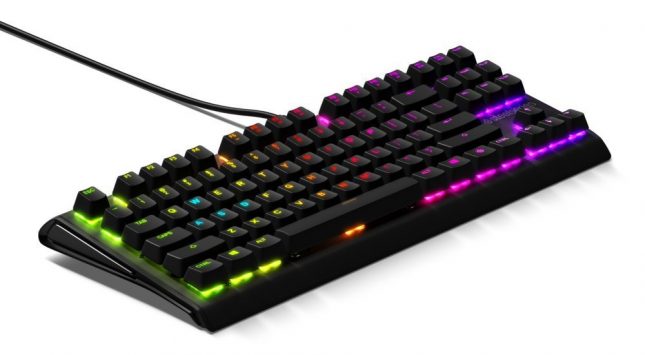 When it comes to competitive gaming, tenkeyless keyboards can make a lot of sense, as they allow for an increase in that oh-so-important mouse surface space during an intense FPS session. You will often see competitive players of games like CS:GO turning their full size keyboards to the side to give them more mouse space during tournament play, while a TKL keyboard helps address this by design. For normal users, a TKL keyboard can help improve ergonomics, as it reduces the throw distance between the right hand and the mouse, which can also help increase reaction times from typing to mouse movement.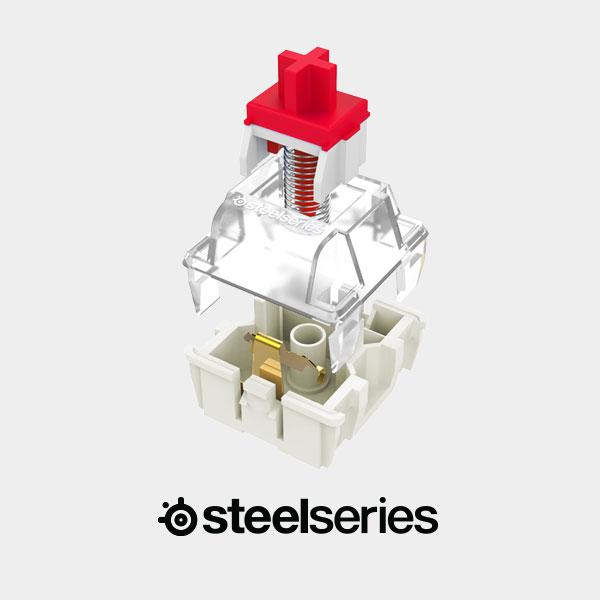 SteelSeries M750 TKL Keyboard Specifications
Design
Top Frame Material: 5000 Series Aluminum Alloy, Matte Black Finish
N-Key Roll Over: 104-Key (All) (Specs taken from Steelseries website, the M750 TKL has an 87 key TKL layout)
Anti-Ghosting: 100% (Full)
Illumination: Individually controllable per-key RGB, including whole-keyboard patterns and reactive typing effects
Fully Programmable with Key Rebinds, Key Press Macros, Text Based Macros, and More
Weight: 1.9 lbs
Height: 160 mm
Width: 370 mm
Depth: 35 mm
Cable Length: 2 m, 6.5 ft
Switch
Type & Name: SteelSeries QX2 Linear Mechanical RGB Switch
Actuation Point: 2 mm
Travel Distance: 4 mm
Actuation Force: 45cN
Lifetime: 50 Million Keypresses
Compatibility
OS: Windows and Mac OS X. USB port required
Software: SteelSeries Engine 3.11.6+, for Windows (7 or newer) and Mac OSX (10.9 or newer)
Box Content
Product Information Guide
Replaceable Keyboard Feet
Apex M750 TKL Gaming Keyboard (Part Number 64720)
I noticed that SteelSeries specifies in the literature and product page that the M750 TKL has 104-key rollover, but it uses an 87 key TKL layout. SteelSeries just didn't properly change the specs on the literature and product pages.
SteelSeries backs the $119.99 M750 TKL with a one year warranty, which is sufficient, but also what I consider to the bare minimum for a premium gaming keyboard. I would like to see SteelSeries provide a two year warranty to match what companies like Logitech and Corsair are providing with their premium keyboards.
The SteelSeries M750 TKL comes packaged in a box that is similar to other SteelSeries packaging, with clean graphics and marketing points used throughout. SteelSeries has made sure to note that their QX2 mechanical switches are being used on the M750 TKL, so that users immediately know which type of switch they are getting. SteelSeries only uses one type of switch with their M750 TKL, the Gateron-sourced QX2. If you see this box on the store shelves, you know exactly what is inside of it. The box containing the Steelseries M750 TKL is thick and offers a nice amount of protection for the keyboard. On the rear of the box, SteelSeries makes sure to let users know that esports players have won more money using SteelSeries products than any other brands, though I am not sure how this number is calculated and which considerations are taken.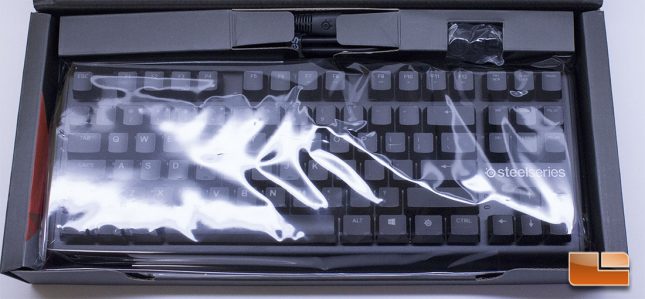 SteelSeries packages the M750 TKL inside of a protective plastic cover within the box and the cable is wrapped nicely into a compartment in the upper portion of the box.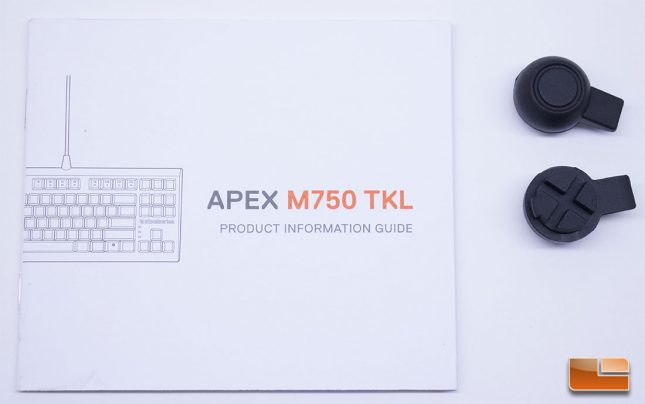 An illustrated setup guide is included with the SteelSeries M750 TKL. The guide explains how to adjust different settings outside of software, such as pressing the SteelSeries logo (FN) and F5 or F6 to adjust the lighting brightness lower or higher, respectively. Also included with the SteelSeries M750 TKL are two rubber rubber feet that replace the stock ones on the bottom of the keyboard to give it more height.
The overall presentation of the SteelSeries M750 TKL is decent, but nothing overly exciting. There is no wrist rest, key remover or other extras in the package, which is a real letdown. With competitors including extra key caps, key pullers, removable cables and more with their keyboards, it is important for SteelSeries to step things up in the accessories department. Just an inexpensive wrist rest or a set of PBT WASD keys would have made a big difference in terms of presentation and value on the SteelSeries M750 TKL.
Let's take a closer look at the SteelSeries M750 TKL, next.