SteelSeries Arctis 7 Wireless Gaming Headset Review
By
SteelSeries Arctis 7 Wireless Gaming Headset For Lag-Free Gaming

SteelSeries is the most dominant peripheral manufacturer in eSports, with their sponsored teams winning more prize money and competitions than Razer and Logitech's sponsored teams, combined. While winning eSports tournaments is great, producing quality peripherals that appeal to actual gamers is just one key to a successful business. SteelSeries, much like Logitech and Razer, have a very wide product scope and are aiming to be the choice of gamers around the world. This PC peripheral competition has been fierce and is only good for the consumer, as 2016 saw the release of many amazing, high quality keyboards, mice and gaming headsets from various manufacturers.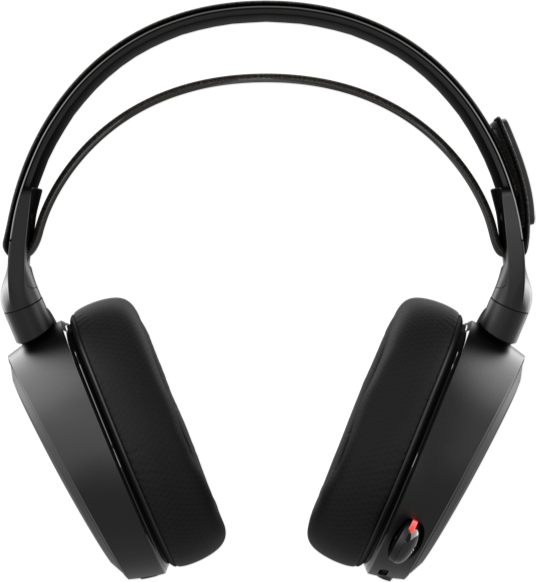 Even though various companies successfully produce headsets, we've found that even the best manufacturers often struggle to make a well-balanced headset for the PC gaming market. With the Arctis 7 that we are looking at today, SteelSeries brings along some very handy gamer-centric features, a very unique headband that introduces a new level of comfort that you won't find elsewhere and lag-free wireless audio over USB. With the Arctis 7, SteelSeries are trying to appeal to users who want a stylish, good sounding headset that breaks the mold from typical gaming headset designs, which tend to feature excessive plastic and horribly balanced sound.
The Arctis 7 is the flagship product in a lineup that includes both analog (Arctis 3) and USB headsets (Arctis 5), all using the same basic design and S1 speaker drivers from SteelSeries. The Arctis 7 is the only version with wireless support and in addition is manufactured using a lightweight alloy material, while the lower level headsets use all-plastic construction. All of the headsets in the Arctis lineup use the same ski-goggle headband and Airweave ear cushions, which we will comment more on later when we take a closer look at the Arctis 7. Of important note, the Arctis 5 features RGB capability when power over USB, while the Arctis 3 and 7 do not feature RGB. I do believe that RGB technology could have been implemented on the Arctis 7, but SteelSeries chose to omit it in favor of battery life.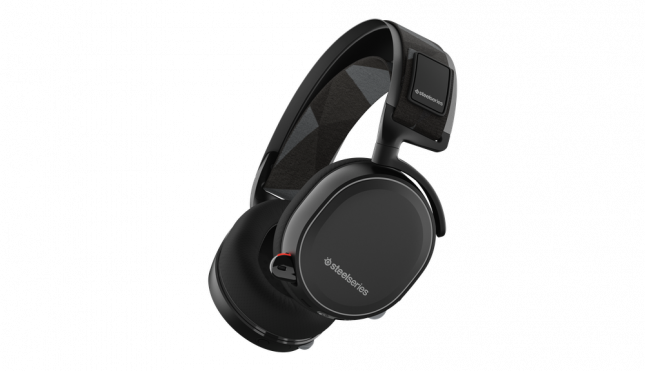 SteelSeries Arctis 7 Specifications
Warranty
One Year
Frequency Response
20-20000 Hz
Impedence
32 Ohm
Drivers
40 mm SteelSeries S1
Connection Type
Wireless USB and Wired analog options Single 3.5mm, 4-pole plug when wired (12m/40 feet wireless range)
Microphone Type
Bidirectional, 100Hz – 6500Hz Frequency Response
Battery Life
15 Hours+
MSRP
$149.99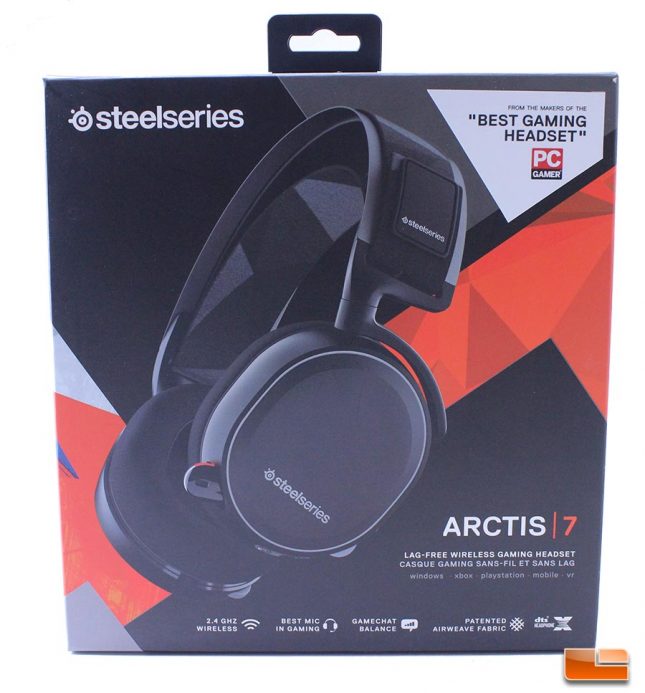 SteelSeries ships the $149.99 Arctis 7 in a black and orange box that stands out quite nicely on the shelves at stores like Best Buy, where SteelSeries products seem to be featured in third place in terms of placement and quantity behind Logitech and Razer at my local store. There is only a One-Year warranty provided by SteelSeries with the Arctis 7, which isn't adequate as far as we're concerned. Users in Europe get a Two-Year warranty, but I think that has more to do with consumer protection laws over there than SteelSeries being generous.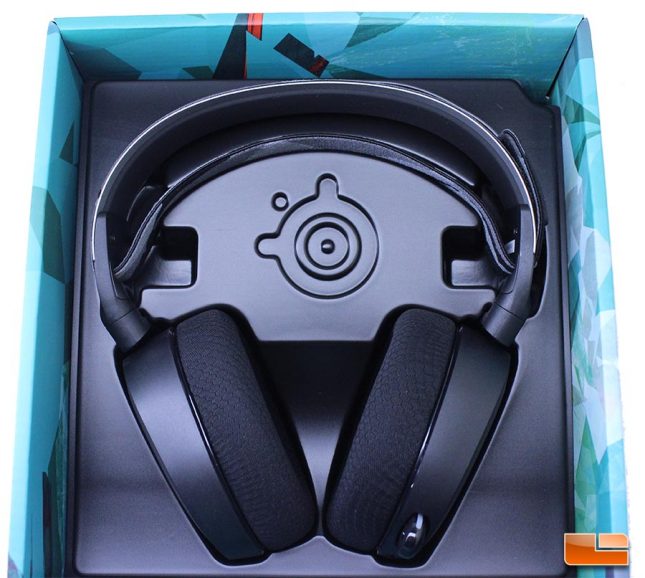 SteelSeries did a great job with the packaging and presentation of the Arctis 7. As you can see, unit is wrapped in a custom-clamshell featuring the SteelSeries logo. This definitely gives the product a premium feel from the moment you open the package.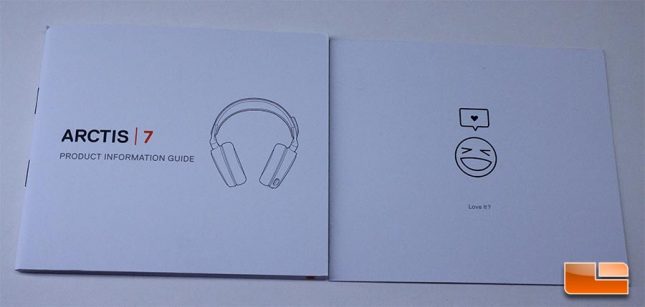 Included in the Arctis 7 package is a product information guide, which is also available in PDF form on the SteelSeries website. This guide contains information on how to setup the Arctis 7 on consoles and PC, in addition to explaining the various functions of the headset. Illustratations of the headset and on-ear controls are presented and overall, this is a pretty solid user manual. A warranty card explaining how to contact SteelSeries support is also included.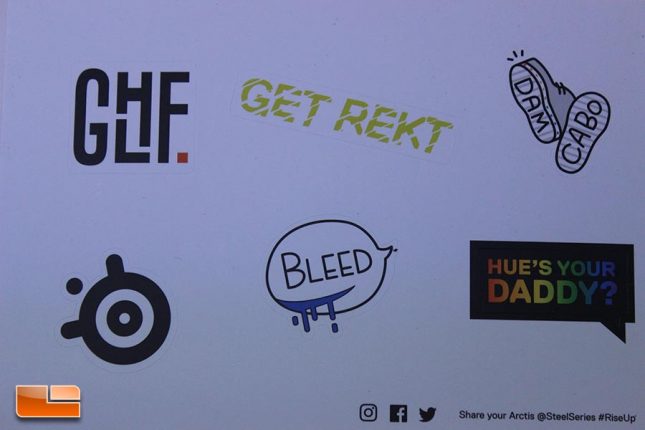 SteelSeries includes some nifty stickers with the Arctis 7 for you to show off your gaming attitude. The Arctis 3 and Arctis 5 each come with their own sticker sheets featuring different designs, as well. Can somebody please tell me what DAM CABO means?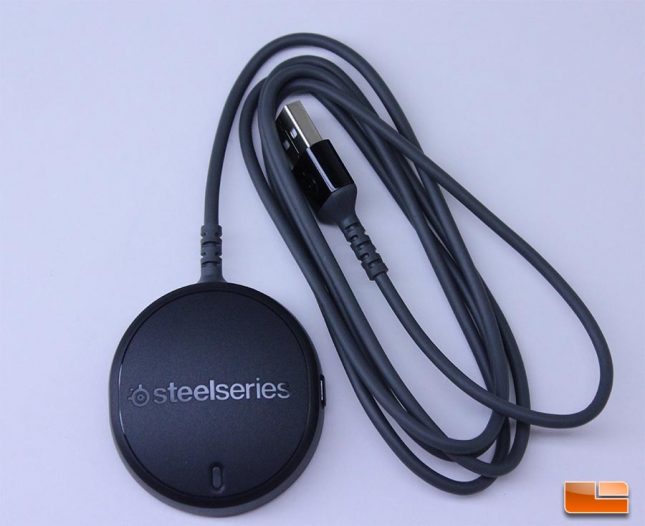 The Arctis 7 wireless transmitter features the SteelSeries logo and is fairly large, but has a great range.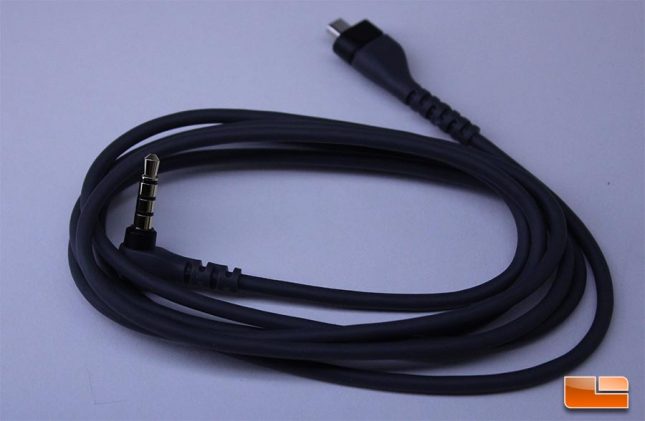 While wireless functionality is possible with the PS4 and PC over USB with the included transmitter, a mobile/console cable is included so that the Arctis 7 can be connected to an XBOX One, mobile phone, or other 3.5mm device in non-wireless mode. The Arctis 7 truly is versatile and this functionality makes it a great value for a PC gamer who wants a headset they can use in other settings.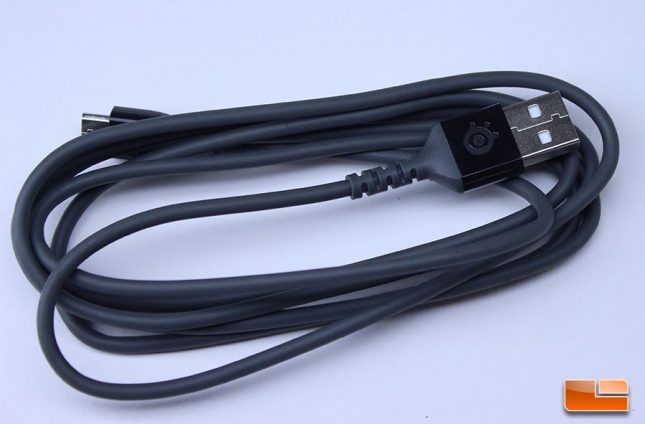 The USB charging cable features a SteelSeries logo and is four feet long, which may not be long enough for users who want to charge the unit while it is in use.
SteelSeries packages the Arctis 7 very well in the box, setting it in a protective plastic clamshell that wraps around the headset quite snugly, protecting it from damage during shipping. All of the included accessories are packaged well and the USB cables all have a nice coating to them, along with well-built connectors with the SteelSeries logo stamped into them. Overall, the Arctis 7 comes with a great package full of everything you need and more. The included stickers are a nice bonus. We only wish that the included USB cable for charging was just a little longer, as four feet is very short if you want to charge the unit while you play, which is an option.
Let's look at the headset in more detail, now.