SSD Review – ADATA SP610 512GB Versus Corsair Force LX 512GB
By
Corsair Force LX versus ADATA Premier SP610
Solid-State Drive (SSD) have been steadily growing in capacity and thanks to improvements to the manufacturing processes the price of NAND and SSD controllers has been falling at an impressive rate. This means that fairly large SSDs are now fairly affordable and something the for the average consumer can justify purchasing. 240GB and 256GB SSDs are the most popular capacity sold today, but there has been a number of budget friendly 480GB and 512GB drives that have come to market in recent weeks. Today we'll be looking at two 512GB SSDs that are focused on the value segment of the market; the ADATA Premier SP610 and the Corsair Force LX.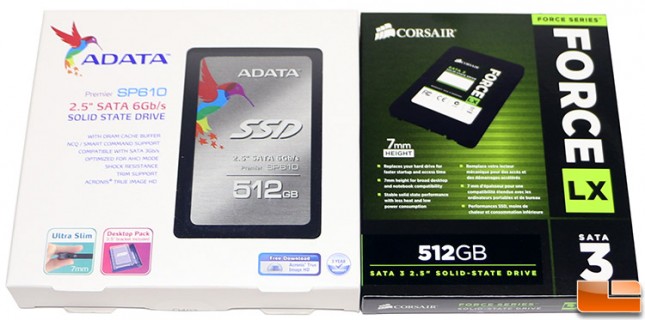 These slim-line 7mm aluminum housed drives feature a Silicon Motion (SMI) SM2246EN controller paired with 20nm Micron MLC NAND Flash memory. That combination is enough to get up to 560MB/s sequential read and 450MB/s sequential write when it comes to drive speeds. The drives differ slightly when it comes to the maximum 4K read/write IOPS as the Corsair LX 512GB is rated at up to 76k IOPS on Random 4K Reads and up to 70k on Random 4K Writes whereas the ADATA SP610 512GB is rated at up to 73K read and 72K write. Both of these aren't too shabby for a budget SSD here in the second half of 2014.
The best part about these two drives is that they are priced very competitively in the $240-$250 price range, which means you are looking at around $0.47 per GB and that is without rebates or any special promotions. Finally, a budget friendly MLC NAND drive that should have a price-to-performance ratio that gets the attention of most in the DIY PC building community.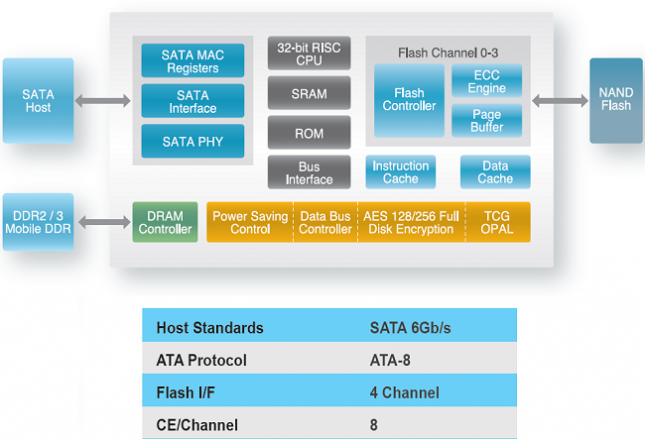 The Silicon Motion SM2246EN SSD controller supports 4 channels of NAND flash with up to 8 Chip Selects per channel. This specific SMI SATA III 6Gb/s SSD Controller also supports TRIM, DevSleep, NCQ, S.M.A.R.T., CFas PHYSLP, AES 256 encryption (think Microsoft BitLocker eDrive) and Trusted Computing Group (TCG) OPAL full-drive encryption. It also has upgradable firmware along with wear leveling algorithms, early weak block retirement options and the ever so important ability to be security erased.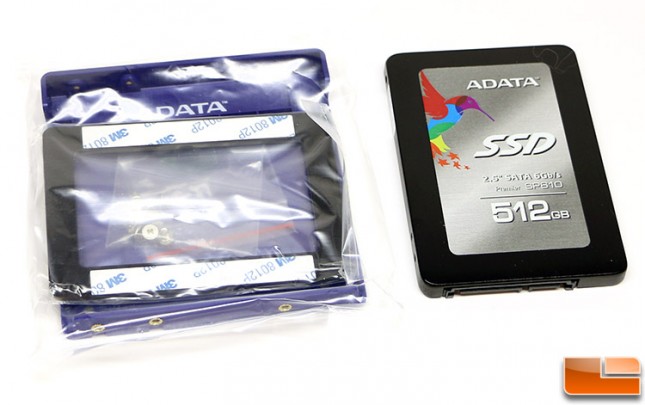 The ADATA Primer SP610 512GB Solid-State drive costs $239.99 shipped, $10 less than the Corsair Force LX 512GB, and comes with a desktop mounting bracket with the proper mounting screws, a 7mm to 9.5mm spacer and a key for Acronis True Image HD 2013.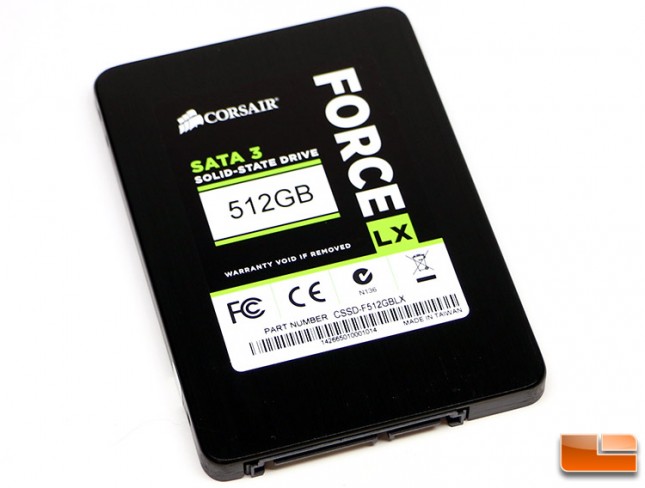 The Corsair Force LX 512GB SSD runs $249.99 shipped and comes with no accessories or software keys, but you can download the Corsair SSD Toolbox for basic disk cloning operations. The Corsair SSD Toolbox is a great application that allows you to secure-erase the drive, clone another drive, update the firmware and optimize the drive with TRIM manually or on a schedule.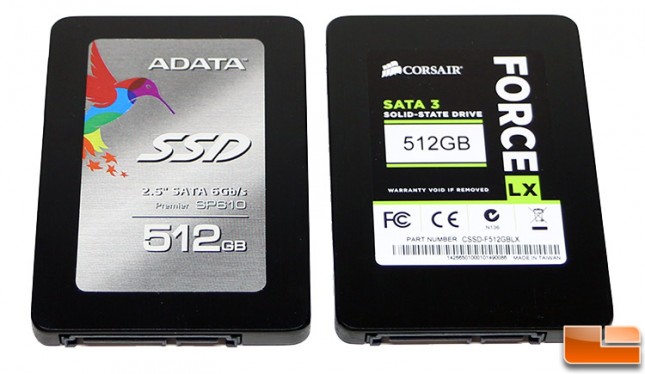 Both drives feature similar black 7mm z-height aluminum housings that have a brushed finish. The only real visual difference is the sticker on them.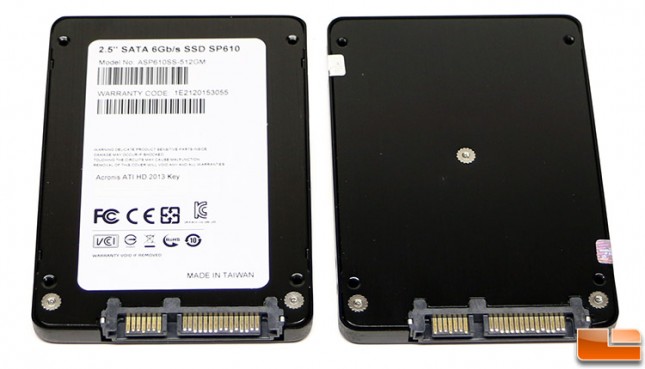 Flipping the drives over we find the ADATA Premier SP610 has a sticker on the back that contains the model number, warranty code and a unique key for Acronis True Image HD 2013.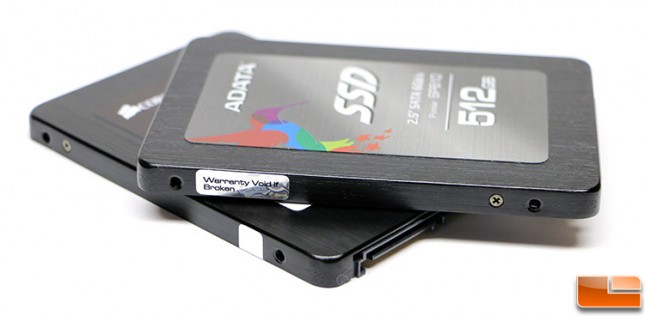 Both the ADATA Preimer SP610 and Corsair Force LX are backed by identical three year warranty periods and have anti-tamper stickers on both sides of the SSDs. If you pop open the SSD to look inside you void your 3-year warranty, so it isn't worth doing. Our warranties are void anyway since these are review samples, so we'll pop open our drives and show you what is inside.
Once you pop the covers on both SSDs you'll quickly figure out that both of these SSDs are very similar inside or dare we say identical. Let's find out just how similar these two drives are on the next page.