Sony VAIO Tap 20 Hybrid Tablet PC Review
By
Sony VAIO Tap 20 – A Big Tablet PC
The desire to have a touch-screen computer has greatly increased in recent months thanks to how accustomed we have become to smartphone and the launch of Microsoft Windows 8. One of the new devices that has come out since Windows 8 was released and has managed to catch our attention is the Sony Tap 20. The Sony Tap 20 looks like a typical All-In-One (AIO) PC, but it is really a hybrid mobile device that acts like a desktop and a tablet!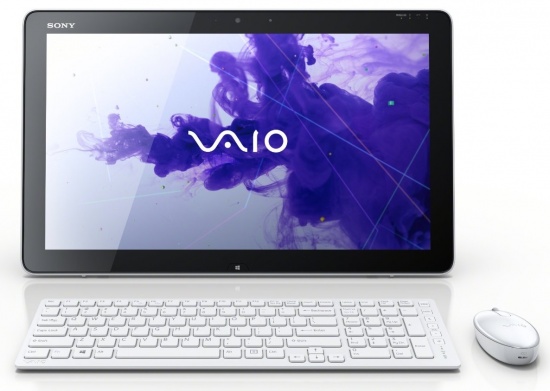 The Sony Tap 20 comes with a wireless keyboard and mouse for desktop use, but can also be unplugged and used like a tablet since it features a built-in 5000 mAh Lithium Ion battery pack! The Sony Tap 20 features a 20-inch touch-sensitive screen and weighs 11.25 pounds (5.1kg), so it is one very big tablet! The actual dimensions are 19.85 x 12.29 x 1.78 inches or 504 x 312 x 45mm.

The battery is said to last 2 hours 45 minutes, so you can unplug it and move it around cord free like a laptop or table. Having a 20-inch touch-screen 'tablet' on your lap while sitting on the sofa makes for a rather different PC experience!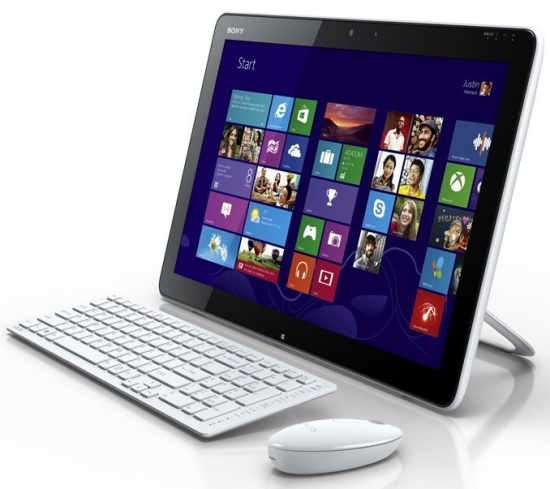 The 20-inch LED backlit IPS (In-Plane Switching) 10-point multi-touch display has a medium-sized black bezel around it and looks great in terms of brightness and contrast. Even the viewing angles are great, which is important for a device like this as it is meant to be shared and used with a group of people. The only disappointment with the Sony Tap 20 display is that the resolution is just 1600 x 900 pixels (16:9 aspect ratio). For a device in the $850-$1250 price range we would hope to see a Full HD 1920 x 1080 screen resolution!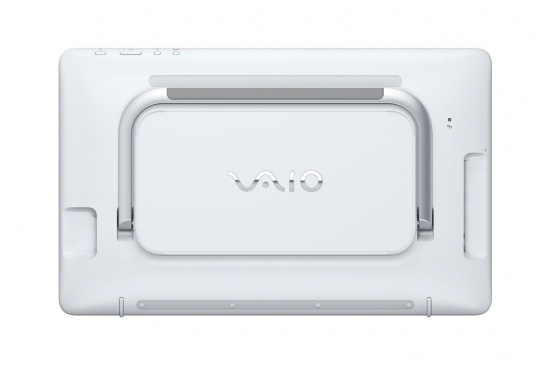 The Sony VAIO Tap 20 that we are reviewing is sold under part number SVJ20215CXW. This specific model comes with an Intel Core i5-3317U processor (1.7GHz), Intel HD Graphics 4000, 4GB of DDR3 1600MHz memory, 750GB 5400RPM hard drive and an Intel Centrino Wireless-N 135 wireless card w/ Bluetooth. There is no option for an internal optical drive on the Sony VAIO Tap 20, so if you need one you'll have to use an external optical drive. The Sony VAIO Tap 20 SVJ20215CXW runs $861.49 plus shipping. For those that would rather have the more powerful Intel Core i7-3517U 1.9GHz processor, 8GB DDR3 memory and a 1TB 5400 RPM hard drive you can get the Sony VAIO Tap 20 SVJ20217CXW for $1079.99 shipped.
On the rear of the Tap 20 you can see the power button, volume rocker switch, lock and assist buttons on the top left corner. The mesh grill just above the kickstand is for ventilation and the Tap 20 does have active cooling. The bottom mesh of the Tap 20 is also for ventilation, but also conceals the systems two surround sound speakers. The audio quality is sufficient for this type of a device, but nothing to write home about.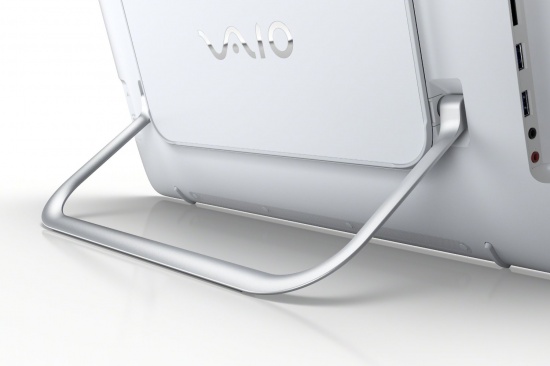 The feature that makes the Sony VAIO Tap 20 so versatile is the integrated rear kickstand. You can lower it for desktop use and then easily fold it in so it lies flat. You can also remove the kickstand all-together if you never plan on using it. The one thing we noticed about the kickstand is that it doesn't support portrait mode, so it's just designed for landscape use.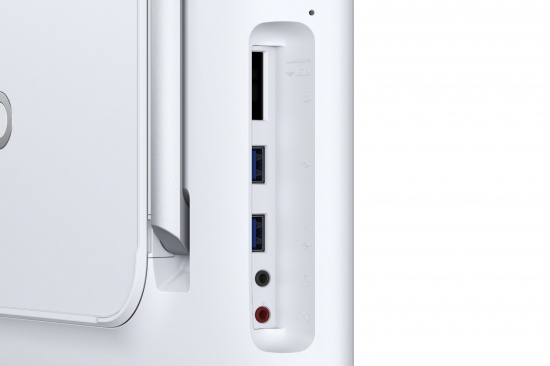 When it comes to connectivity you have built-in 802.11bgn Wi-Fi, NFC, an SD memory card reader, a pair of SuperSpeed USB 3.0 ports and both headphone and microphone jacks on the left hand side of the Tap 20. The keyboard and the mouse that are included with the Sony VAIO Tap 20 are wireless, so both of these USB 3.0 ports will be available for you to use.
It is interesting to point out that Sony did not put any video outputs on the VAIO Tap 20, so it does not have an HDMI video output. This shouldn't be a deal breaker, but something to point out for those that want to use their PC on a HDTV! Sony also doesn't include any software for DVD or Blu-ray playback, so just a heads up there as well.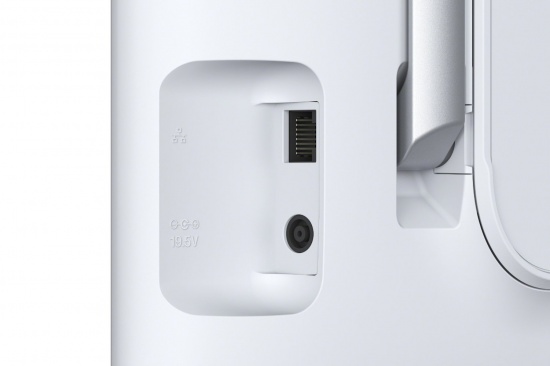 On other side of the Sony VAIO Tap 20 you have the Gigabit Ethernet port along with the power connector for the power brick that comes with the Tap 20.
Now that we know the base specifications and features of the VAIO Tap 20 we can fire this massive tablet up and see how it performs!