Some CPU Coolers Are Bending Intel Skylake CPUs
By

When we first reviewed the Intel Core i7-6700K 'Skylake' processor we noted that the substrate used on the series was noticeably thinner than any other previous generation chip that we've used in a decade. We haven't had any issues internally with the Corsair water coolers that we use on the test bench, but German tech website Games Hardware believes that the pressure exerted by some popular CPU coolers is causing the thinner and structurally weaker Skylake CPU to bend. They also believe that as the processor substrate that it could be causing damage to the motherboard LGA socket pins. Who wants bent pins with Skylake?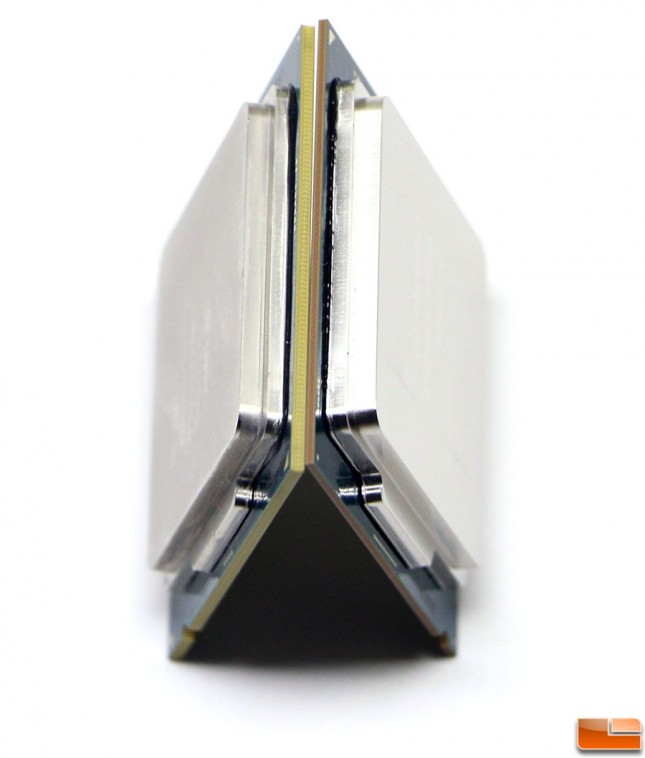 PC Games Hardware has been able to get comments from Noctua, EK Water Blocks, Scythe, Arctic, Thermaltake, and Thermalright on the issue and it appears that some CPU coolers might have too high of a mounting pressure. Scythe has a post up on their support page acknolding the issue and that they are going to be redesigning the mounting mechanism for Skylake CPUs by offering new screws to reduce the mounting pressure. Scythe says that only owners of the Mugen 4, Mugen 4 PCGH-Edition & Mugen Max are impacted by this issue. Here is the statement:
Japanese cooling expert Scythe announces a change of the mounting system for Skylake / Socket 1151 on several coolers of its portfolio. All coolers are compatible with Skylake sockets in general, but bear the possibility of damage to CPU and motherboard in some cases where the PC is exposed to strong shocks (e.g. during shipping or relocation). This problem particularly involves only coolers which will mounted with the H.P.M.S. mounting system. To prevent this, the mounting pressure has been reduced by an adjustment of the screw set. Of course, Scythe is going to ship a the new set of screws to every customer completely free of charge!
Intel provides a recommended maximum mounting pressure for third-party cooler designs, which for Skylake remains the same 50 pounds (22.6kg) of static load. This is the same pressure (50lbs) that was recommended on Haswell, so the mounting pressure hasn't changed despite the thinner substrate. From what we are seeing after looking into this situation is that this problem seems to be exacerbated when the CPU cooler is installed on a system and it is shipped or transported. Some 3rd party enthusiast heatsinks also have more mass than what Intel's design spec/criteria recommend, so that could also be causing some problems in a shipping situation. The max heatsink mass spec is 500 grams with a 25.4mm or less center of mass from the IHS surface. We aren't sure if any heatsinks are breaking specs off the top of our head, but it wouldn't be too shocking to find some on the market. It should be noted that none of the issues appear to have happened with Intel OEM cooling solutions.
We've reached out to Intel, but they do not have an official statement on the issue. Could some of the CPU cooler makers be exceeding the recommended maximum mounting pressure? We are pretty sure this will be figured out shortly.
Update 2pm – Intel has released an official statement that can be read here.