Sneak Peak – Ultra Products 2000W ATX Power Supply
By
Enough Power To Silence The Toughest Power Critics
Bigger is always better right? It seems that way when it comes to the computer industry and today's annoucement of the upcoming Ultra 2000W power supply should be no suprise to those that follow the computer hardware. The Ultra X3 Modular 2000W PSU has a footprint that is similar to the PC Power & Cooling 1000W power supply. This means this PSU comes in at 10.25 inches long and doubles the power rating all while keeping the same form factor!
While 99% of our readers might be scratching their heads wondering why release a product with so much power, George Ali from Ultra can answer that for you. "It's not so much that we believe personal computers today need as much as 2000W of power," explains George Ali, Vice President of Sales and Marketing for Ultra Products. "In fact, most household circuits can't even provide the AC power this unit would require in order to put out 2000W of DC power. But there's the always-inevitable questions of 'Do I have enough power?' or 'Does my power supply have enough juice where my high end components need it.' That is why we have put together this 2000W unit; as the end all of power supplies as far as DC output goes. With as much as 1800W available on the 12V alone, there should be no concern whatsoever that there is enough power available for quad core, quad GPU or large drive arrays."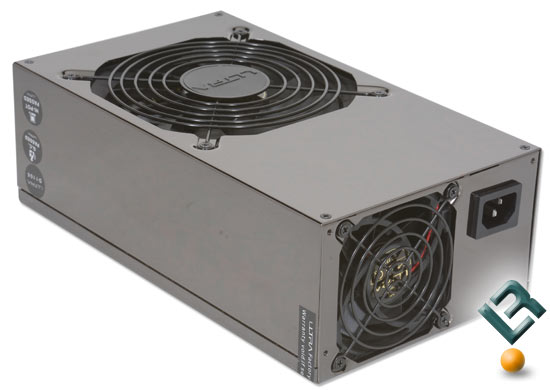 With the +12V rail being rated at 1800W that means it can handle an amazing 150A load! To put this into perspective, NVIDIA's power hungry 8800GTX DirectX 10 compliant graphics cards uses ~30A. If one was to run a pair of 8800GTX graphics cards in SLI it would double to roughly 60A, which leaves another 90A available to use up on the Ultra X3 Modular 2000W PSU. When we spoke with Ultra today on the phone they informed us that the first samples of the Ultra X3 2000W PSU just arrived in the United States this week and are currently being tested by Ultra Products to make sure they are ready to be shipped to retailers around the world. That means the Ultra X3 2000W PSU will be available to consumers sometime in Q1 2007.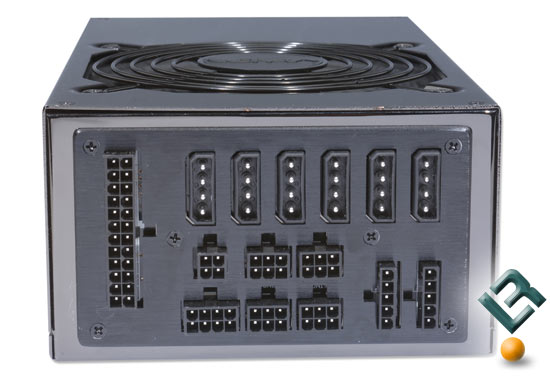 The Ultra X3 is fully modular and supports a wide range of connectors from the look of the picture that has been released. From the looks of the panel, it will host four 6-pin PCIe connectors. This will handle the four 6-pin PCIe connectors that the GeForce 8800 GTX SLI requires, but when later this year when three graphics card become the new thing consumers will find the need for six 6-pin PCIe connectors. Hopefully Ultra Products is shipping this power supply with modular cables that will "split" each PCIe header into two connectors!

When looking at the label on the Ultra X3 PSU, we noticed that it only lists one +12V rail, which leads us to believe that it only has one +12V rail. That does cause some concern though as the form factors ATX12V v2.2 guidlines suggest a second +12V rail be made available on power supplies that are used in situations where components will draw more than 18A.
Section 1.2.1 from ATX12V 2.2: 'System components that use 12V are continuing to increase in power. In cases where expected current requirements is greater than 18A a second 12 V rail should be made available.'
We again contacted Ultra Products and their marketing department said it had one rail while an Ultra Employee (R&D schlub according to himself) told us that he was unsure.
'The label says one, but I opened one up and it looks like two to me. All four PCI-e connectors and the 8-pin EPS12V seem to be on one rail and everything else (Molexes, ATX connector, SATA, etc.) seem to be on the other. Would this meet ATX12V spec? No. Since ATX12V can't have more than 20A on any 12V rail.' – Ultra Products USA
When it comes to pricing Ultra refused to comment and will let us know what the MSRP is closer to when it launches. With the PC Power & Cooling 1000W power supply running $599.99 at Newegg, one can only expect this 2000W power supply to be more. One of the major factors when it comes to cost is the build of materials and if it only has a single monster +12V rail this power supply might be really affordable as it won't require and a number daughter boards (PCB's) inside. While these are all guesses for now, time will tell, and when we see it in person we will know right away what is going on. The Ultra X3 Modular 2000W PSU will be on display during CES and Legit Reviews will be at the event bringing you exclusive pictures of this and other upcoming hardware by Ultra Products next week!
UPDATE: Ultra doesn't expect this power supply to cost more than US $499!