SENGLED SNAP – LED Light Bulb with Integrated IP Camera, Speaker and Microphone
By
The light bulb is a low tech device right? A company called Sengled hopes to change all with with some innovative smart lighting products that are sure to blow you away. Sengled has reinvented the traditional dimmable LED light bulb by incorporating things like Wi-Fi, JBL sound speakers, microphones and even 720p cameras!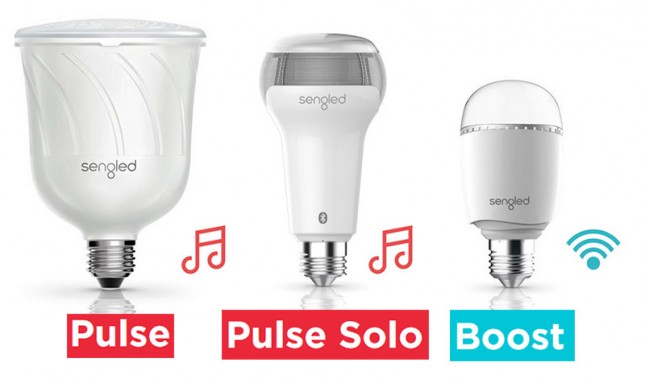 Currently SENGLED has three bulbs available on the market; Pulse, Pulse Solo and Boost.
Pulse – LED + 1.75-inch JBL Multi-Channel Stereo Wireless speakers

The SENGLED Pulse is available in Grey or Red and has an MSRP of $79.99 – $169.99 depending on what color and version you get (available in E26, E27 and B22 sockets). This bulb has one dimmable BR30 LED down light (2700K) along with a 1.75″ Full-Range High-Fidelity JBL Bluetooth Loudspeaker with surround sound effect. The speaker is rated at 13 Watts (Max.) @ 8ohms; 100Hz-20kHz frequency response. Power consumption: 15W (Light and Audio), Peak 30W.

Pulse Solo – LED + 1.07-inch JBL Bluetooth Stereo Wireless Speakers

The Pulse Solo was the first dual-speaker solution that was integrated in asingle LED bulb. This bulb carries an MSRP of $59.99, comes only in white and fits E26, E27 and B22 sockets. On the LED side you are looking at a 550 Lumen brightness, a color temperature of 2700K and a power consumption of 9.5W (rated) or 12.5W if you include the Light an Audio soultion. The speakers are rated at 3 Watts @ 8ohms; 260Hz-18kHz frequency response.

Boost – LED + Wi-Fi Repeater

The Boost is a installs like any other traditional A60 bulb, but has a built-in Wi-Fi repeater. Boost supports 802.11b/g/n wireless networks on the 2.4GHz spectrum at speeds of up to 300Mbps. At $49.99 this is a rather inexpensive way to extend Wi-Fi singnal coverage across a home or business. The dimmable LED bulb itself has a brightness of 470 Lumens, a color temperature of 3000K (warm white) and uses 6 Watts of power. The Wi-Fi repeater uses 1.8W at standby and 2.8W at full load.
Here is a quick video overview of SENGLED Pulse in action.
At the 2015 Consumer Electronics Show we discovered that SENGLED is showing off Snap. Snap is a PAR38 indoor/outdoor LED lamp that has an integrated 720p camera, microphone and a speaker. SENGLED says that SNAP also supports cloud recording/playback, voice and motion activation, and facial/activity recognition for home security, automation and commercial applications.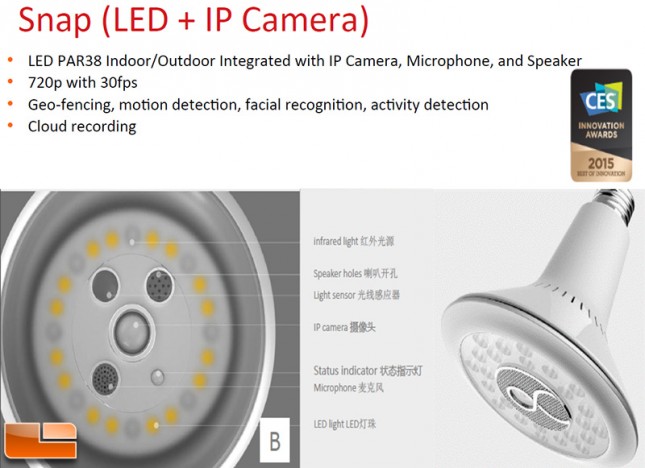 Here are some pictures of the bulb from CES 2015 in Las Vegas taken by Legit Reviews. It looks slightly different than the marketing slide we were provided ahead of the show, so it looks like there were some design changes in recent weeks. We aren't sure about prices or the release date, but SENGLED has some very cool lighting products coming out that have certainly captured our attention!