Seagate Thunderbolt & 4G LTE Wireless Demo at CES 2012
By
Seagate GoFlex Adapter For ThunderBolt & 4G LTE
Seagate was showing off the companies pair of Thunderbolt solutions at CES 2012 this week in Las Vegas. The storage devices on display were a pair of the Thunderbolt adapters for the GoFlex Desk and GoFlex Satellite product lines. This means that any owners of those existing product line can now get Thunderbolt capabilities should they choose to.
Many might want to start looking at Thunderbolt for external storage solutions as it uses technology capable of running at speeds of 10Gbps, which just happens to be twice the speed of SuperSpeed USB 3.0 ports. Intel first announced this technology under the name 'Light Peak' in case you are curious.
Thunderbolt solutions offer connection speeds that top at 10Gb/s, letting the drive inside finally reach its full potential.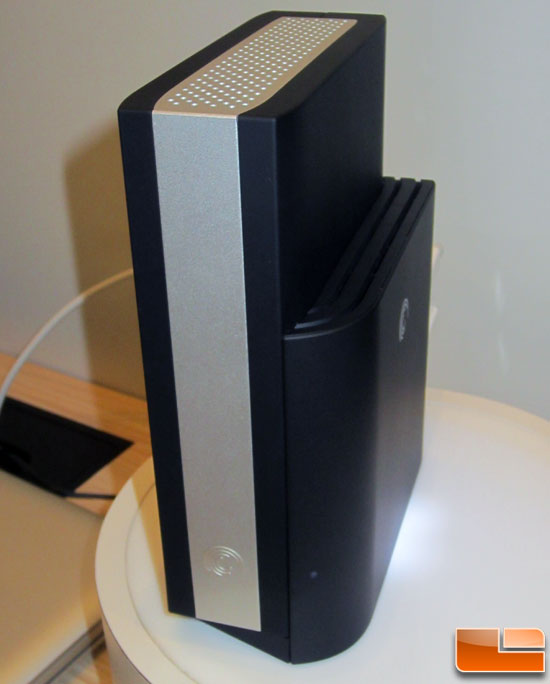 The first drive that we'd like to show you is the Seagate GoFlex Desk on the Thunderbolt adapter. We are told that this solution would cost roughly $189, not including the Thunderbolt cable. These cables run $45 shipped, so just a heads up to all of our readers.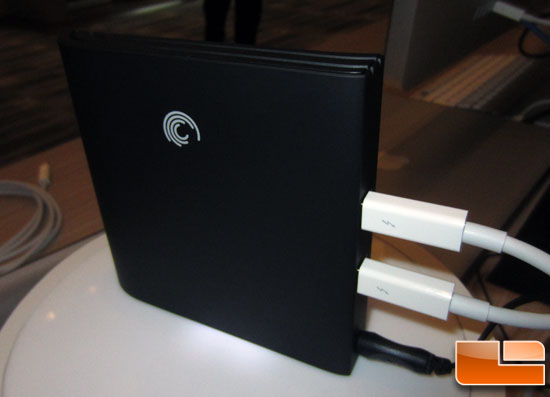 As you can see the Seagate GoFlex Desk adapter has two ports on it, so you can daisy-chain more drives together if you'd like to improve performance and increase storage space. There is a limit though as Seagate informed us that you could daisy-chain no more than six of these drives together.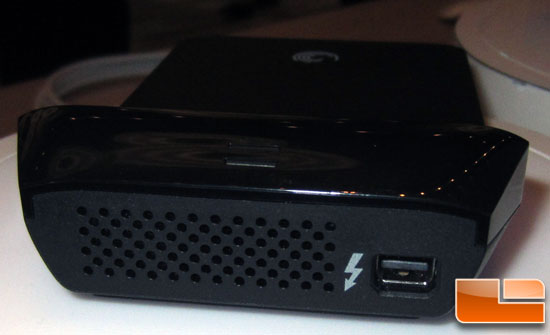 The next product that we will be covering is the GoFlex Satellite adapter that is an an end-of-line connection as you can't daisy-chain any more drives to it since there is just a single Thunderbolt port on it. You can see this single Thunderbolt port in the image above.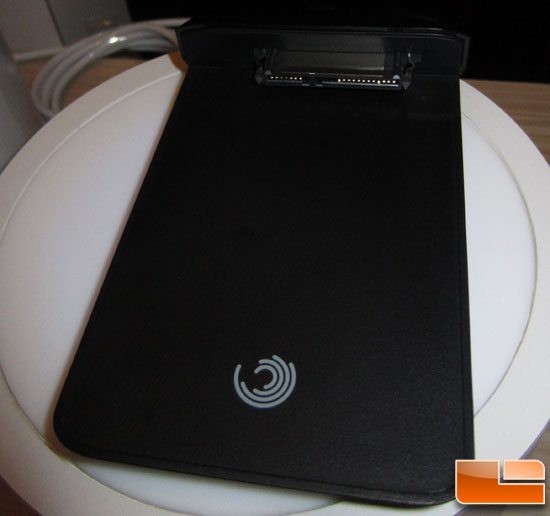 On the other side you'll find both the SATA power connector and data connector. This adapter uses just bus power, so there is no external power supply cable needed since the Thunderbolt cable provides more than enough for proper operation of a hard drive. Seagate expects the cost to be $99 for the GoFlex Satellite and once again no Thunderbolt cable is included.
Seagate showed us a speed demo using a 3.5-inch 7200RPM notebook hard drive in a GoFlex Desk housing that we'd like to show you. First a speed test was run on a Firewire 800 port and then it was tested on the Thunderbolt port. Running the drive on the Firewire 800 port gave us ~83 MB/s read and ~68MB/s write. Moving the GoFlex Desk over to the Thunderbolt adapter the performance shot up to ~177MB/s read and ~176MB/s write. This test shows that the drive maxes out well before the available throughput of the Thunderbolt cable. The GoFlex Thunderbolt Adapter will come out in February 2012 and the GoFlex Desk Thunderbolt Adapter is expected
to be available before the second half of this calendar year.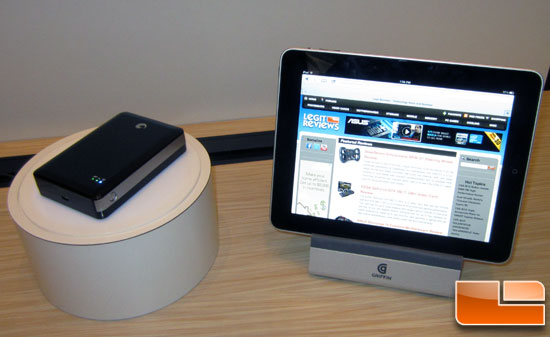 We were also given a hands on demo with the prototype of the Seagate 4G LTE Mobile Wireless Storage device that was worth mentioning. This device will allow users to store over 300 HD movies for all Wi-Fi-enabled iOS and Android phones and tablets that include a browser. Users will then be able to play stored content via streaming to a maximum of three mobile devices thanks to a 802.11 b/g/n Wi-Fi connection. Since the device has 4G LTE service with Verizon you can also download and stream content on the go, which is the main point of this specific storage device.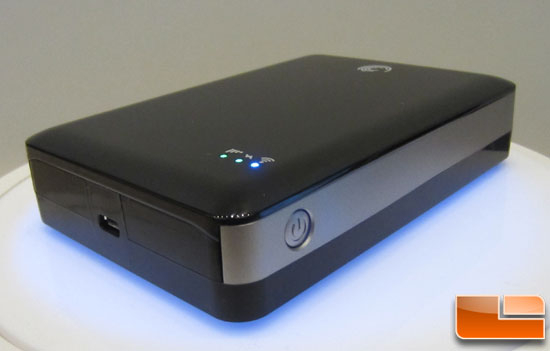 Seagate 4G LTE-connected Mobile Wireless Storage Device Highlights:
Expand the storage capacity of your mobile device with enough space to enjoy over 300 HD movies on an iPad or Android tablet. Imagine having the ability to carry every James Bond movie in HD, every season of both Mad Men and Glee and the entire catalog of the Rolling Stones, as well as thousands of photos.
Download music, movies and photos over 4G LTE and stream it all over Wi-Fi for up to three of your mobile devices. It becomes the perfect road-trip companion providing hours of entertainment for the kids.
Use the lightning fast Verizon 4G LTE network to connect to an endless library of entertainment in your pocket and provide Internet connectivity for up to three Wi-Fi-enabled mobile devices.
The Seagate 4G LTE Mobile Wireless Storage comes with a rechargeable battery and is said to have up to five hours of battery life. Not a bad little device, but we don't know availability or pricing right now. Watch the video below to see the device in action.
Thanks for reading and we hope that you are enjoying our CES 2012 coverage!