Seagate GoFlex Slim 320GB USB 3.0 Hard Drive Review
By
GoFlex Slim – 9mm Thick Portable USB 3.0 Hard Drive
Most of us have a portable hard drive that we use for transporting or backing up the data that we need the most. The only problem with external storage is that it is often bulky and ugly. You usually have power wires that you need to plug in and a housing that is large enough to fit a desktop 3.5″ hard drive that is better suited for internal storage. In recent years many companies have begun to offer external storage solutions that use notebook hard drives and, in all honesty, that makes perfect sense. Notebook hard drives are designed from the start for abuse. Let's face it, we drop and toss around our notebooks way too often and the hard drive inside usually doesn't blow up on us.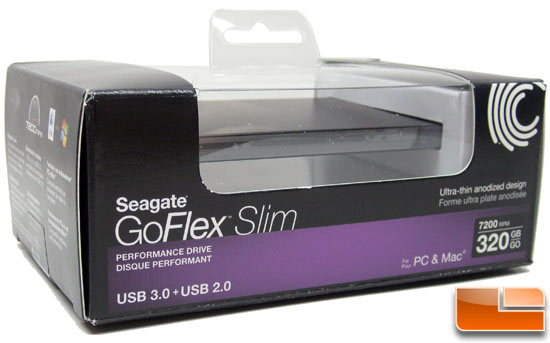 Seagate set out to design and manufacture the world's slimmest high-performance portable external notebook hard drive and we would have to say they hit the nail on the head with this one. Seagate went to the drawing table and looked for an existing hard drive that would fit the job requirements. The drive that Seagate picked was the Momentus Slim 320GB. This hard drive has been around since 2009 and is a tried and proven product. Why would Seagate pick this drive over any other? Well, this specific drive was chosen from their lineup as it is built using the 7mm z-height form factor. The Seagate 7200.4 500GB drive for example is thicker at 9.5mm. Since Seagate was going for sleek and sexy the 320GB Momentus Slim hard drive was the best solution for obvious reasons. Seagate then designed a simplistic anodized black enclosure that pairs with a USB 3.0 controller and topped off the whole design with their logo on it and called it a day.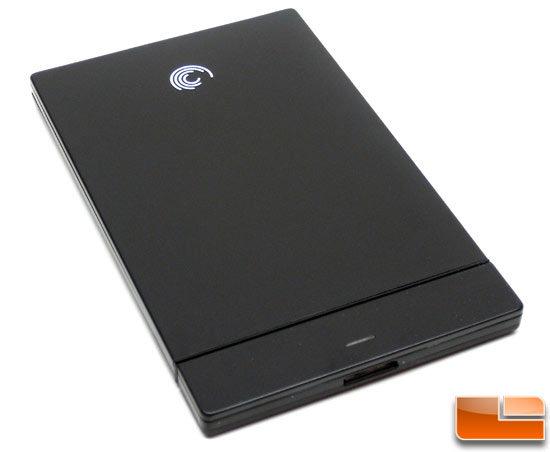 The end result is a portable hard drive that measures just 9mm in thickness with the case! That is thinner than many traditional 2.5″ notebook hard drives and it can easily be slipped into your pocket, purse, center console, backpack or desk drawer. Seagate kept the design simple and on the front of the GoFlex Slim drive all you have is a small Seagate logo and the white power LED light that is located right about where the USB 3.0 cable goes. Some of you might be wondering how bright the white LED is and it's not that bad. It's enough to glow, but not enough to light up the entire room. The GoFlex Slim requires no extra power cable as it gets all the power it needs from the USB 2.0 or USB 3.0 header that you'll be using it on. This is ideal as you want a portable hard drive to be easily moved around and it doesn't get much easier than this.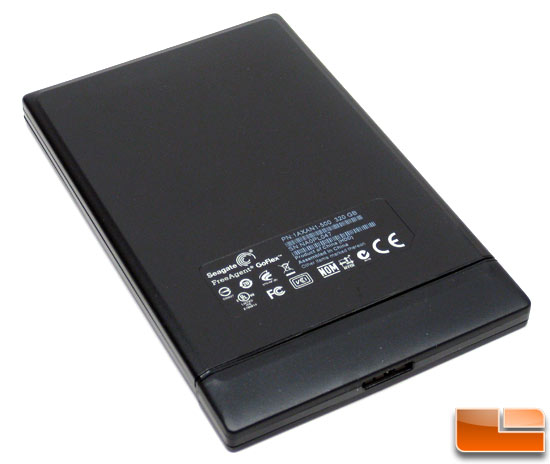 Flipping the GoFlex Slim over we find nothing except the drive's product label that shows the model number, serial number and that it's been FCC approved. The drive measures in at 124mm x 78mm x 9 mm and weighs just 160g! If you want a portable drive that is both small and lightweight with a clean looking fit and finish, you'll be hard pressed to find something better than this!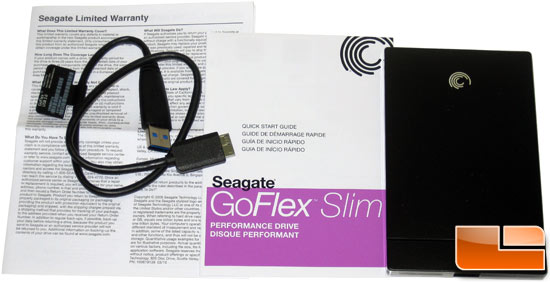 Seagate includes a quick start guide, a warranty information pamphlet that goes over the 3-year warranty and a rather short 18-inch USB 3.0 cable. If you have a full tower case like we do you'll find that this cable isn't long enough to reach the front USB 3.0 connector and have the drive sitting on your desk. For example our Corsair Obsidian 800D PC case has the USB connectors 22-inches up, so when using the GoFlex Slim the drive is dangling in the air a little bit and that is something that we don't like to do with a rotational drive. Something about the GoFlex Slim spinning at 7200RPM and looking like a wind chime just doesn't sit right with us. If you have a mid-tower PC case or a laptop then this won't be an issue, so for the majority of consumers out there this should not pose any issues.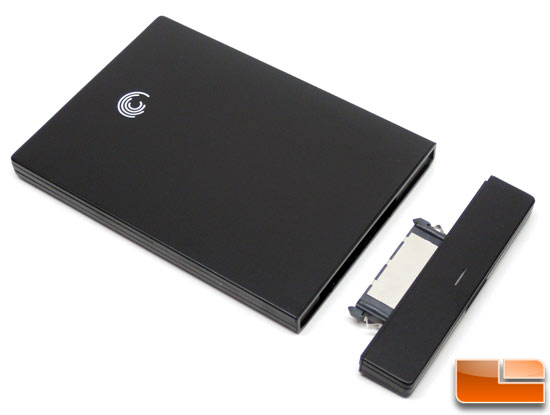 As you likely already pieced together on your own, The Seagate GoFlex Slim is part of the GoFlex Storage System by Seagate. This means you can also use this drive with the Seagate FreeAgent GoFlex Net Media Sharing Device ($99.99) or the Seagate GoFlex TV HD Media Player ($98.95 shipped) by removing the USB adapter and plugging it into the SATA slot on one of those two devices. If you don't own one of those drives it's a feature that means nothing to you, but for some it's nice to have the flexibility to expand down the road.

Here is a closer look at the SATA data and power connectors that are easily visible when the GoFlex adapter is removed from the device. As we mentioned before, inside the GoFlex Slim 320GB portable drive is the Momentus Slim hard drive (part number ST320LT007). This 320GB notebook hard drive has 16MB of cache, spins at 7200RPM and sends data back and forth with a SATA 3.0Gb/s connection interface.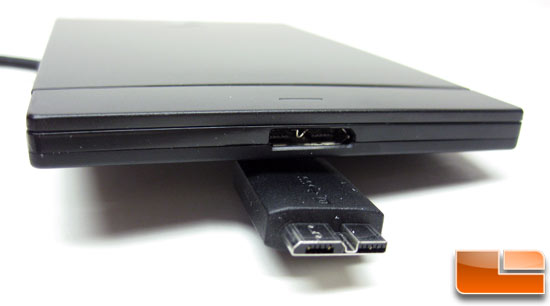 The other side of the GoFlex adapter has a micro-USB connection. Seagate includes an 18-inch long black USB 3.0 cable (A to Micro B) that is
needed to hook the GoFlex Slim up to your desktop PC or notebook. The side pictured above must be connected to the GoFlex Slim and the other side is a typical USB connector that can be plugged into any USB 2.0 or USB 3.0 device. This device is fully compatible with both USB 2.0 and USB 3.0 computers, so you don't have to have SuperSpeed USB 3.0 to use it.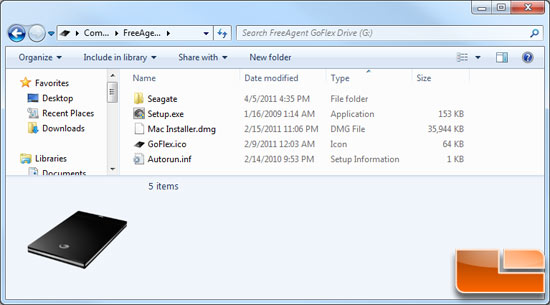 You'll find that Seagate ships the GoFlex Slim with ~230MB of data already on it. The pre-loaded software includes Seagate Dashboard, which is a management tool for your data backups and file encryption (192-bit Triple DES). You'll also find a NTFS driver for those that are using a Mac, so you can get up and running in a timely manner.
Now that we know how this drive was created, what hard drive powers it, the standard features and what comes on it we can get to the performance testing!