Seagate FreeAgent GoFlex TV HD Media Player Review
By
Seagate's GoFlex TV – A New FreeAgent Media Player

Today we look at Seagates FreeAgent GoFlex TV, an HD media player that allows you to play your multimedia on your home network, attached storage, or from the internet. The FreeAgent GoFlex TV is Seagates second incarnation of their FreeAgent Theater+ HD Media Player. The first was based on their original FreeAgent hard drive form factor. The new GoFlex ultra protable hard drive is slightly smaller than the original FreeAgent but still comes in the same flavors and capacities of the original portable Seagate FreeAgenet. By simply sliding the GoFlex portable drive into the GoFlex TV, you are able to play your content.
While the outside of Seagates GoFlex TV set-top media box has changed from the original FreeAgent Theater +, the internal specifications havent. The GoFlex media player is still based on the Realtek 107x chipset. In the past the Realtek chip has been one of our top performers allowing us to play virtually any multimedia file we have. From MKVs, to Blu-ray ISOs video files, to MP3, OGG, and FLAC audio files, media players with the Realtek 107x chip have been very, very good. The GoFlex specifically has a 1073DD chip running at 400 Mhz. Again, we have seen that this is more than enough power to not only play 1080p files, but stream them over a local network. Seagate has also introduced this player with the ability to play Netflix content as well as accessing your favorite YouTube , Picassa and Flikr content.
On paper, the GoFlex TV looks to be a very strong media player. When we first got word that Seagate was releasing a new set-top box, we wondered why they just wouldnt updated their original FreeAgent Theater+. It sort of makes sense that Seagate has consolidated their external backup solution to something that has a smaller footprint and faster (USB 3.0) speeds.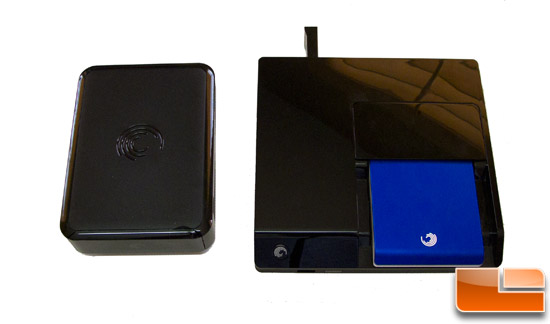 When looking at GoFlex TV Media Player, it looks to only be an upgrade in form factor only. The player has an MSRP of $130 which is the same price that Seagate debuted its FreeAgent+ last summer. The good news is that they GoFlex TV media player can be found online for $109.99, which is $20 less than the price of the original FreeAgent Theater+ when we reviewed that model. This price points seems to be the most popular with the major set-top companies. You can find the Western Digital WDTV Live Plus, the Apple TV, the Asus O!Play Air HDP-R3 and others for this same price.
GoFlex TV Featured Specifications
:
Streams Netflix, Youtube,Paramount, and Flickr
Makes navigating and accessing your digital media files easy with the included remote control and intuitive on-screen menus
Lets you watch streaming media directly from the Internet, your computer and your USB devices
Easily watch, share and play your movies, music, and photos on your TV
Enjoy stunning 1080p HD image quality with rich Dolby Digital and DTS audio
Play content from any external USB storage device; Access your GoFlex ultra-portable drive's content through the integrated GoFlex drive slot
Watch content streamed from your home network and popular websites like Netflix and YouTube

GoFlex TV Technical Specifications:
Video Connections: HDMI 1.3; Composite; Component
Audio Connections: HDMI 1.3; Stereo; Optical S/PDIF
Video Formats: MPEG-4 (Xvid); MPEG-2 (VOB/ISO); Xvid HD; DivX HD; MPEG-1; AVC HD; TS/TP/M2T; RMVB Real Media; DivX; VC-1; M2TS; WMV9; H.264; MKV; MOV; AVI
Subtitles: SAMI (smi); SRT; SUB
Video Resolutions: PAL 576i/576p; NTSC 480i/480p; 720p; 1080p; 1080i
Audio Formats: WMA Pro; WMA; Dolby Digital; ADPCM; FLAC; AAC; ASF; DTS; LPCM; OGG; WAV; MP3
Playlist: PLS; M3U
Photo Formats: JPEG files (up to 20 megapixels); MJPEG; BMP; TIFF; PNG; GIF
Supported File Systems: HFS+; NTFS; FAT32; FAT
Internet Sites Supported: Video Feeds (RSS); Text Feeds (RSS); Weather Widget; Finance Widget; Flickr; Mediafly; YouTube; Picasa; Netflix; vTuner
Network Connection: Wi-Fi Adapter (Optional); Ethernet
Ports: 2 USB
TV Systems: NTSC; PAL