Seagate 5GB Pocket Hard Drive Review
By
3,600RPM's in your pocket!
With the increased popularity in portable data storage, and demand for greater storage capacity, it was only a matter of time before someone introduced a hard drive that would be small enough to fit in a pocket. For quite some time consumers have been limited to using USB flash memory sticks which have become relatively inexpensive to purchase, however they are quite limited by their storage capacity. All of that has changed recently when Seagate introduced their USB 2.0 Pocket Hard Drive.
| | |
| --- | --- |
| The Seagate Pocket Drive Top | The Seagate Pocket Drive Bottom |
Key Features:
Powered by your computer, so you don?t need a power supply.
Hot-pluggable USB 2.0 interface enables data transfer up to 480 Mbps.
3600-RPM drive with 2-Mbyte cache consistently delivers the high performance you need.
Worry-free one-year warranty, plus free technical advice even after your warranty ends.
Comes complete with built-in, retractable 2.0 cable, quick connect guide and utilities CD.
Measures 2.9″ in diameter, is 0.73″ thick and weighs 2.2 ounces.
What Can I Do With It?
Store up to 80 hours of MP3 or 160 hours of WMA music or
2,000 high-resolution 5-megapixel photos or
4.5 hours of digital video or
Thousands of different types of business files
As one can tell there are a number of different storage reasons that the Seagate Pocket Drive can be used for. Let's take a closer look at the drive itself.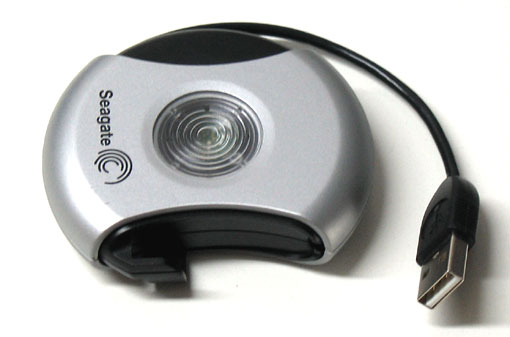 The Seagate Pocket Drive's USB Connector
The new external hard drive Seagate introduced comes in two versions; a 2.5GByte model or a 5GByte model. It measures approximately 3 inches in diameter and is about three quarters of an inch in height and weighs only 2.2 oz. It is made out of silver and black plastic and has 2 semi-circular rubber feet on the bottom. The outer silver portion of the case rotates allowing the user to extend a USB 2.0 cable that is about 5 inches in length. There is a blue light in the center that comes on when the drive is in use. No software is needed to use the Seagate Pocket Drive; however it does come packaged with a software package called Toolkit. This utility software allows the user to password protect files on the drive (Windows users only) as well as view and manage the drive content.
Performance:
We ran a quick and simple benchmark to see how the Seagate 5GB Pocket Drive compares to other portable storage solutions on the market. The pocket drive was able to read data at 23MB/Sec and had an average access time of 17ms when tested on our ASUS M6N notebook with a 2.0GHz Dothan processor. The drive index score was rated at 7MB/s by Sandra.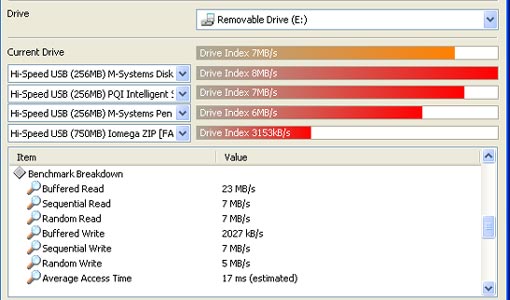 Sandra File System Benchmark Results
During performance testing a 1.8GB movie was transfered from hard disk to the Pocket Drive and was done so in just over 5 minutes.
| | |
| --- | --- |
| The Seagate Pocket Drive Active | The Seagate Pocket Drive Box |
Final Thoughts:
During our use of the Seagate Pocket Drive we noticed that the drive gets a little warm during long term operation, and it didn't make any noise (that we noticed). The additional storage space over traditional USB keys was an added bonus as large work files or multimedia files can now be stored on a drive that will fit in your pocket. With most USB keys offering up to 1GB in storage the pocket drive increases that number five fold!
Our only gripe on this hot swappable portable drive was the length of the USB cable. It worked fine on notebook computers, but when plugging it into our desktop tower the drive was unable to sit on the case top or the table bottom. This minor details means the consumer has to hold it while using it because if you don't it will pull out of the USB slot due to its own weight and gravity. A minor gripe, but when transferring data between a notebook and a desktop some might bump into the problem.
Seagate currently offers this version of the pocket drive in 2.5GB and 5GB sizes and priced reasonably on the market for $110 (2.5GB) to $140 (5GB). These price ranges are more than flash memory USB keys, but keep in mind how much larger these drives are! Our 5GB drive showed to be an actual 4,983MB in Windows and that breaks down to $0.03 per MB. An average 1GB USB Flash Memory Stick runs about $75 or $0.07 per MB, which is more than double the cost per MB. When you think of it in that aspect these drives offer a pretty good value when it comes to price versus performance.
Legit Bottom Line: Seagate?s USB 2.0 Pocket Hard Drive offers consumers increased storage space in a small drive that easily allows consumers to carry digital music, photo, video and business files.