Screwpop 4-in-1 Keychain Tool Review
By
The Screwpop 4-in-1 Keychain Tool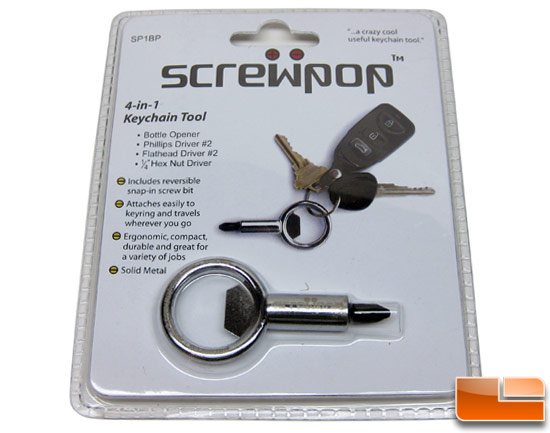 The holiday shopping season is well under way and today Legit Reviews will be looking at the Screwpop 4-in-1 Keychain Tool, which just might be the perfect sub $10 stocking stuffer for your tech savvy loved one. The Screwpop 4-in-1 Keychain Tool is designed to fit on any size keyring and be used in emergency situations where you need a basic tool in a pinch. So, what are the four tools that make this 4-in-1 device worth talking about?
Phillips Screwdriver #2
Flathead Screwdriver #2
1/4″ Hex. Nut Driver
Bottle Pop-Top Opener
As you can see you have two of the most common screwdriver sizes available, a 1/4″ nut driver and a bottle cap opener for when you are done with that last minute project that you helped someone out with.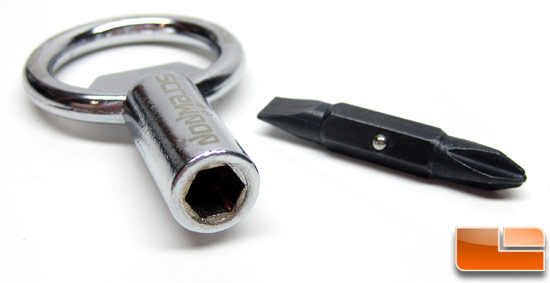 The Screwpop looks like it might be big and bulky, but it is honestly not that obtrusive and can comfortably fit in in your front pant pocket. The Screwpop is made from Zinc Alloy that has been chrome plated to give it a nice appearance. Since it features an all metal construction it sure to be durable and last for a long time. The Screwpop measures in at .4375″ x 1.375″ x 3″ and weighs just 1oz if you were curious what the size and weight is. As you can imagine the small size of the Screwpop will limit the amount of torque you have, so if you are trying to run a screw into wood you'll quickly wear your fingers out, but it works. A few of our friends thought the keyring part of the Screwdrive was a bit bulky, but that is designed as big as it is to give you a good grasp of the Screwpop in order to get some torque behind it. We found that the Screwpop worked really well on computer cases or other electronics that have machine screws.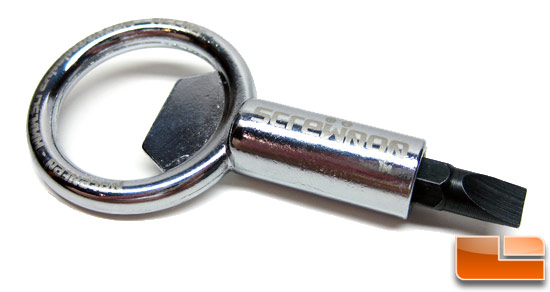 The reversible screw bit is held in place by a friction fit ball
bearing
that can be easily pulled out and turned around to access either style
screw head – Phillips or Flathead. When completely removed from the
tool, the empty shaft can then be used as a hexagonal 1/4″ nut driver
for tightening or removing bolts. The screw bit holds in place okay, but
as with anything removable it is going to fall out and get lost at some
point in time. We didn't see anything mentioned by Screwpop about replacement bits, but we are sure that you can get them directly or pick up one at a hardware store as 1/4″ reversible bits are rather common in the hardware industry.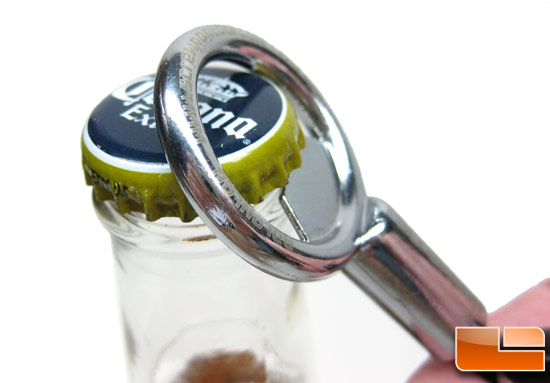 The fourth and final tool on the Screwpop is the bottle opener that is located inside the keyring. Using a bottle opener is a pretty basic operation, so you should be able to figure out how it works! You might be wondering about how the Screwpop travels and so were we. The Screwpop is marketed as being TSA approved and we tested that claim out two weeks
ago on a flight from St. Louis, Missouri to San Jose, California and it
passed TSA scrutiny with flying colors and this is during the enhanced pat down screening process.
Final Thoughts and Conclusions:
After spending a month with the Screwpop we found that it was nice to have on our key chain and that there were a few situations where it came in handy. Those situations included removing a blown up power supply at a LAN party, opening up a paint can and of course helping out a friend when they realized they bought a six pack of beer that didn't have twist off caps. The Screwpop 4-in-1 keychain tool isn't something we used every day, but it did come in handy at random times and was a cool conversation piece when we saved the day. If you have a friend that is a handy man or someone that likes having every tool under the sun then you might want to check out the Screwpop as a quick and easy stocking stuffer for this holiday season. The Screwpop is available directly from Screwpop individually with no packaging for $4.95 plus shipping or in a blister pack for $5.95 plus shipping. They charge about $3.50 for shipping, so after shipping both versions are under $10. We found an online store selling the Screwpop without packaging for $5.95 shipped, so that looks to be the best price so far.