SATA Revision 3.2 Includes SATA Express – Faster SSDs Coming
By
On Thursday, the SATA-IO group moved closer to bringing SATA Express to reality with the release of SATA revision 3.2. SATA Express is a new specification that enables the coexistence of SATA and PCIe storage devices, as well as enhancements in power management, new SATA form-factors, and optimizations for solid state hybrid drives (SSHDs). PCIe technology enables increased interface speeds of up to 2GB/s (2 lanes of PCIe 3.0), compared with today's SATA technology at 0.6GB/s (6Gb/s).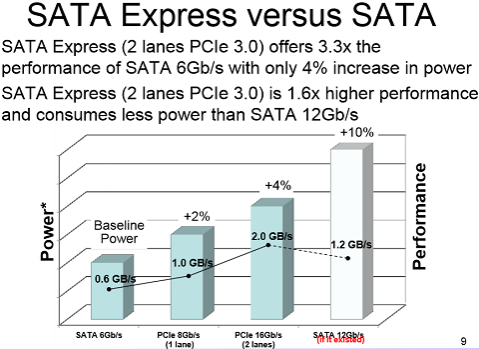 SATA revision 3.2 also incorporates the M.2 form factor, enabling small form-factor M.2 SATA SSDs suitable for thin devices such as tablets and notebooks. M.2 (formerly known as NGFF and defined by PCI-SIG) is a small form factor card that supports a variety of applications including WiFi, WWAN, USB, PCIe and SATA.
Additional key features and enhancements of SATA revision 3.2 include:
microSSD standard for embedded solid state drives (SSDs) that enables developers to produce single-chip SATA implementations for embedded storage applications.
Universal Storage Module (USM) enables removable and expandable storage for consumer electronic devices. SATA revision 3.2 introduces USM Slim, which reduces module thickness, allowing smaller removable storage solutions.
DevSleep the lowest yet level of power management where the drive is almost completely shut down, to meet the requirements of new always on, always connected mobile devices such as Ultrabooks.
Transitional Energy Reporting provides the host with detailed information about the SATA storage device, facilitating better power management.
Hybrid Information provides a mechanism in which the host can communicate data caching information to the drive, improving solid state hybrid drive (SSHD) performance.
Rebuild Assist speeds the data reconstruction process in RAID configurations.