Sandisk Extreme microSDXC UHS-I 64GB Memory Card Review
By
SanDisk Extreme 64GB microSDXC Card
In June 2012, SanDisk announced the world's fastest microSDHC mobile memory card with the introduction of the SanDisk Extreme Pro microSDHC UHS-I card series. The cards were available in just 8GB and 16GB capacities, but made up for the rather small sizes by being incredibly fast. We are talking up to 95 MB/s read and 90 MB/s write, so it was ideal smartphone and tablet users who wanted to boost their device's storage capacity while enjoying the fastest mobile experience. Over the past year the need for larger capacity memory cards have increased, so it shouldn't come as a surprise to anyone that SanDisk announced new 32GB and 64GB microSDXC UHS-I memory cards that are part of the SanDisk Extreme Pro series.
The SanDisk Extreme microSDHC/microSDXC UHS-I series is available in 16GB, 32GB and 64GB capacities. The MSRP ranges from $59.99 for the 16GB card to $199.99 for the 64GB card, but the street pricing is significantly lower and ranges from $30 to $102 shipped.
The 32GB/64GB cards are rated up to 80 MB/s read and 50 MB/s write, but the 16GB card is a tad slower with speed ratings of up to 80 MB/s read and 30 MB/s write. These speeds aren't as fast as the SanDisk Extreme Pro microSDHC cards that were released last year, but they are still very fast. So fast, that SanDisk says that this is the world's fastest 64GB microSDXC memory card!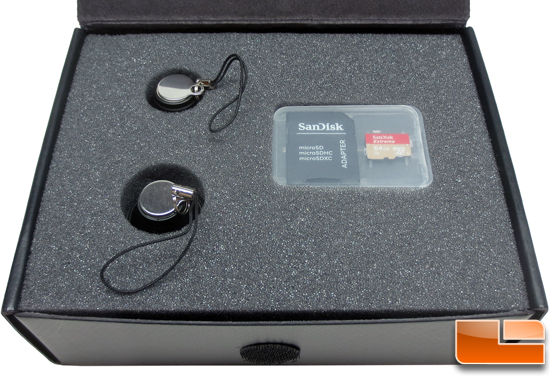 The card that we were sent to review was the 64GB version that is sold under part number SDSDQX-064G. This card is class 10 and UHS Speed Class 1 rated (UHS-104). We weren't sent a retail package, but rather a reviewers kit that came with the SanDisk memory card and a pair of ocular lenses for smartphones and cameras. This was a nice gesture and something to try out on our smartphones, but sadly they attach magnetically. Our Apple iPhone 5, Samsung Galaxy S4 and Galaxy Note II all don't have any metal around the lens, so they won't stay attached. The retail packaged cards will come with the SanDisk Extreme microSDXC UHS-I Memory Card, SD adapter, jewel case, and RescuePRO Deluxe software (download).
SanDisk Extreme microSDXC UHS-I 64GB Card Features:
Get unparalleled performance for your smartphone or Tablet
Fastest transfer speed at 80 MB/s read and 50 MB/s write
Featuring Class 10 for 3-D and Full HD video (1080p)
Superior Photo, Full HD Video and App Performance
Engineered with UHS-I bus architecture
Water-proof, temperature proof, X-ray proof, shock proof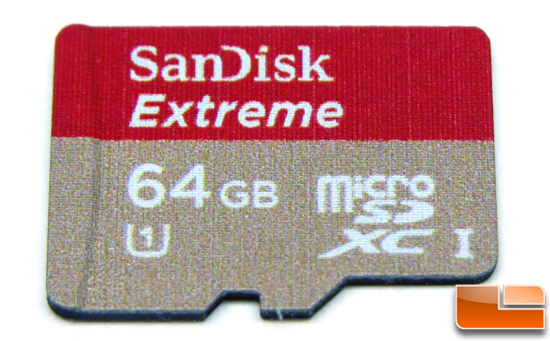 The SanDisk Extreme microSDXC card is compatible with any microSDHC or microSDXC-slotted device, so you can us it on thousands of devices without any issues. If you use it on older devices you might be speed limited by the host device, but one is usually always limiting the other.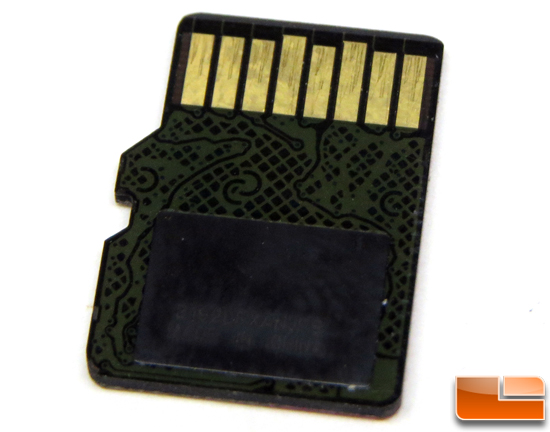 Flipping the SanDisk Extreme micro-SDXC UHS-I card over you can see some of the trace routes on the black PCB and then the eight pins needed for operation. As we already mentioned this is a Ultra-High Speed (USH) memory card. We were told by SanDisk that this UHS-I card UHS-104 interface, which means it supports a clock frequency of 208MHz. Let's take a look at how this card performs!