Samsung SSD 970 EVO NVMe 1TB SSD Review
By
Linear Write, File Transfer and Game Load Time Testing
AIDA64 Disk Benchmark
We've had some people ask for AIDA64 linear write tests to be done, so we fired that utility up to see what would happen. The Samsung SSD 970 EVO uses Intelligent TurboWrite technology that was first introduced with the 960 EVO series to improve the user experience with large data writes. Sasmung uses the TurboWrite algorithm they came up with to look at the user workloads intelligently and defines the appropriate SLC buffer.

On the Samsung SSD 970 EVO 1TB capacity model that we are testing today we have a default TurboWrite size of 6GB, but that has 36GB more dynamic SLC buffer available for a total of 42GB of space designed for fast SLC writes. If TurboWrite is available the write performance of this drive should be around 2500 MB/s, but once the SLC buffer used by TurboWrite is full the data is written directly to the TLC V-NAND at just 1200 MB/s. Please note that TurboWrite does not work on any Samsung SSD 970 EVO series drive that has than 18GB of free space. This algorithm also does not affect SSD endurance, because the total amount of data user writes on the SSD is unchanged.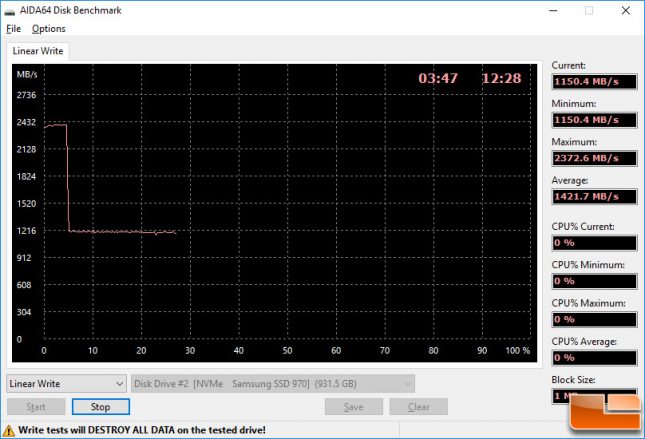 When we rain the AIDA64 linear write test we were looking for 2500 MB/s speeds for the first 42GB (4% of the drives capacity) and then around 1200 MB/s speeds for the remainder of the write operation. If you take a look at extended sustained write performance you'll see that the performance started out at around 2375 MB/s and then dropped down to around 1200 MB/s once the drives SLC cache was full right around the 5% mark. This is exactly what Samsung said would happen and will happen to you when you write more than the SLC buffer for any particular drive. The Samsung SSD 970 EVO 250GB write speeds drop down to just 300 MB/s and the 970 EVO 500GB write speeds drop down to just 600 MB/s, so if you are worried about this and do a bunch of large file writes then you might want to look at the 1TB or 2TB drive due to their faster post-TurboWrite speeds or move up to the 970 PRO model where this isn't a concern.
Real World File Transfer
Let's see how real-world was when writing a movie folder containing seven 1080P movies over to the SSD. For this test, we are going to simply stress write performance by transferring over a 30.6GB folder of movies off of a PCIe NVMe SSD to the drive being tested to see how performance looks.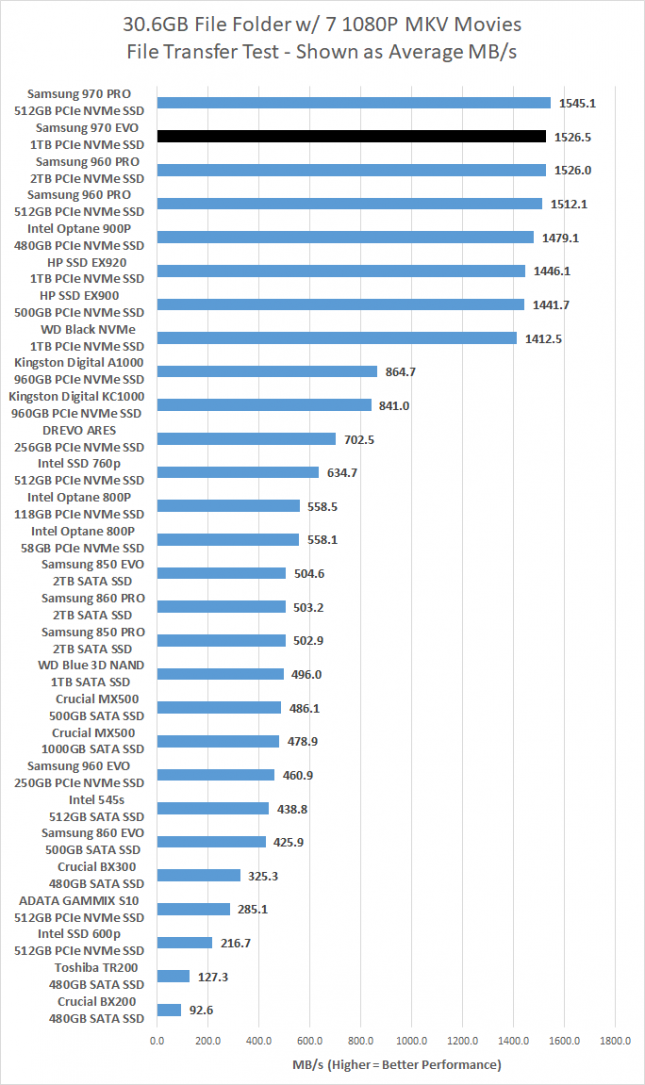 The Samsung SSD 970 EVO 1TB drive finished our file transfer test at 1526.5 MB/s, which makes it the second fastest drive that we have tested in this workload behind the Samsung SSD 970 PRO 512GB drive. Our 30.6GB test folder fits in the SLC Buffer on the Samsung SSD 970 EVO 1TB, so it was able to transfer at peak speeds thanks to TurboWrite.