Samsung SM951 512GB M.2 PCIe SSDs in RAID 0 – Hitting 4.5GB/s
By
CrystalDiskMark and Conclusion
CrystalDiskMark 3.0.3 x64 – Intel Z97 Platform
CrystalDiskMark is a small benchmark utility for drives and enables rapid measurement of sequential and random read/write speeds. Note that CDM only supports Native Command Queuing (NCQ) with a queue depth of 32 (as noted) for the last listed benchmark score. This can skew some results in favor of controllers that also do not support NCQ.
Single Drive: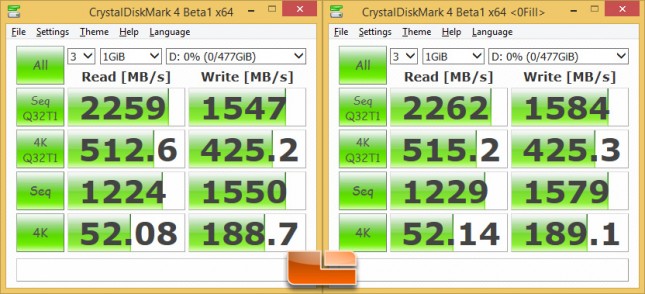 Software RAID0: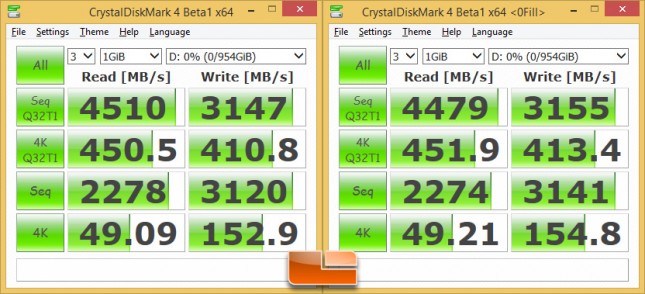 Benchmark Results: The Samsung SM951 512GB M.2 PCIe SSD topped out at 2259 MB/s read and 1547 MB/s on the sequential test with one drive and 4510 MB/s read and 3147MB/s write once the second drive was up and running in RAID0.
Final Thoughts & Conclusions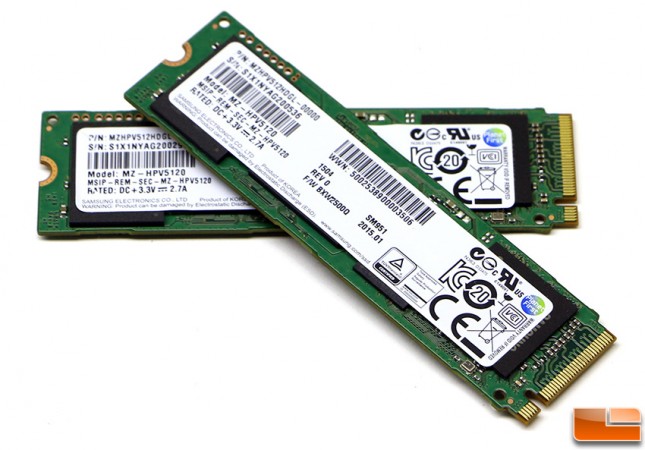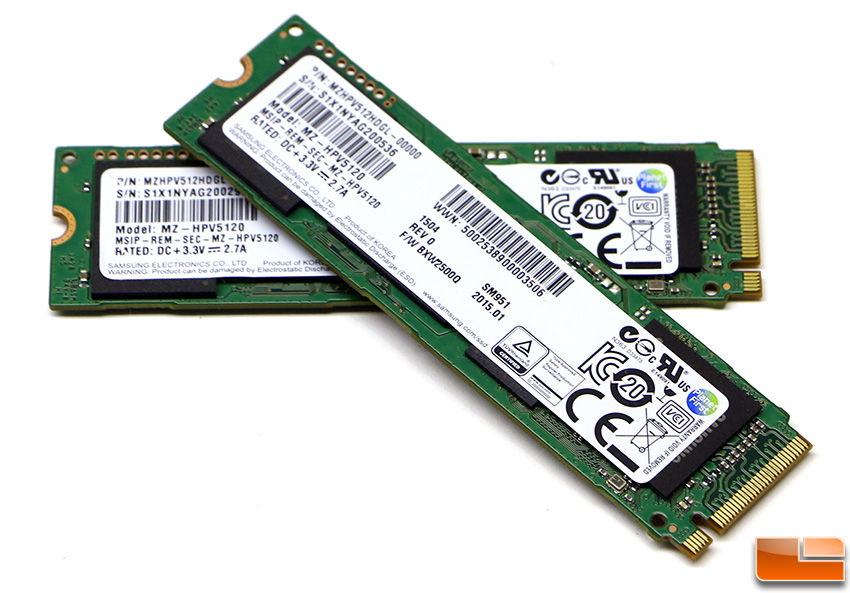 The performance numbers speak for themselves on this look at two Samsung SM951 512GB M.2 PCIe SSDs in RAID 0. The advantage to using the PCI-E bus over the SATA interface is more obvious now than ever and it really looks like PCI-E storage will be where all enthusiasts will be headed in the months and years ahead. On our Intel X99 test platform we were able to get sequential numbers on ATTO up to 4176 MB/s on the read test and 3166 MB/s on the write tests with the stock Queue Depth setting of 4. IN CrystalDiskMark we managed to hit 4510 MB/s Read and 3147 MB/s Write in the sequential test with a Queue Depth of 32. These numbers show that a pair of these drives together in RAID 0 really book it! Just keep in mind that these drive do run very hot and that you need to place a fan over them or maybe some small heatsinks to keep the drives from overheating and throttling!
Samsung SM951 M.2 PCIe SSD Drive Specifications
Part Number
Capacity and Features
Sequential (R/W)
Max 4K IOPS QD4 (R/W)
Price
MZ-HPV2560
M.2 2280 Form Factor 256GB
2150/1200 MB/s
90k/70k IOPS
$264.95
MZ-HPV5120
M.2 2280 Form Factor 512GB
2150/1500 MB/s
90k/70K IOPS
$499.95
With regards to pricing you are looking at $499.95 a pop for the Samsung SM951 M.2 PCIe SSD if you wanted to run out and buy one right now. That means you are looking at $990.90 for the setup that we are using today. It's not the cheapest setup around, but if you want a storage drive that is really fast, relatively affordable, the Samsung SM951 is it. Now we just need an affordable hardware M.2 RAID solution that we can boot off of!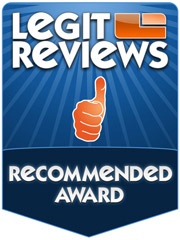 Legit Bottom Line: Only the Samsung SM951 in RAID 0 can give you 4.5GB/s with just two M.2 SSDs!