Samsung 960 Pro 2TB NVMe M.2 PCIe SSD Review
By
Samsung 960 Pro: Epic Speeds and High Endurance
The performance embargo has just been lifted on Samsungs new 960 PRO and EVO NVMe M.2 SSDs! The Samsung 960 PRO is for prosumer, enthusiasts and high-end users that want the best performance and endurance, while the 960 EVO offers slightly lower performance for the broader consumer market. Both models have impressive features and can be used in notebooks, tablets, and desktop PCs.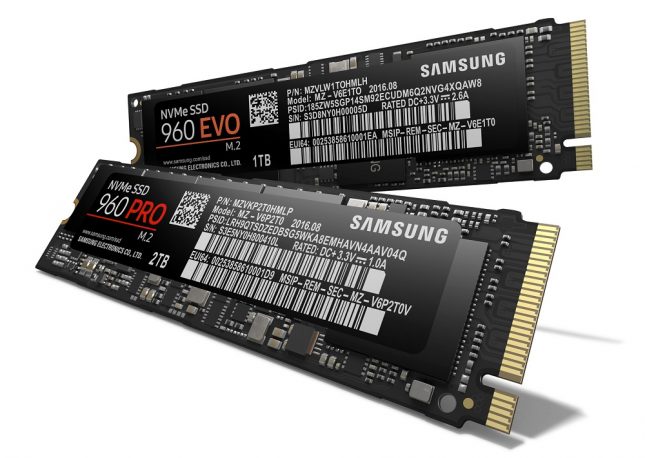 The model that we'll be focusing on here today is the Samsung SSD 960 PRO. The Samsung SSD 960 PRO M.2 NVMe PCIe Gen 3 x4 uses the new Samsung Polaris controller and Samsungs latest 3D V-NAND Flash memory. The 960 PRO delivers peak sequential read and write transfer speeds of 3,500 MB/s and 2,100 MB/s, respectively. The 4K Random read and write IOPS on the 960 PRO series is up to 440,000 IOPS Read and 360,000 IOPS Write. These are performance improvements of up to 40% over the Samsung SSD 950 PRO series that was just released last year! Gone is the 3-channel UBX controller as it has been replaced by the 5-channel Polaris controller that has a good number of architectural improvements according to Samsung. Samsung is also using their 3rd Generation 48-layer V-NAND Flash memory on these drives, so the performance gains are thanks to the new controller, Flash and of course firmware improvements.
Samsung SSD 960 PRO Performance, Endurance & Pricing:
| | | | |
| --- | --- | --- | --- |
| Model | MZ-V6P512 | MZ-V6P1T0 | MZ-V6P2T0 |
| Capacity | 512GB | 1024GB | 2048GB |
| Cache | 512MB LPDDR3 | 1GB LPDDR3 | 2GB LPDDR3 |
| Controller | Samsung Polaris | Samsung Polaris | Samsung Polaris |
| NAND | Samsung V-NAND | Samsung V-NAND | Samsung V-NAND |
| Max Sequential Read | 3,500 MB/sec | 3,500 MB/sec | 3,500 MB/sec |
| Max Sequential Write | 2,100 MB/sec | 2,100 MB/sec | 2,100 MB/sec |
| 4KB Random Read QD32/4T | 330,000 IOPS | 440,000 IOPS | 440,000 IOPS |
| 4KB Random Write QD32/4T | 330,000 IOPS | 360,000 IOPS | 360,000 IOPS |
| Avg. Active Power | 5.1W | 5.3W | 5.8W |
| Avg. Idle Power | 1.2W | 1.2W | 1.2W |
| DevSLP Power | 5 mW | 5 mW | 8 mW |
| Endurance / TBW | 400 TB | 800 TB | 1200 TB |
| Warranty | 5-Years | 5-Years | 5-Years |
| MSRP in USD | $329 | $629 | $1299 |
Here is a quick table of the key specifications. It should be noted that all of the Samsung NVMe SSD 960 PRO M.2 series drives have AES 256-bit data encryption with TCG/Opal and are rated at 1.5 million hours MTBF for those looking for reliability data.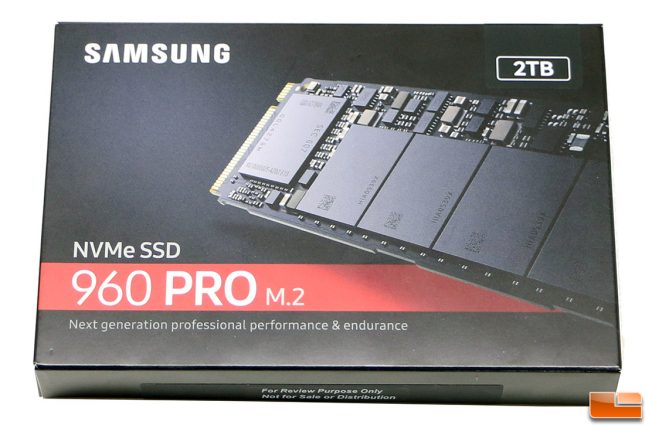 The drive that we'll be looking at today in-depth is the Samsung SSD 960 PRO 2TB NVMe M.2 PCIe model that is sold under part number MZ-V6P2T0 for $1299.99 ($0.65 per GB). The packaging is simple and inside you'll find just the drive along with some paperwork. You should be able to download the Samsung Magician version 5.0 software package sometime in the near future that includes the 'Magic Vault' feature that Samsung is introducing with this drive. The proprietary NVMe driver software for the 960 PRO needed for Magic Vault is due out in the middle of November, so we ended up using Samsung NVMe Driver v1.1 for our testing today.

The Samsung SSD 960 Pro M.2 2280 card has a matte black PCB that enthusiasts love and the standard M-Key PCIe Gen 3.0 x4 connector for use in the latest desktop motherboards and laptops. If your PC does not have a PCIe Gen 3.0 x4 slot for M.2 SSDs available you can purchase an add-in adapter card. All of the components on the Samsung SSD 960 Pro M.2 PCIe SSD are on the front of the PCB. You have four 512GB Flash packages of Samsung MLC V-NAND and then the Samsung Polaris controller/DRAM package all tucked underneath the product label.

The Samsung SSD 960 Pro uses Samsung Dynamic Thermal Guard Technology to manage performance levels to prevent overheating. Samsung also reduced the power on the 960 PRO series by about 10% and placed a thermally conductive label to the back of the PCB. This thicker than usual label has a thin copper layer in it that helps move heat away from the controller and Flash.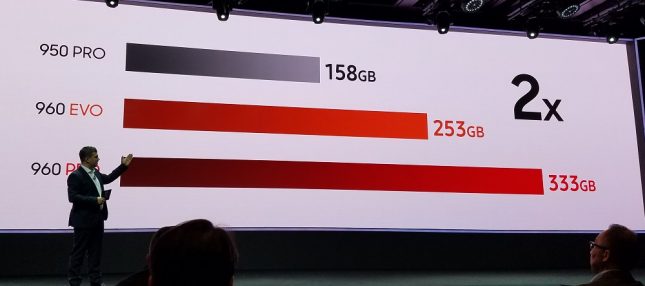 Samsung claims that the 960 Pro can transfer up to 333GB of data sequentially before thermal throttling would be triggered and that is a 2x improvement over the 950 Pro series!
Let's move along and take a look at the test system and then the benchmark numbers!