Samsung 860 QVO SSD Review – 1TB/2TB Drives Tested
By
Samsung launched a new consumer Solid State Drive (SSD) series today called the Samsung 860 QVO SSD. This SATA III 2.5-inch drive series is available in 1TB, 2TB and 4TB capacities and feature Samsung's brand new high-density 4-bit multi-level cell (MLC) NAND flash. The Samsung 860 QVO was brought to market to help eliminate the need to for PC users to rely on a combination of an SSD as the boot drive and a rotational hard drive for mass storage. In order for that to happen the 860 QVO series needs to be rather inexpensive. The good news is that the Samsung 860 QVO 1TB SSD has a Manufacturers Suggested Retail Price (MSRP) of $149.99 or roughly $0.15 per GB. The larger 860 QVO 2TB and 4TB drives have the same price per GB as they cost $299.99 and $599.99, respectively. These prices are still higher than using say a 256GB SATA SSD boot drive and a 2TB HDD for archive storage, but Samsung believes that the market is willing to pay a little extra as they don't have to frequently switch data between the primary and secondary drive. Samsung firmly believes that the storage paradigm will shift back to all-in-one drive model.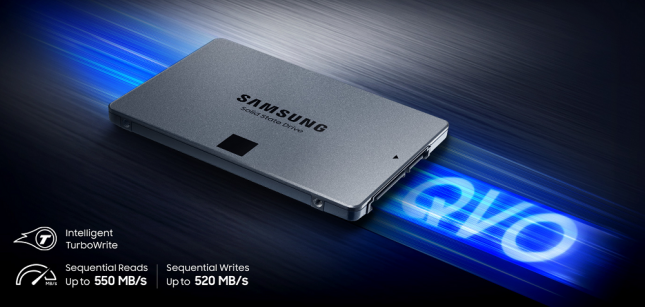 In terms of performance, the 860 QVO SSD series is rated up to 550MB/s for reads and up to 520 MB/s for writes regardless of capacity. 4K Random QD1 performance on all capacities is also the same at 7,500 IPS read and 42,000 IOPS write. We've been close to the SATA III interface limits for years, so these numbers are expected. The good news is that these speeds on a QLC drive are pretty much identical to existing TLC drives. Idle power with DIPM on is 30mW on each drive and average active power is up to 3.1 Watts.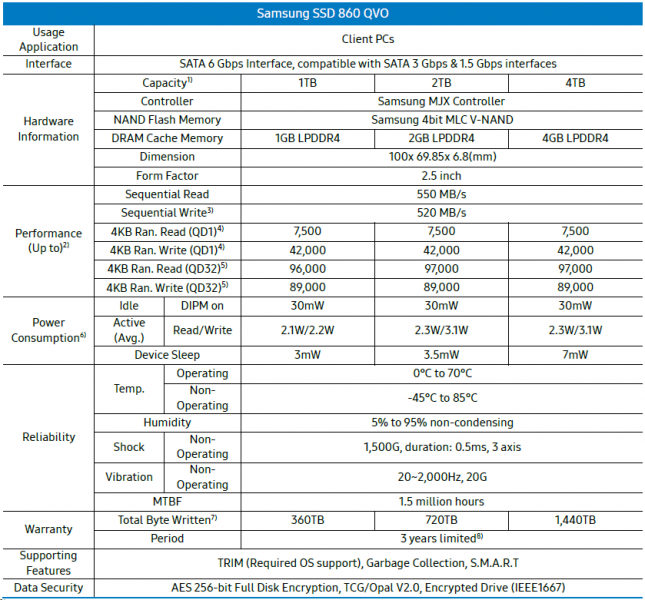 Let's geek out for a little bit on the internals of the Samsung SSD 860 QVO sereis. The 860 QVO is the very first client PC drive to use Samsung 64-layer V-NAND 4-bit MLC NAND Flash. A Samsung MJX controller with a dedicated DRAM cache takes care of all the heavy lifting. The MJX controller is used on the 860 EVO and 860 PRO series and has been a successful SATA SSD controller since being introduced in 2017. The Samsung MJX controller can support up to 8TB, so Samsung could introduce a larger 8TB QVO SSD down the road.
The engineers at Samsung wrote new firmware for the MJX controller to work work with their new V-NAND 4-bit MLC and it still supports features like Intelligent TurboWrite, AES 256-bit full disk encryption, TCG/Opal V2.0, Encrypted Drive (IEEE1667), TRIM, S.M.A.R.T. and garbage collection. Samsung uses an advanced ECC algorithm that allows high endurance (Total Byte Written) ratings of 360TB on the 1TB drive, 720TB on the 2TB drive and 1440TB on the 4TB drive. All Samsung 860 QVO series drives are backed by a 3-year warranty.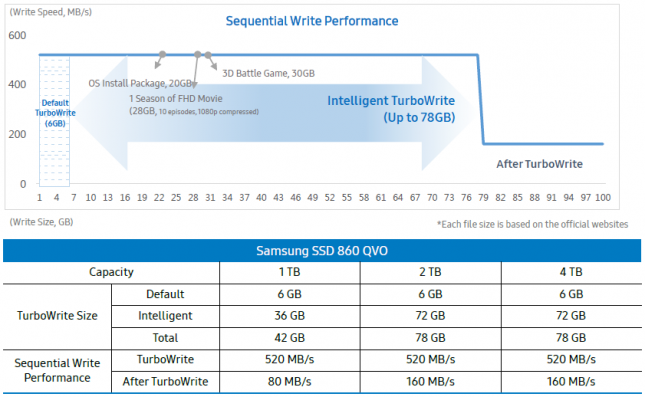 Samsung TurboWrite technology was first introduced on the 840 EVO series back in 2012 and has only gotten better over the years. TurboWrite allows for write speeds to be boost for short periods of time with an SLC write buffer in the SSD. Once the SLC write buffer is full, the data will usually be written straight to the NAND Flash at a much lower speed. The TurboWrite featured in 860 QVO drives will identify user workloads automatically and designates the appropriate SLC buffer which Samsung has defined based on the studies of recent data trends.
With the 1TB model, for example, if the user data is under 6GB, Intelligent TurboWrite uses the pre-allocated (default) TurboWrite region. However, if the user wants to write more than 6GB, the 860 QVO can use an additional 36GB Intelligent TurboWrite region for a total SLC buffer of 42GB. Most users don't transfer over 40GB of data without any breaks, so this should be plenty for most people. The 860 QVO 1TB goes from 520 MB/s write speeds down to 80 MB/s once the SLC write buffer is full. The larger 2TB and 4TB drives slow down to just 160 MB/s. The good news here is that installing Windows 10 or a PC game should easily fit in the SLC write buffer with the exception of a handful of very large game titles.

Samsung sent over the 860 QVO 1TB and 2TB drives for us to try out. To test out performance of the two 860 QVO series drives we installed them on the ASUS ROG Maximus XI Extreme Intel Z390 motherboard (UEFI 0602 from 10/31/2018) with an Intel Core i9-9900K processor and 16GB of DDR4 3200MHz memory. Windows 10 Pro v1809 was installed on the test system and the 860 QVO drives were tested as secondary drives.

After formatting the drives in Windows 10 there was 931.5 GB available on the 860 QVO 1TB drive and 1,863.0 GB available on the 860 QVO 2TB drive.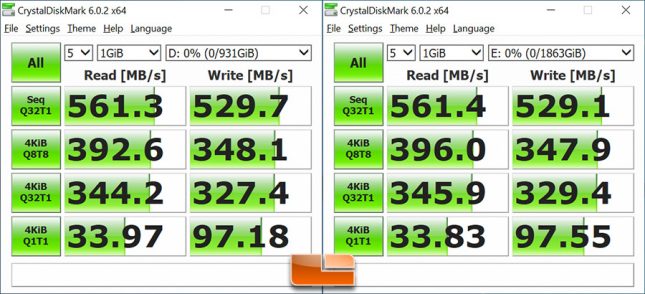 The very first benchmark that we ran was CrystalDiskMark 6.0.2 and we found that both drives topped our at around 561 MB/s read and nearly 530 MB/s write on the sequential test. This drive is rated by Samsung to have 550 MB/s sequential read and 520 MB/s sequential write, which appears to have been conservative.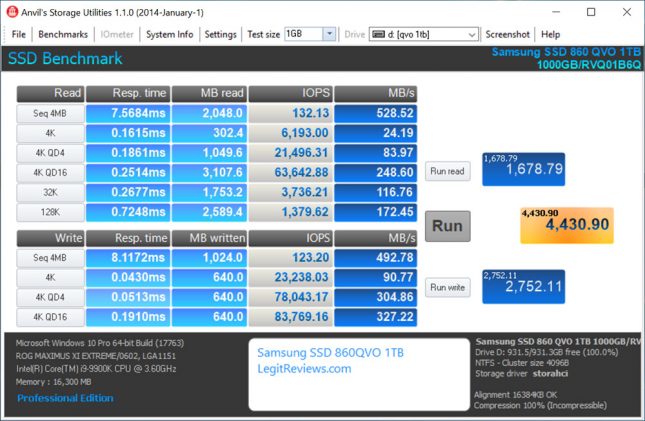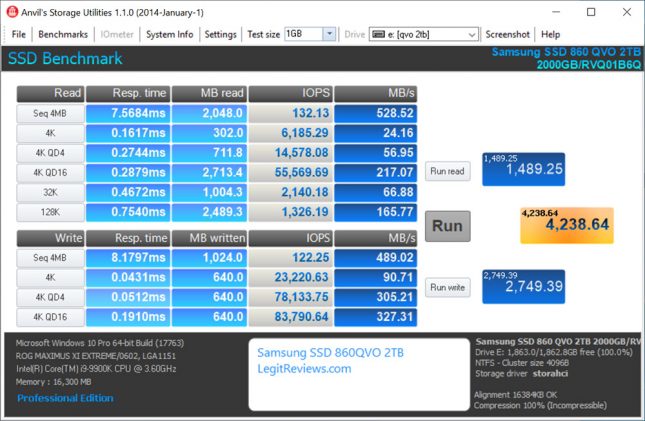 Anvil's Storage Utilities 1.1.0 showed that the Samsung 860 QVO 1TB scores 4,430 points and the 860 QVO scored 4,238 points. We expected the scores to be roughly the same again here and they were. Random 4K QD1 performance was round 6,200 IOPS read and 23,000 IOPS write on both capacities. That is lower than the drives rated 4K Random performance of 7,500 IOPS read and 42,000 IOPS write.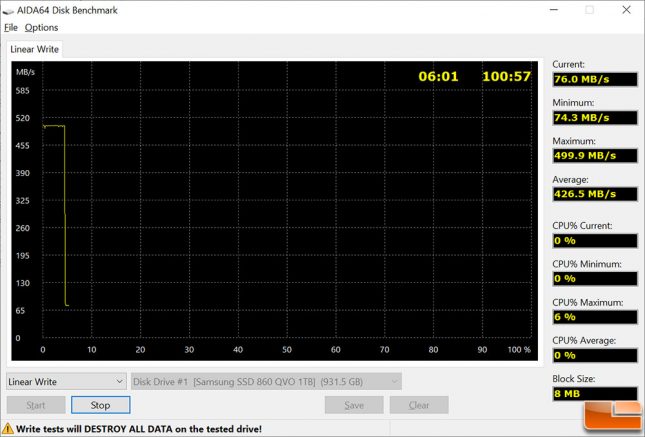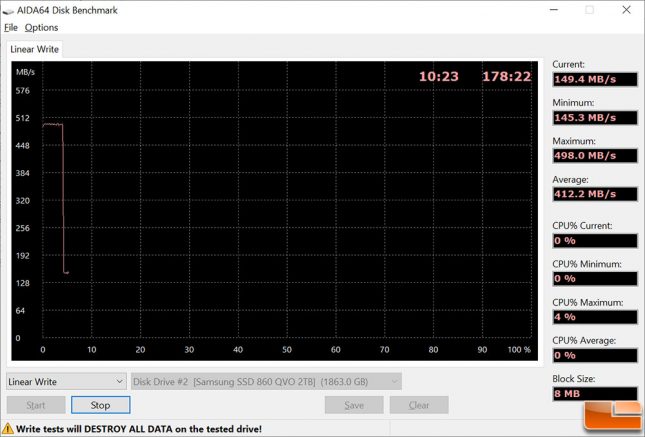 When it comes to testing TurboWrite technology we ran the AIDA64 linear write test and found both drives were running around 500 MB/s on the 8 MB block size when the SLC write buffer was available. The Intelligent TurboWrite technology has a write buffer of 42GB for the 1TB model and up to 78GB for the 2TB and 4TB models. Once the write buffer was full the performance on the 1TB 860 QVO dropped to around 75 MB/s and on the 2TB 860 QVO it dropped down to roughly 150 MB/s. Samsung rates the performances after Intelligent Turbowrite as 80 MB/s (1TB) and 160 MB/s (2/4TB), so we are in the ballpark. QD1 Random performances after Intelligent TurboWrite are 4.4K IOPS (1/2/4TB) for reads, and 21K IOPS (1TB) and 38K IOPS (2/4TB) for writes.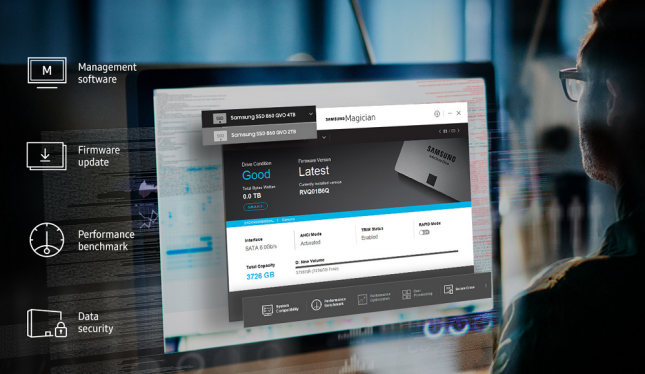 Final Thoughts and Conclusions
SSD pricing is continuing to drop and the introduction of 4-bit MLC NAND Flash will help that trend continue for years to come. The 860 QVO SSD series is the first client drive from Samsung to use 4-bit MLC and the MSRP of these drives is just $0.15 per GB. Street pricing on the 860 QVO series will eventually be below MSRP and then you'll see SATA SSDs in the $0.13 to $0.14 per GB price range. These prices are better than the IHS SSD price trend and forecast from earlier this year. That report believes that SSDs will be $0.08 per GB in 2022. The days of an $80 1TB aren't here this very second, but they are coming! For now we are happy with the 860 QVO series as it brings $149 1TB, $299 2TB and $599 4TB drives to market. This is the first time we have seen a 4TB drive below $600 and it's nearly $200 less than the 860 EVO 4TB drive that runs $789.99 shipped. Samsung just reduced the entry-price for a 4TB SSD by nearly 25%. That is a massive price drop and great news for those looking for large capacity SSDs. Also, keep in mind that the Samsung SSD 860 EVO was $1399.99 when it was first introduced.
The bad news is that the street pricing on the Samsung 860 EVO 1TB drive is $127.98 and that is below the $149.99 MSRP on the 860 QVO 1TB drive. The MSRP on the 860 EVO 1TB drive is $199 ($0.20 per GB), so we expect the 860 QVO 1TB drive to drop below $125 in the weeks ahead. For a 1TB drive the 860 EVO is still the drive to get, but once you get up to 2TB and 4TB capacities the 860 QVO is substantially less expensive. Pricing should adjust to the market quickly, but right now the 1TB pricing is wonky.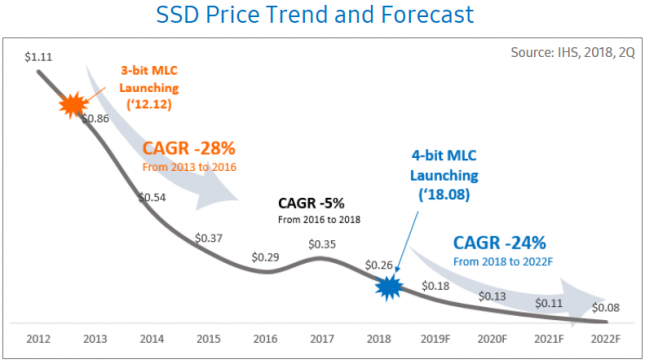 When it comes to sequential performance the Samsung 860 QVO series offers 500 MB/s read and 520 MB/s write speeds. That is pushing the limits of what SATA III can do and is all one can expect from the aging interface. Samsung backs up the 860 QVO drives with a 3-year warranty with an endurance rating of up to 1440 TBW, depending on the capacity of the drive that you are looking at. With low prices, solid performance and respectable endurance, the 860 QVO series looks to be a winner.
The 860 QVO will be available for purchase on December 16th, 2018. You can check out pricing for the Samsung 860 QVO on Amazon here.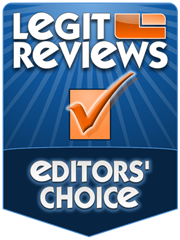 Legit Bottom Line: The Samsung SSD 860 QVO series makes affordable, multi-terabyte SATA SSDs available to everyone without sacrificing performance!