Saitek Photo Mouse – $18 Stocking Stuffer
By
Saitek Photo Mouse
I normally don't write articles on products like this, but with the holiday season coming up I couldn't pass this one up. As a PC enthusiast my girlfriend always gets to hear about the latest and greatest video card or processor, but none of that appeals to her. Her hobbies are not computer hardware related even though she uses a computer daily at the office. She likesLOVES to scrapbook and is addicted to products made by a company called Creative Memories. If you have ever heard your significant other mention Creative Memories or scrapbooking you are in luck as the product that I am looking at today is aimed at you.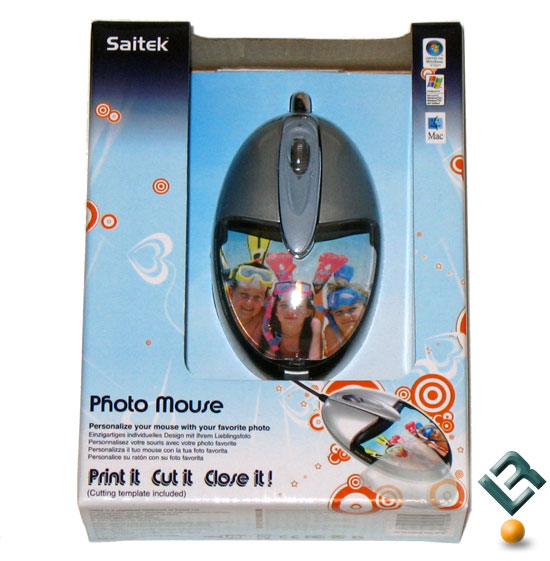 Behold the hardware gift a computer enthusiast can give to their girlfriend/wife and live long enough to talk about it! (I almost got killed when I bought a pair of 24″ monitors for her present one time) This is a 3 button, scroll wheel mouse with an optical sensor that also has a place for a lighted picture. There are no fancy side buttons or Teflon feet for gaming, but there is a place for a personal picture. Saitek claims this is a first in customizable PC peripherals. Now a mouse can function as a compact, mobile picture frame.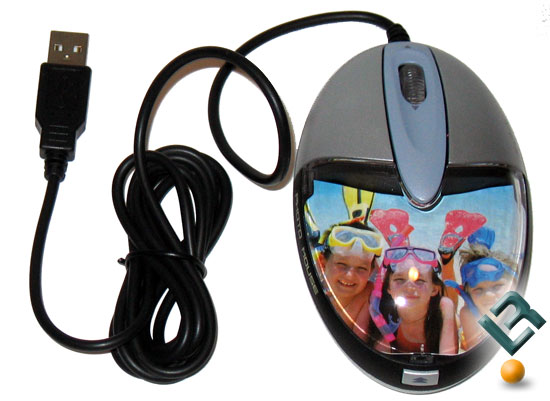 The Saitek Photo Mouse comes with an instruction manual and the mouse. Saitek doesn't say on their website how long the USB cable is on their site or the retail box, but it measured out to be ~5 feet. This is shorter than what many enthusiasts are used to as ~6 feet is standard for most high-end mice.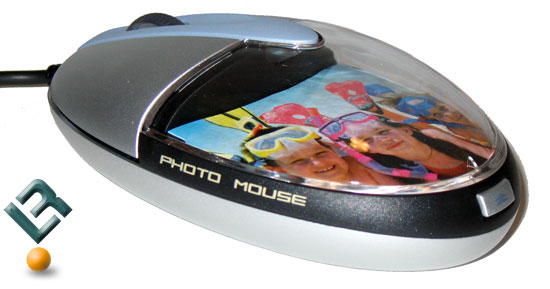 To insert your own picture pick out your favorite photograph, cut it to the right size using the template provided, position it under the Photo mouse's transparent cover and secure it by closing the cover. The button with the pair of up arrows located on the bottom of the mouse is used to release the transparent cover.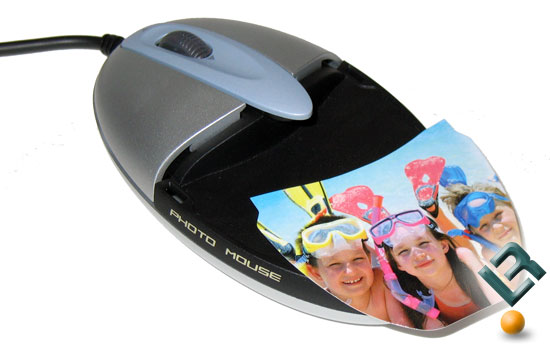 When the button is pressed the cover lifts straight up and off the Saitek Photo Mouse and the old picture can be removed. The entire process takes less than two seconds, so nearly anyone that uses a computer can enjoy the photo mouse. Tired of that picture? Simply print out another, cut and insert another!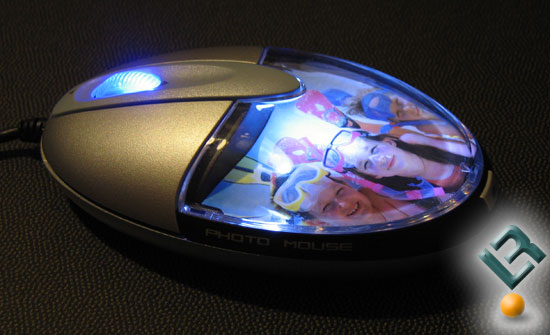 When the Photo Mouse is plugged into the computer it lights up so others can see the picture that means the most to you. The scroll wheel also lighted up thanks to the blue LED under it, which is something Saitek fails to mention on their product website. The end result is a mouse with a lighted picture and scroll wheel that actually doesn't look too bad if you ask me. It's not going to win awards for being a precision gaming mouse or anything like that, but it can't be worse than the mice at most offices around the world. If you are looking for an impulsive gift for a someone that enjoys scrapbooking then look no further. For a reasonable $17.83 plus shipping you should be able to spend money on computer hardware and not get yelled at for once!