Rise Of The Tomb Raider PC Game Benchmarks
By
Rise Of The Tomb Raider Benchmarked on NVIDIA and AMD Video Cards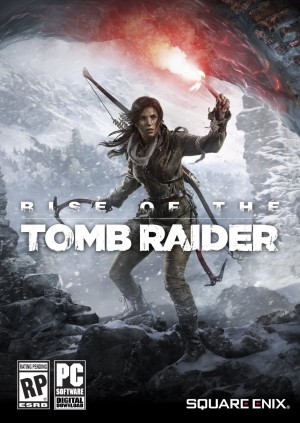 Lara Croft is back on the PC thanks to the highly anticipated release of Rise of the Tomb Raider. The latest game title is yet another reboot for the 20-year-old Tomb Raider franchise with new puzzles, locations and breath taking graphics. The 2013 Tomb Raider reboot focused on Lara Croft's origins and this game is set one year after the events of Tomb Raider. Lara Croft is struggling to explain her experience of the supernatural on Yamatai. Looking for answers, she follows her late father's research and heads to the lost city of Kitezh in Siberia to see if she can figure out the answers to immortality.
We are really interested in Rise of the Tomb Raider as NVIDIA is currently doing a limited time promotion where you can get the game title for free if you purchase a GeForce GTX 970 or faster desktop graphics card. NVIDIA didn't forget about notebook fans either as you can get the game for free if you purchase a notebook with a GeForce GTX 970M or above GPU. Why only a GeForce GTX 970 or higher?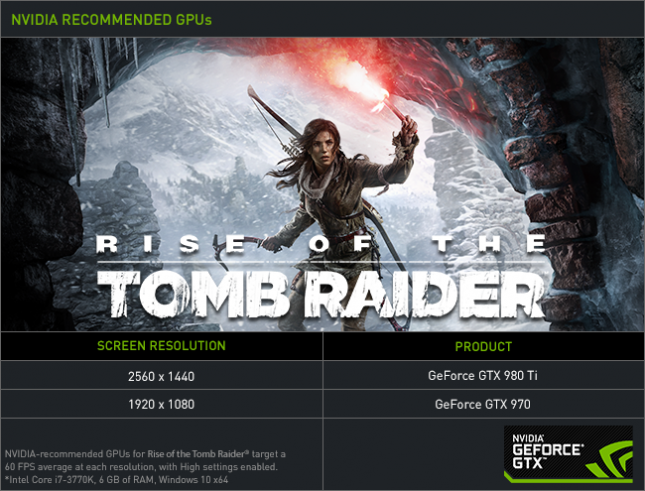 NVIDIA, Square Enix and Crystal Dynamics teamed up for some internal testing and found that to get 60 FPS at 1920 x 1080 you'll need a GeForce GTX 970 with the high-detail graphics preset. That feels pretty extreme, so we wanted to take a look ourselves!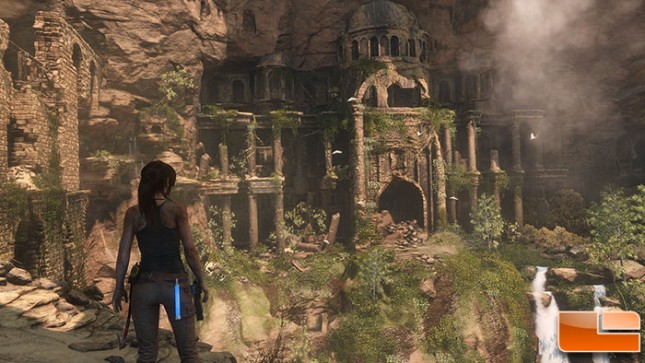 We wanted to bring you this article last week, but AMD was later than we expected with Crimson 16.1.1 Hotfix drivers that had needed performance tweaks and optimizations for Rise of the Tomb Raider. AMD continues to tell us that they are working on getting game day drivers out like NVIDIA, but they just can't seem to get it down and are usually fashionably late.
Let's move along and see what we our own benchmarking tells us on six different AMD Radeon R9 and NVIDIA GeForce GTX 900 series video cards.