Riotoro CR1080 Tiny ATX Case Review
By
Riotoro CR1080 Tiny ATX Case Review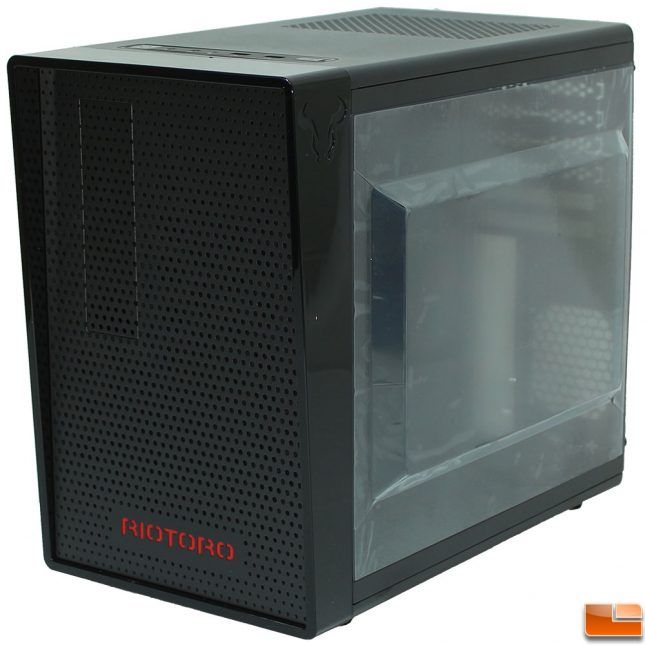 If you haven't heard of Riotoro before, you're not alone. They are a pretty new company founded by former employees of Corsair and NVIDIA. They believe that PC enthusiasts were being overcharged in order to have the best hardware. So they set out to design and provide enthusiast grade products at a lower price point. Previously, Legit Reviews took a look at their Prism CR1280 case, Ritoro's first case, and the first RGB lit case. Today, we are taking a look at their newest case, the CR1080, this is only their fourth case they have released. This is a small case that is designed to support full size ATX motherboards, standard power supplies, and even some of the longest graphics cards.
All four of Riotoro's cases are currently available for purchase, the CR1080 can be found for $79.99 with free shipping and includes a 2 year warranty.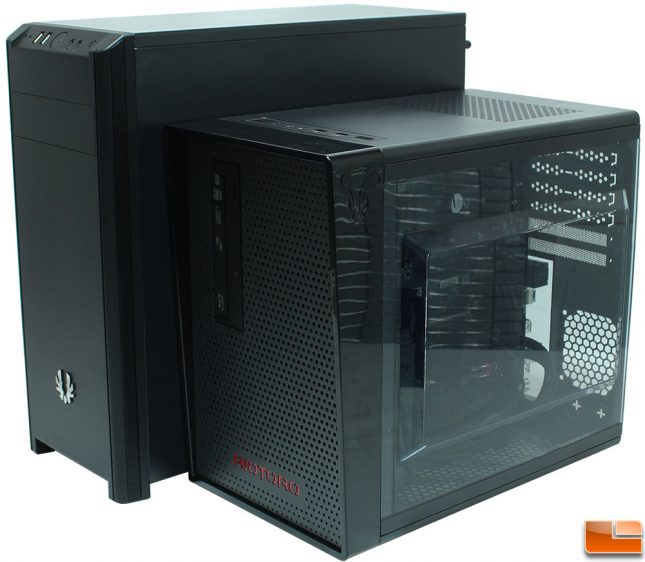 To support a full size ATX motherboard and other required standard components, the case has to be at least the size of the motherboard. Then toss in the need for cooling and power, both of those increases the required size. The Riotoro CR1080 measures 9.625 x 14.125 x 15.5in (WxHxD), where a standard ATX motherboard measures 12 x 9.6in (HxD). Comparing the two sizes, Riotoro has added just over 2in to the height of the case, and about 6in to the depth. Taking a look around the office, I found that many of the mid-tower cases designed to hold similar hardware is typically around 7 x 17 x 18in (WxHxD) (yes, most cases vary in size a little). This makes the Riotoro CR1080 the smallest mid-tower case that supports a full size ATX motherboard I have.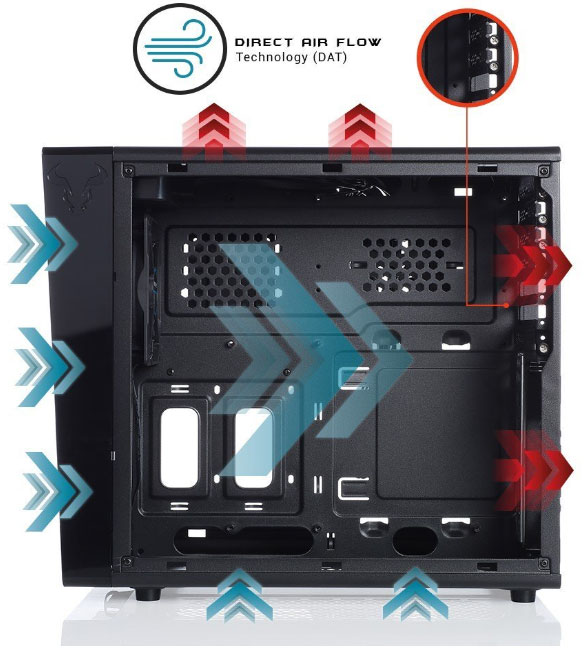 The size of the CR1080 isn't the only thing it has going for it, in small spaces cooling is always a concern. Riotoro has implemented Direct Air Flow Technology (DAT), that directs air flow over the hottest components to help keep them cool. The space in the front of the case can support up to two 120mm fans (Riotoro includes one blue LED 120mm fan), which blows over the motherboard, and is forced out the back. The bottom of the motherboard section can support an additional two 120mm fans, and in the back of the case a single 80mm fan can be placed as an exhaust.
Features and Specifications:
One of the smallest cases available with support for full-size ATX motherboards, PSUs and GPUs
Dual compartment design for cooler operation, for reduced noise and increased reliability
Direct airflow layout for improved cooling of critical components
Integrated cable management hides cable clutter and improves airflow
Large window showcases system interior
Riotoro CR1080 Specifications
Dimensions
9.625 x 14.125 x 15.5in (WxHxD)

245 x 359 x 394mm (WxHxD)

Material
Steel and Plastic
Drive Bays
5.25in optical drive bay

2x 3.5/2.5in drive bays

2.5in drive bay

Motherboard Support
ATX, micro-ATX, and mini-ATX
PSU Support
Standard ATX 175x150x85mm
Graphics Card Support
Fits full size reference graphics cards up to 300mm
Max CPU Cooler Height
120mm
Expansion Slots
Seven
Cable Management
Cutouts and mounting points
Fan/Radiator Mounting Points
Front: Two 120mm mounts (one blue 120mm LED included) or single 120mm radiator

Bottom: Two 120mm mounts

Storage bay: 80mm mount

Front Panel
Dual USB 3.0

Microphone and Headphone

Tool free side panel

Warranty
2 Years
Like most cases, the Riotoro CR1080 is packaged in a plain heavy duty cardboard box. The front of the box presents a glimpse of t he case, while the back of the box goes into detail on the specifications. Opening the box, the case is packed between two large Styrofoam blocks, along with another layer of cardboard protecting the side window.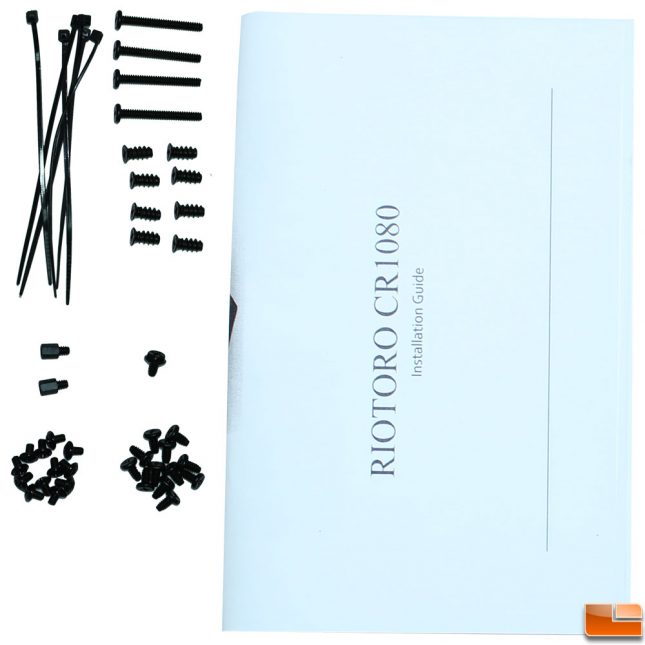 Like every case manufacturer, Riotoro includes an accessory pack that includes the required screws and motherboard mounts to install your system components. In addition, extra fan screws are included and six small cable ties. The installation guide isn't entirely necessary, however with a unique case like the CR1080, it might be helpful to have it handy. You can always download it from Riotoro and print out the installation guide, which is what Riotoro has done. This is a pretty cheap and easy method of providing a user manual, which probably rarely gets taken a look at.
Next, let's spend a few minutes taking a look at the exterior of the CR1080 before opening it up and seeing how the components get installed.