Richard Huddy Says AMD FreeSync Drivers Are Coming In December
By
AMD's very own Richard Huddy took to the stage at PDXLAN and talked about all things gaming to the group of people that came for the presentation. My. Huddy is AMD's Gaming Scientist and at the LAN party touched on FreeSync (aka Adaptive Sync) during his time on stage and dropped some pretty big news when it comes to release dates. AMD will be releasing FreeSync supporting drivers in December 2014. AMD has been talking to Legit Reviews and introduced us to the idea FreeSync in September 2013, so this has been a long time coming. AMD is promising that FreeSync will the comparable to NVIDIA's G-Sync technology as the monitor refresh rate is synchronized with the render rate delivered by the GPU.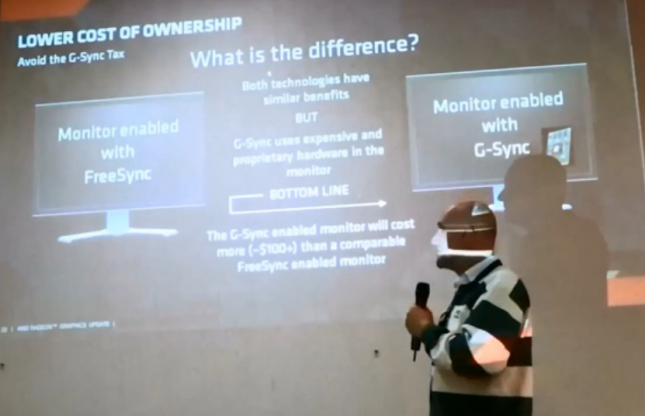 Where are the displays that support Adaptive Sync technology? My. Huddy said that they are still 1-2 months away, but noted that there is one display on the market today that can support it after a firmware update. This means that after a free firmware update that 'FreeSync' will be up and running. Not all AMD Radeon video cards will support FreeSync though as only AMD Radeon R7 260/260X as well as Radeon R9 285/290/290X/295×2 video cards with DisplayPort 1.2a video outputs will be able to utilize this technology. AMD expects Adaptive Sync (FreeSync) displays will run $100 less than a comparable NVIDIA G-Sync ready display. AMD believes that they will be able to deliver a value to gamers that NVIDIA won't be able to match. This is because no current NVIDIA GeForce GTX video card is ready to support Adaptive Sync. Not even the mighty NVIDIA GeForce GTX 980/970 Maxwell video cards support it. NVIDIA is clearly promoting G-Sync and is all-in with that whereas AMD is going the open standard route. Is the gaming experience the same on both variable refresh rate solutions? We aren't sure as we have haven't been able to game on FreeSync, but we know G-Sync works great.
We saw some sites reporting that AMD will be releasing Radeon branded gaming displays, but Legit Reviews talked with knowledgeable sources inside AMD and found out that they have no plans to release Radeon-branded displays. We aren't sure of any displays that support Adaptive-Sync is part of the DisplayPort 1.2a standard, so if you know the one display that is on the market now that will be supporting FreeSync please let us know!
Richard Huddy also talks about other gaming technologies like the AMD Mantle API, DX12, 4K gaming and more. You also get to see Ed Crisler from Sapphire doing one of the most unique introductions that we have seen to date.
UPDATE 11/17/2014 11am CT: The monitor that is said to support AMD FreeSync after a firmware update is the Nixeus NX-VUE27 27-Inch H-IPS Ultra High Resolution 2560×1440 that runs $499.95 on Amazon according to those in our comment section below. Legit Reviews contacted Nixeus and found out that the NX-VUE27 will not be able to support FreeSync in the future.
UPDATE 11/17/2014 1pm CT: The video we sourced for this news post has been removed by Sapphire. We contacted AMD and Sapphire about why the video was removed and was given the following statement.
There have been reports based on a video of Richard Huddy of AMD making speculative comments around DirectX 12 support on versions of Windows. Richard Huddy does not speak for Microsoft, and he was unfortunately speculating from Microsofts publication of key dates and milestones for Windows 7 lifecycle and mainstream support policy. Richard has no special insight into Microsofts Windows or DirectX roadmaps. Microsoft is a key, strategic partner for AMD and were continuously collaborating with them on DirectX 12.
In the video AMD's Richard Huddy said that Microsoft DirectX 12 will not be supported by Windows 7. Windows 7 makes up over half of all active Windows installations, so it appears that got a number of people fired up!