Recycle Your Broken Computer Parts and Towers
By
Recycling Computers is Simple
Just the other day a friend's power supply died during a power surge and I helped him replace the bad one with a brand new one. After he left I was stuck with an out of warranty OCZ 520W PowerStream power supply that was fried. I went to the trash can to toss out the power supply, but my inner conscience told me that I should be environmentally friendly and that I should recycle the power supply. Electronics often contain useful materials such as precious metals, glass, and plastics that should be recovered rather than buried in a landfill. On the flip side, the heavy metals and other toxic materials found in many electronics can be harmful to the environment if the products are not properly managed. Examples of potentially harmful materials are lead, cadmium, mercury, arsenic and PCBs. Since many computer parts over four years old still contain lead I was set on recycling this power supply and some other dead components that I have piled up in recent weeks.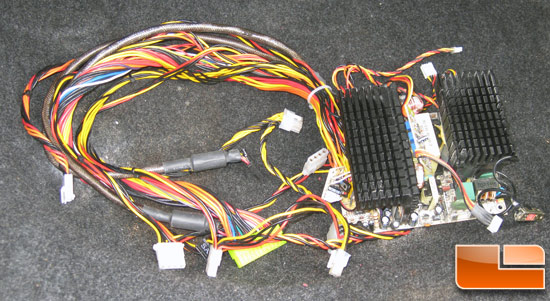 I called my trash provider, Wilson Waste Systems, and was told by the operator to toss it in the trash and that people don't even buy computer components for the scrap in them any longer since the economy tanked and prices have dropped from record highs. Discouraged, but not defeated I contacted my local Best Buy store to see if they had a recycling program. After talking with a Geek Squad specialist I learned that they did offer a recycling program for desktops and laptops, but there is a catch. While Best Buy does not charge a fee for recycling most consumer electronics, they do charge $10 for TVs, CRTs, monitors, desktop towers, and laptops, which is offset with a $10 gift card. This fee is per item, so it can add up quickly. To top that off Best Buy only takes two items per household per day and won't take anything with a hard drive or they will charge you a $19.99 hard drive removal fee.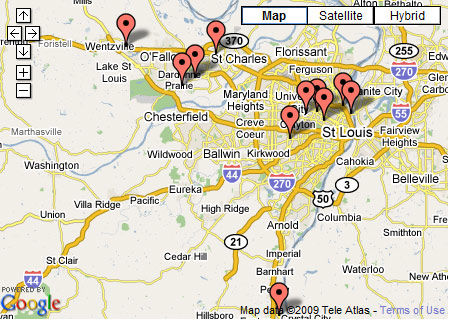 Still looking for a better solution here in St. Louis Missouri I ran across a site called e-cycle St. Louis that lists local recycling centers. The site listed 11 recycling centers in the St. Louis area that are said to accept most items at no charge. A couple of items, such as computer monitors and TVs, may include a $5 fee. This fee is said to be necessary to help cover the safe and appropriate method of breaking down these items for recycling. One of the recycling centers was fairly close to where I live, so recycling is not much more work than throwing something away.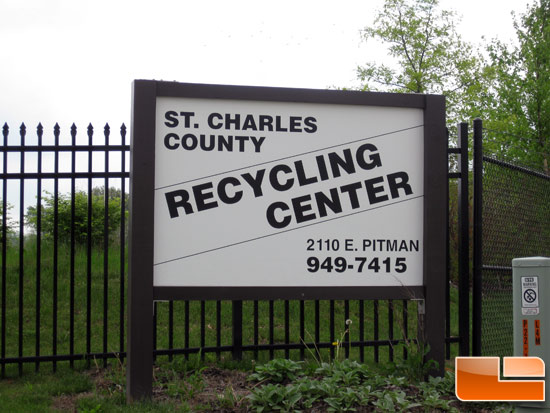 I tossed the power supply into my trunk and headed up to one of the local recycling centers and found that it was actually owned and operated by St. Charles County.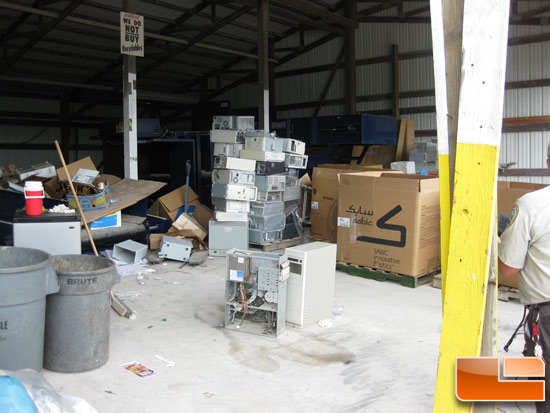 As soon as I arrived I was greeted by some friendly staff members who took the power supply from me with a smile and tossed it into some boxes that were strapped down to pallets. Another lady pulled up with a van full of computer towers for recycling while I was there, so it seems that numerous people are taking advantage of this free recycling service. This is also apparent in the picture above as there is a pallet of computer towers waiting to be hauled off and ground down in order for certain materials to be recovered and re-used in new electronics. The next time your find yourself getting ready to toss some old or broken computer parts be sure to check around your community to see what resources are available to you! You might just be surprised as I certainly was.