Recovering Data After Drive Failed With Carbonite Cloud Backup Services
By
One of the worst things that can happen to a person who relies on their computer is to have a hard drive failure. There are many applications and services on the market that helps users recover from these catastrophic loses. One of the most popular and widely used is Carbonite. Carbonite is an online-based backup service designed for both MacOS and Windows users. Services for personal users are based on how many machines are backed up, not by the storage amount.
I have been using the Carbonite service for about 4 years backing up my data which totals about 567 GB on a 1TB drive. When my drive first died, my hope was that because I had the Carbonite backup service, I wouldnt be down for very long. Unfortunately, my experiences have not been expected.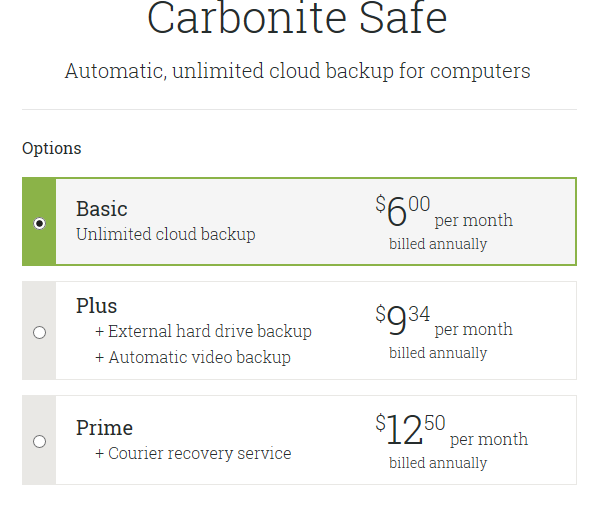 The recovery process is very straightforward and easy. Once you get a replacement drive installed on your computer, you can go to the Carbonite site and download the Carbonite application and sign in. The application will detect that there is a missing drive and prompt you for recovery.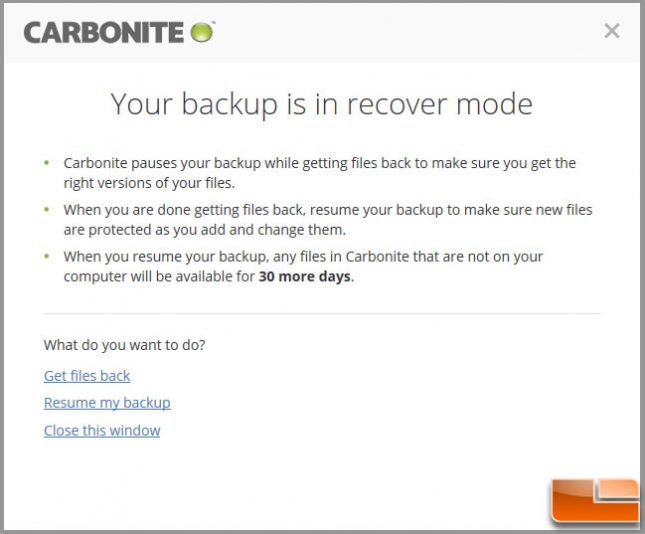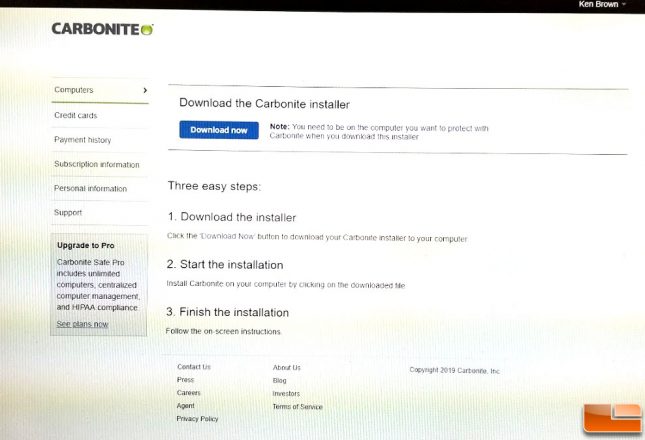 Once in recovery mode, Carbonite will ask if you want to restore the entire drive or just individual files and folders.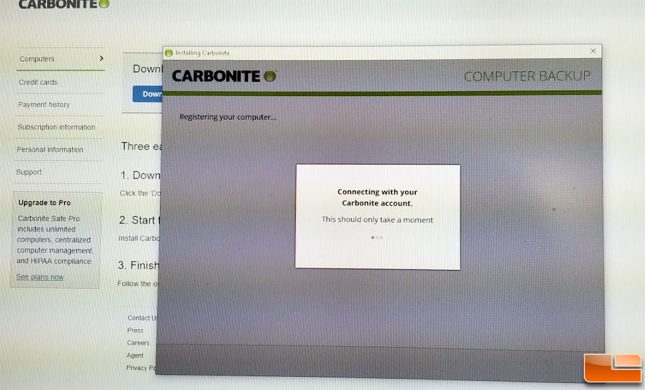 Because my entire drive was toast, I needed to recover the entire disk. This is where my good feelings for Carbonite started to turn. Once I had the new 2TB drive in place (and started the RMA process with the HDD manufacturer), I found that I was getting incredibly slow speeds in the recovery process. In fact, Carbonite was reporting to me that my 567 GBs of data was going to take more than 4 weeks to recover from the cloud!
Yes, 4 weeks!!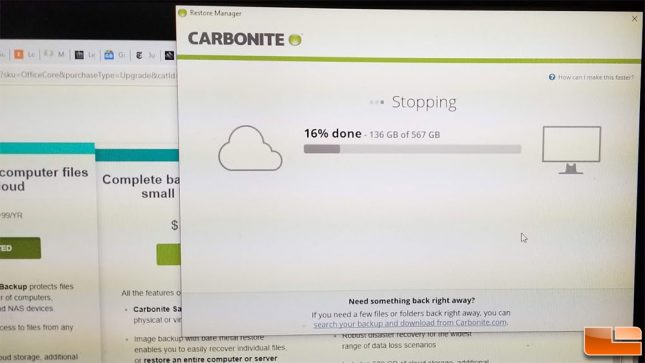 When I saw that the restore process was only 2-3% done after two days, I gave Carbonite a call. I was able to talk to a human in less than 10 minutes, and the customer service representative informed me that the recovery speed depends on the users ISP download speed. This didnt make too much sense for me either since I am on one of Spectrum Cable Internet Ultra service which is capable of top speeds 400 mbps download and 20 mbps upload. Clearly, if Carbonite was using all of my throughput capability, the download of 567 Gigabytes would be finished in well under 5 hours. I calculated that Carbonite was restoring my hard drive at around 2 Mbit/s.
If this was a free service I would almost understand the anemic recovery speed, but the fact is Im paying $72 per year for Carbonite Safe Basic service.
I contacted Carbonite again to find out if I moved up my service to the next tier, would the recovery speeds increase. I was told no. Recovery speeds are the same no matter what tier you have. If I were to upgrade my service to Carbonite Safe Prime for $150 per year, I would not only get unlimited backup storage space for one computer but adds the ability to use a courier service to restore a catastrophic failure such as the loss of an entire hard drive. Of course, the courier service is not free. Carbonite will ship you a hard drive with your data in about a week for $9.99. If you want it faster, you can pay $39.99 for 1-2 day shipping.
Even though this felt a bit like a technical shake-down, I elected to upgrade my service to Carbonite Safe Prime and pay the $9.99 shipping to get my data back in my hands in a week or so rather than waiting the 4+ weeks to restore my files from the Carbonite cloud. The drive was shipped from Boston Massachusetts on September 11th and was finally delivered on September 17th, so it took 6 days for USPS Priority Mail to make it from Boston, MA to Los Angeles, CA. Inside the box was a WD My Passport portable USB drive with my data encrypted and password protected on it.
Once the drive was unlocked, I was able to access all the files that Carbonite had backed up and started restoring my drive. Clearly, restoring 567 GB from a USB drive is much faster than restoring from Carbonite's Cloud.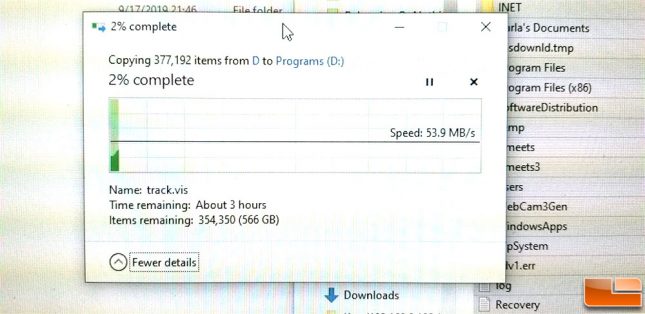 So, after about 2.5 weeks, I have restored the majority of my files on my computer. Notice I said the 'majority' of my files since Im seeing that some things that I was expecting to be backed up were not. I knew that my program and application files where not being backed up, but I really didnt expect to lose as many files as I did. For example, I use Adobe Lightroom Classic CC extensively and back up my Lightroom Catalogue religiously after every use. Well, unknown to me, Carbonite did not back up the Lightroom Catalogue files which contain all the instructions and edits for the pictures stored. While I still had the pictures, the edits that I made to them were lost.
The Carbonite services for individual PCs do not have an image backup and restore option which would have helped tremendously in my recovery. It is not until you get to the $799/year subscription that Carbonite Safe Backup Pro offers its Bare Metal Image backup and restore feature. For most users, this is not the solution that we want to see.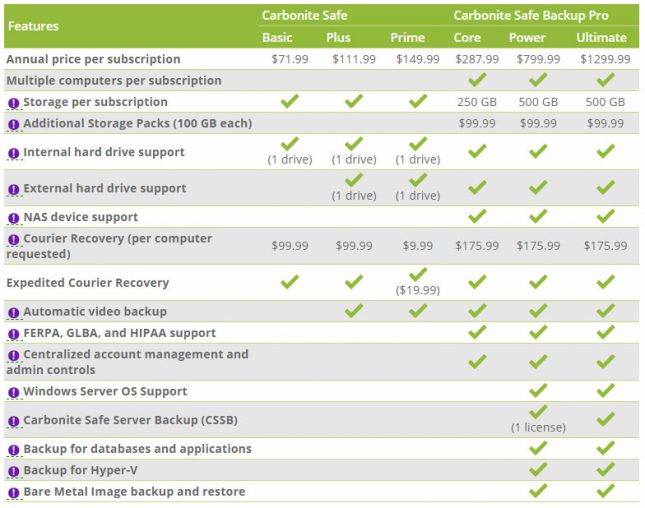 One can easily get an external 2TB storage drive for around $60 for on-site data backups. Carbonite off-site data backups are appealing though in the event something happens to your home or office. If you don't need to have offsite data backups purchasing a hard drive with backup software that does drive cloning might not be a bad alternative (without redundancy). You can pick up Acronis True Image 2020 for $49.99, which clones your drive and is not limited to only data files but will include program files and a much quicker restore process. These alternative solutions cost much less than the $150 per year that Im currently paying for Carbonite Safe Prime (not to mention the $9.99 for courier service).
Final Thoughts and Conclusions
Carbonite Safe is a personal cloud backup solution that is designed to automatically backup your personal files and data to the cloud. The least expensive service tier, Carbonite Safe Basic costs $72 per year and is supposed to back up your photos, documents, settings, email, music, and videos unattended. While the backup service generally does what it supposed to do, if you have a large amount of data, the recovery time for larger data collections can take a very long time when you consider the restore time we measured was about 2 Megabits per second. Furthermore, we found out the hard way that not all the data we thought was being backed up was available for restore.
If you are like many users and want a backup solution that you can install and forget, Carbonite is still a solid option. For others, there are less expensive options that will not leave out any of your data or program files, and you wont have to wait for a month to restore your data!