Razer Kraken Pro V2 Gaming Headset Review
By
Razer Kraken Pro V2 Introduction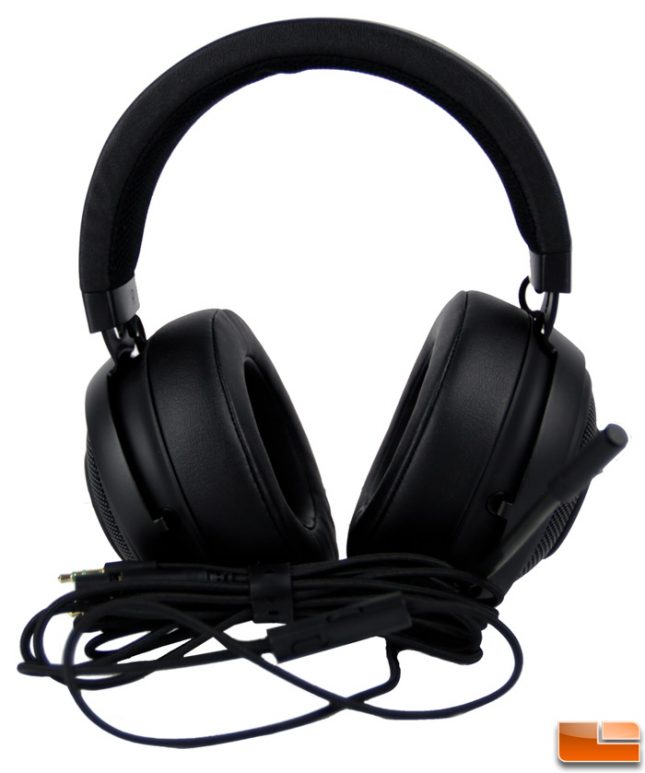 Recently Razer sent us the DeathAdder Elite gaming mouse to bang on and along with that, they included their Kraken Pro V2 gaming headset to check out as well. In case it's not obvious, the V2 denotes that this is the second version, the first of which was launched back in 2013. That said, this is not to be confused with the similarly named Kraken 7.1 V2 which has a substantially different feature set as outlined in the graphic below, including a USB connection rather than the analog 3.5 mm plug the Pro V2 uses.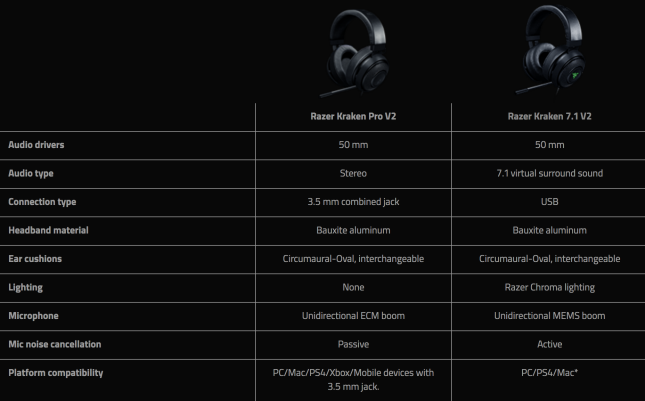 While not quite as feature packed, it does offer a number of upgrades over the original Kraken Pro. Most notably, it now comes with 50 mm audio drivers rather than 40 mm with a wider frequency range of 12Hz – 28kHz where the original was limited to 10Hz to 20kHz. This should help the overall sound and dynamic range of the audio. The colors schemes have been updated as well with all black and green or white with black accents that are a little more tame this time around as looking at feedback given on the original Kraken Pro, some felt the design too garish. Personally, I would've chosen white or green just to be different but the black is nice if not a little bland without any accent colors at all. The ear cushions are still round and good sized but now there's an option for a set of oval-shaped cushions for those with more Spock-like aural appendages; however, this is not a cheap option at $20 which is roughly 25% of the cost of the headphones themselves. Ouch.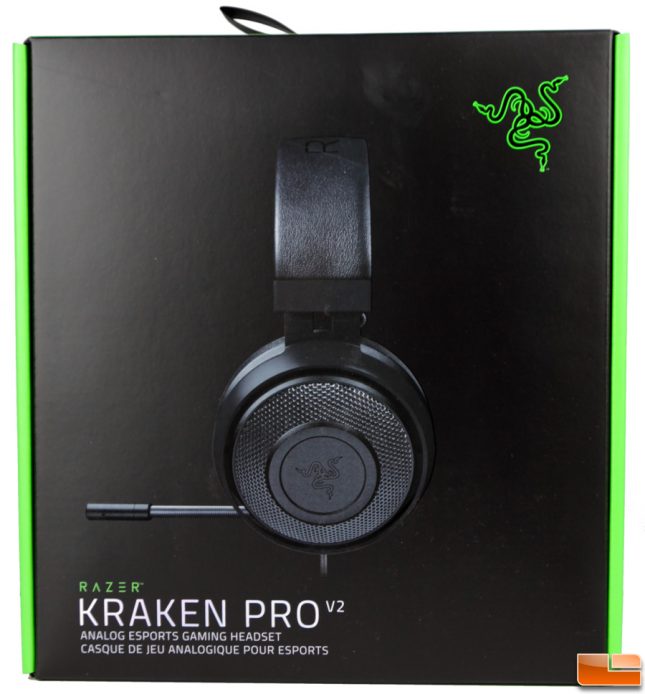 The microphone is unidirectional and can be retracted when not needed. There's not any active noise cancellation and a typical breath/wind filter at its tip is conspicuously absent though strategic placement of the mic itself should render that a moot point unless you plan on gaming in the crosswinds of the local park. The braided cord has a customary inline volume dial and mute switch and a cord extender also splits the ends into single audio/microphone plugs for PC's and such with those ports broken out.
Razer Kraken Pro V2 Features and Specifications:
Headphones:

MSRP: $79.99 w/ Street Price of $69.99 shipped
Frequency response: 12 Hz 28 kHz test
Impedance: 32 @ 1 kHz
Sensitivity (@1 kHz): 118 dB
Input power: 30 mW (Max)
Drivers: 50 mm, with Neodymium magnets
Inner ear cup diameter: 56 mm / 2.2 in
Connection type: Analog 3.5 mm
Cable length: 1.3 m / 4.27 ft. plus 2 m / 6.6 ft mic splitter adapter cable
Approx. weight: 322 g / 0.71 lbs
Oval ear cushions: Designed for full-ear coverage, perfect for long-wearing comfort

Microphone:

Frequency response: 100 Hz 10 kHz
Signal-to-noise ratio: > 55 dB
Sensitivity (@1 kHz): -38 3 dB
Pick-up pattern: Unidirectional ECM boom

In-line control:

Analog volume control wheel
Microphone quick mute toggle

Audio usage:

Devices with 3.5 mm audio jack

Audio + microphone usage:

Devices with 3.5 mm audio + mic combined jack

System Requirements:

PC / Mac / PlayStation 4 / Xbox One*
Windows 7 / Mac OS X 10.9 (or higher)
Internet connection for driver installation
At least 100 MB of free hard disk space
*May require an Xbox One Stereo Headset Adapter (not included)
As with all of their headphones, the Kraken Pro V2 comes with a one year warranty which is fairly standard for similar products. Frankly, I'd like to see companies step it up and offer at least 2 years which I feel is more in line with how long the average customer will hang onto a set before moving on to a different one. Given the relatively indelicate build inherent to headphones (no moving parts), this seems like a reasonable consideration.
Included in the box is the product manual, a set of stickers featuring Razer's triple headed snake logo, and a flyer extolling the virtues of the product in hand and information for registering. In case you are wondering, the stickers are too large to slap on the sides of the headphones to jazz it up a bit so no soup for you (bonus points for those who get the reference). Now that you've been formally introduced, it's time to get better acquainted…