Radeon FreeSync 2 Technology Arrives With HDR Display Support
By
Radeon FreeSync 2 Technology Brings High Dynamic Range Gaming to Advanced PC Displays
Combined with Low Framerate Compensation, AMD supercharges next generation FreeSync displays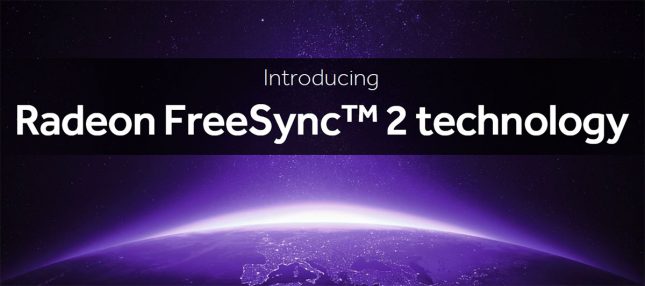 SUNNYVALE, Calif. Jan. 3, 2017 AMD (NASDAQ: AMD) today announced Radeon FreeSync 2 technology, the next major milestone in delivering smooth gameplay and advanced pixel integrity to gamers, with planned availability to consumers in 1H 2017.
Qualifying FreeSync 2 monitors will harness low-latency, high-brightness pixels, excellent black levels, and a wide color gamut to display High Dynamic Range (HDR) content.1 In addition, all FreeSync 2 monitors will have support for Low Framerate Compensation (LFC). With Radeon FreeSync 2 technology, gamers can enjoy a complete plug-and-play HDR gaming experience, avoiding the need to tweak settings in software or on the monitor.
Gamers have spoken and theyve made FreeSync the overwhelming choice and definitive industry standard for smooth, stutter-free gaming, said Scott Herkelman, vice president and general manager of gaming, Radeon Technologies Group, AMD. Radeon FreeSync 2 technology is the first of its kind that combines HDR support with dynamic refresh rate technology, and does it in a seamless, plug-and-play manner that improves gaming quality automatically when the right content is present.
Current HDR transport formats were designed primarily for movie content displayed on televisions with tone mapping handled by the displays, often leading to higher-than-acceptable latency for PC gaming. AMDs new API for FreeSync 2 offers a lower-latency alternative that shifts the workload to the powerful pipeline of a Radeon GPU, allowing the game to tone map directly to the displays target luminance, contrast, and color space. Radeon FreeSync 2 technology offers over 2x the brightness and color volume over sRGB.2
"Samsung has always embraced FreeSync technology, which is why we partnered with AMD from the beginning, said Andrew Sivori, vice president, consumer IT marketing at Samsung. We know gamers deserve the absolute best in smooth gaming experiences, and we're thrilled to see AMD further improving on that technology. FreeSync 2 combines the richest, highest quality pixels provided by HDR, with the stutter-free, tear-free gaming FreeSync is known for. We're excited to collaborate with AMD to implement FreeSync 2 technology in Samsung display products in the near future."
FreeSync and FreeSync 2 technologies will co-exist to offer a wide variety of advanced displays to gamers. All FreeSync-compatible Radeon GPUs will support FreeSync 2 technology, including the Radeon RX series GPUs based on the Polaris architecture which also supports DisplayPort3 HBR3 and enables UltraHD resolution beyond 60Hz. Multiple display vendors are actively evaluating several upcoming products for FreeSync 2 qualification.
About AMD
For more than 45 years AMD has driven innovation in high-performance computing, graphics, and visualization technologies the building blocks for gaming, immersive platforms, and the datacenter. Hundreds of millions of consumers, leading Fortune 500 businesses, and cutting-edge scientific research facilities around the world rely on AMD technology daily to improve how they live, work, and play. AMD employees around the world are focused on building great products that push the boundaries of what is possible. For more information about how AMD is enabling today and inspiring tomorrow, visit the AMD (NASDAQ: AMD) website, blog, Facebook, and Twitter pages.
1 FreeSync 2 does not require HDR capable monitors; driver can set monitor in native mode when FreeSync 2 supported HDR content is detected.
2 Only attainable when using a FreeSync 2 API enabled game or video player and content that uses at least 2x the perceivable brightness and color range of sRGB, and using a FreeSync 2 qualified monitor. Based on AMD internal testing as of November 2016. GD-105.
3 As of September 2016, certified for DisplayPort 1.4 HBR3 and ready for DisplayPort 1.4 HDR based on independent verification by DisplayPort testing authority. HDR content requires that the system be configured with a fully HDR-ready content chain, including: graphics card, monitor/TV, graphics driver and application. Video content must be graded in HDR and viewed with an HDR-ready player. Windowed mode content requires operating system support. GD-100