Quakecon 2005: Day 2
By
More Booth Features
The last few days, we have been giving you the highlights of what has been happening as we see it. However, at Quakecon, there is always more to hear about when tons of vendors interacting with over 6,000 attendees! On that note, here is what we saw on the second day…
Intel's mobile team is out in full force and has every size laptop you could think of on display for the gamers to use. They supplied a bunch of Intel-blue beanbags for guests to sit on while watching a select few play games or surf the internet on their demo laptops.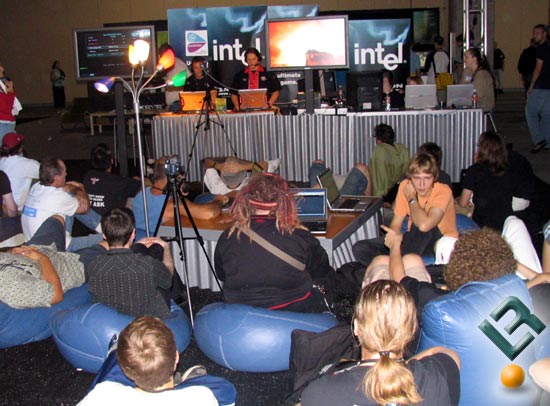 Kingston Technology has also been here this year. They have a simple and straight to the point booth where they have knowledgeable staff marketing their system and flash memory. They brought along a couple modded cases, just like they always do, and ran them overclocked showing off the latest in DDR1 and DDR2 HyperX memory. Kingston also was telling gamers that 1GHz HyperX memory is on the way, so get ready for some blazing fast memory from the red head team here in the next quarter.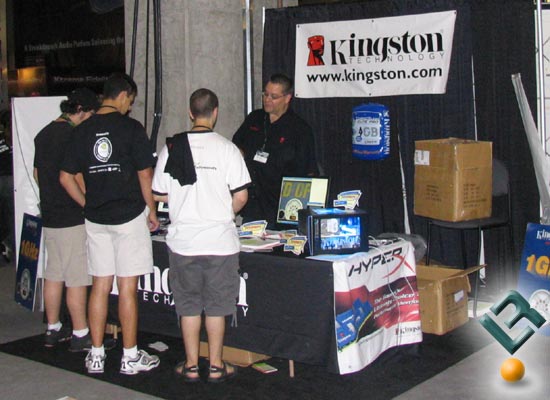 Creative has been out in full force showing off their new Fatal1ty gaming audio solution: the Sound Blaster X-Fi. They have two sound rooms and a spectator section for the Fatal1ty challenges that all have surround-sound setup to show the abilities of this sound card. This card comes in three different tiers:
"Vanilla" X-Fi – the standard card with no bundle other than drivers.
"Midrange" X-Fi – the exact same standard card with a 3.5″ drive bay filler that contains your audio-related ports for easy access.
Fatal1ty X-Fi – sound card contains 64mb of onboard X-Ram for improved gaming performance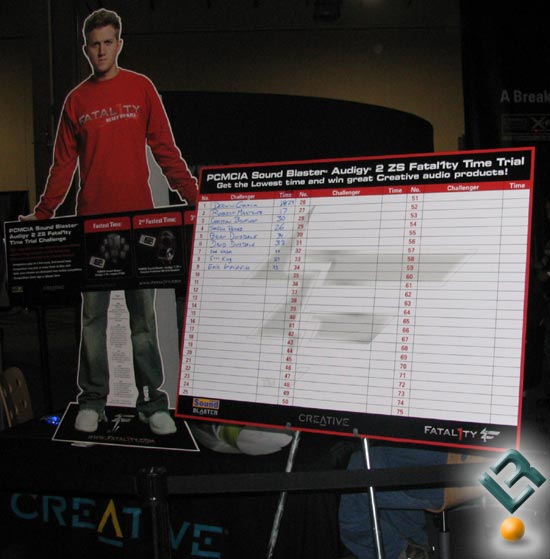 The Aerocool booth has been very busy. One thing I have noticed is that there have been a lot of pre-teen children visiting this booth. This is probably due to the fact that one of the easiest and cheapest ways to enhance the looks of your case is to add a cool LED fan, so Aerocool gives computer-savy kids an easy Christmas wish to give to their parents!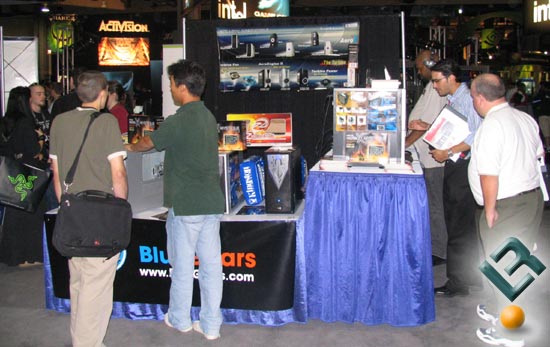 Activision is always busy during Quakecon. This time around, I snagged a few shots of the new Spiderman game demo in action. This shot shows a Spiderman competitor throwing cars around like tin cans!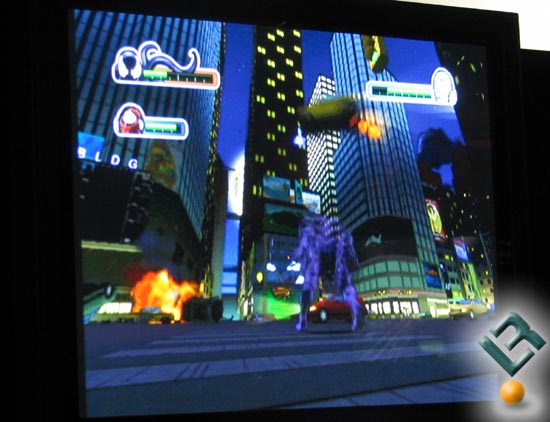 And last, but definitely not least, the tournament section is never quiet! Last night, tournaments were still going on around 2am! By day 2, it must start getting tough to focus on fragging after almost 48 straight hours of video-game action!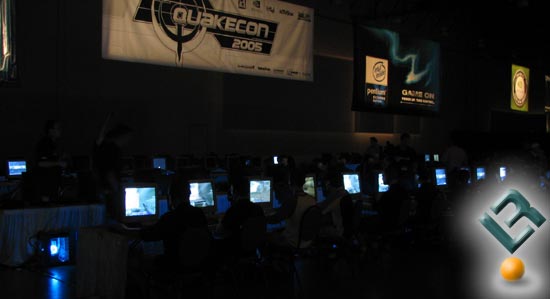 I'm sure we will see more booth and tournament coverage tomorrow! So stay tuned!