QNAP TS-419P Turbo NAS 4-Bay Network Storage Review
By
Introducing the QNAP TS-419P Turbo NAS
My home based network is a mix of two windows based workstations (XP and Windows 7), two XP laptops and two Linux servers (Redhat 5 and Fedora Core 10). External storage on these systems has always been on my todo list and a simple solution would be to add a network attached storage device or NAS. Up to this point, every time I looked at a NAS, they always seemed poorly made or way too expensive for a home based system. Recently I was asked to review the QNAP TS-419P and was hopeful that this system would fit my storage needs, be priced right and have the quality I have been looking for in a NAS.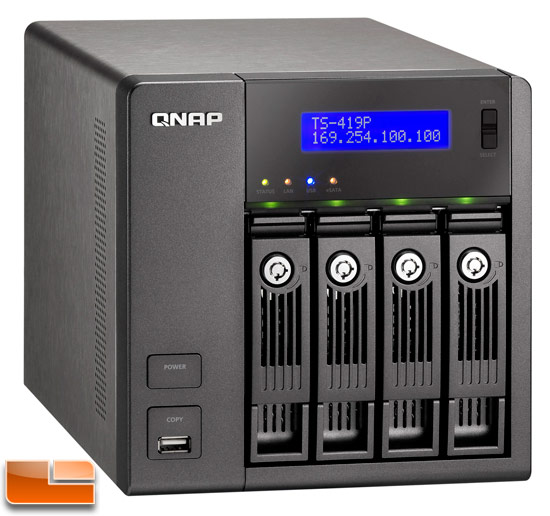 There are two main reasons for me wanting a network attached storage device at home. One is for backing up the various computers on my network and the other is a centralized storage area for streaming media in my house. I wanted my NAS to have at least RAID 5 capability and the ability to expand in the future. After reading some of the features such as Advanced RAID Management with Hot-swap Design, Online RAID Capacity Expansion and S.M.A.R.T & Advanced HDD Health Scanning (HHS), I realized that this system would do what I wanted and a whole lot more.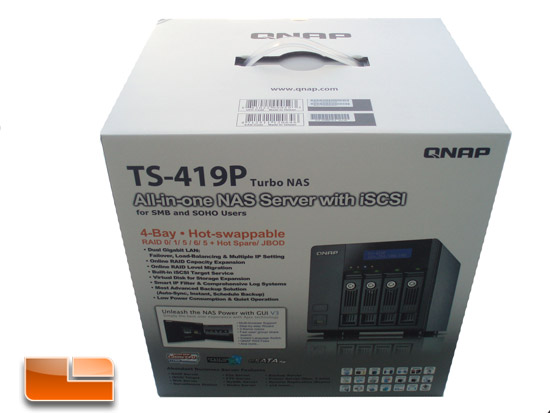 After reviewing the hardware specifications I noticed that the system is shipped without hard drives. The max hard drive size this system can hold is 4 x 2 TB for a total of 8 TB. At this time, 2 TB drives are still a little pricey, but it good to know that I can expand when the price of those drives come down. After receiving the TS-419P, I went down to my local Frys electronics store and was able to get a great deal on four Seagate Barracuda 7200.12 500GB drives. Four 500 GB drives with RAID 5 would give me about 1.3 TB of disk space, not a bad start.
Lets take a look at the hardware and software specifications before we move to the installation and configuration of the NAS.
Hardware Specifications:

CPU

Marvell 6281 1.2GHz

DRAM

512MB DDRII RAM

Flash Memory

16MB

HDD

4 x 3.5″ or 2.5 SATA I/II HDD
NOTE:

The system is shipped without HDD.
For the HDD compatibility list, please visit http://www.qnap.com/pro_compatibility.asp

HDD Tray

4 x hot-swappable and lockable tray

LANPort

2 x Gigabit RJ-45 Ethernet port

LED Indicators

Status, LAN, USB, eSATA, HDD 1, HDD 2, HDD 3, HDD 4

USB

4 x USB 2.0 port (Front: 1; Back: 3)
Supports USB printer, disk, pen drive, USB hub, and USB UPS, etc.

eSATA

2 x eSATA port (Back)

Buttons

Power button, USB one-touch-backup button, reset button

LCD panel

Mono-LCD display with backlight and buttons for configuration

Alarm Buzzer

System warning

Form Factor

Tower

Dimensions

177(H) x 180(W) x 235(D) mm
6.97(H) x 7.09(W) x 9.25(D) inch

Weight

Net weight: 3 Kg (6.61 lbs)
Gross weight: 4.6 Kg (10.14 lbs)

Sound Level (dB)

W/o HDD installed: 33 dB
Stand by: 33.2 dB
In operation: 35.1dB
(Background: 25.5 dB)

Power Consumption (W)

Sleep mode: 11W
In operation: 26W
(with 4 x 500GB HDD installed)

Temperature

0~40C/ 32~104F

Humidity

0~95% R.H.

Power Supply

Input: 100-240V AC, 50/60Hz, Output: 12V DC, 10A, 120W

Secure Design

K-lock security slot for theft prevention

Fan

1 x quiet cooling fan (9 cm, 12V DC)

Software Specifications:

Operating System

Linux-embedded system

Networking

TCP/IP, DHCP Client, DHCP Server, CIFS/SMB, AFP, NFS, HTTP, HTTPS, FTP, DDNS, NTP

Multi-IP setting

Gigabit Jumbo Frame

Port Trunking
– Balance-rr (Round-Robin)
– Active Backup
– Balance XOR
– Broadcast
– IEEE 802.3ad
– Balance-tlb (Adaptive Transmit Load Balancing)
– Balance-alb (Adaptive Load Balancing)

Network Service Discovery (UPnP & Bonjour)

File System

EXT3 (Internal/ external HDD)

EXT4 (Internal/ external HDD)

FAT (External HDD)

NTFS (External HDD)

Supported Operating Systems

Microsoft Windows 98/ ME/ NT/ 2000/ XP/ 2003/ Vista/ Windows 7 (32bit & 64bit)

Mac OS X
Linux and UNIX

Disk Management

Sngle disk, RAID 0 (Disk Striping), RAID 1 (Disk Mirroring), RAID 5, RAID 5+ Hot spare, RAID 6, and JBOD (Linear Disk Volume)

Multiple RAID
Online RAID Capacity Expansion
Online RAID Level Migration
RAID Recovery
Bitmap support for faster RAID rebuild (RAID 1/5/6)

Disk usage status management

Check disk (Check Linux file system)

HDD S.M.A.R.T.

Bad blocks scan

Built-in iSCSI target service

Virtual Disk Drive (VDD) for storage expansion (max. 8 Volumes)

User Management

User quota management (per user)

Windows AD

User account management (max. 4,096 users)

User group management (max. 512 groups)

Batch creating users

File System Management

Network share management (max. 512 shares)

Network volume status management

Share folder level ACL support

Hide share folder on Windows network

Unicode support

Journaling file system

Web File Manager

System Tools

E-mail alert (SMTP authentication)

SMS alert

HDD standby mode

Disk usage alert

Automatic power on after power loss

System firmware upgrade
SNMP

Back up, restore, reset system settings

Smart fan setting

Configurable management port

Policy-based unauthorized IP blocking

Secure remote login by SSH connection

Remote login by Telnet connection

USB, SNMP UPS support

Schedule power on/ off (max. 15 settings)

Network recycle bin

Import SSL certificate

Real-time System Resource Monitor

LCD

When the system is ready, users can check or configure the IP settings, physical disk info, volume info, system info, shut down or reboot the NAS, etc.

Event Logs

Complete system logs (file level): system events management, connection logs, current connection of on-line users

Multilingual Support

English, Traditional Chinese, Simplified Chinese, Japanese, Korean, French, German, Italian, Spanish, Russian, Swedish, Norwegian, Finnish, Danish, and Polish

Backup Management

PC-client backup software-NetBak Replicator: Instant/ Schedule/ Auto-sync backup

Remote replication supports Rsync

Encrypted remote replication

One touch USB copy for different destination folders

Data backup to external storage device

Multi-browser support

Internet Explorer 7 & 8

Safari 3 & 4

Firefox 3

Google Chrome