QLC Versus TLC NAND Flash Technology in SATA SSDs
By
QLC vs TLC NAND Flash – Sponsored By Western Digital
If you are looking for a Solid-State Drive (SSD) youve likely seen that some of the newest models on the market feature QLC NAND Flash memory. Quad-Level Cell (QLC) is the latest and greatest type of multi-level cell memory technology and SSDs using QLC NAND Flash which are now readily available for purchase. Like the name implies, QLC NAND Flash stores 4 bits per cell. The predecessor to QLC would be Triple-Level Cell (TLC) NAND Flash where 3 bits per cell are stored. Usually, it is safe to assume that the newer technology would mean better performance, but that is not always the case.
QLC NAND Flash allows drive manufacturers to increase the storage capacity on the drives they are selling and lower the price per Gigabyte since 33% more data can be stored per cell. The not so good news is that, based on our tests, QLC NAND Flash can have lower sustained write performance. Drive makers spend months writing and perfecting algorithms to minimize issues and improve performance, but this is a trend that continues as the bits per cell get denser.
The market is now starting to transition TLC to QLC and that means you can buy both types right now. So, as a consumer you need to decide between mature TLC drives and QLC drives that are only in their infancy.
Trying to find out online what drive is right for you can be rather tricky. If youve ever looked at the performance specifications on SATA SSDs youll know that we long ago maxed out the performance of the SATA III interface. That means you can get the lowest priced drive as they all perform the same right?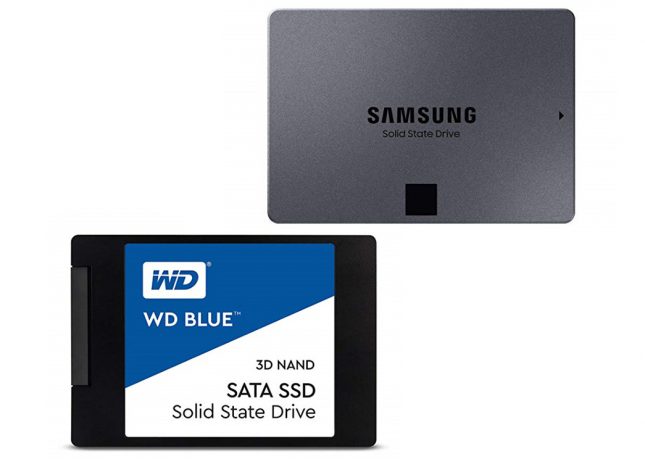 Lets take a look at some performance testing that we did on our Intel Core i9-9900K powered system that is running Windows 10 v1809 with all patches and updates as of May 15th, 2019. Well be using the WD Blue (3D TLC NAND) based 1TB SATA SSD and the Samsung 860 QVO (QLC NAND based) 1TB drive for testing.
The first test that we did was something that every Do-It-Yourself PC builder has done and that is installing Windows. We placed the Windows 10 64-bit v1809 ISO on a USB 3 drive with an unattended file and timed how long it took to install this OS on both drives.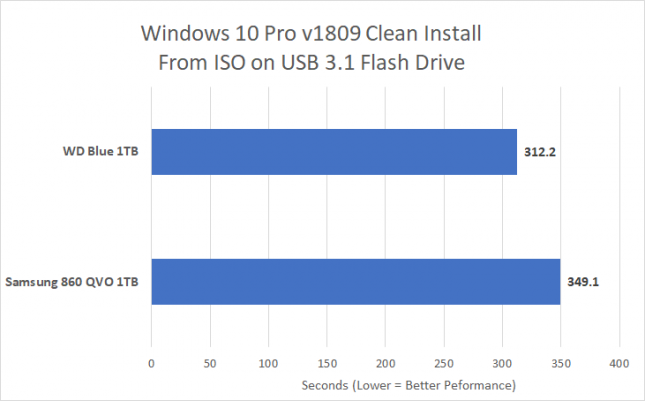 It only takes 5-6 minutes to install Windows 10 from a USB 3.1 Flash drive, but we saw almost a 12% performance advantage with the WD Blue 1TB SATA SSD that uses TLC NAND Flash versus the Samsung 860 QVO that uses QLC NAND Flash.
Next up we wanted to move over some of our files to this new PC, which is again something most do when building a new PC. We moved over 7 MKV files and the PUBG game folder from Steam Apps to the desktop of the new system. This directory was 65GB in size and was not compressed.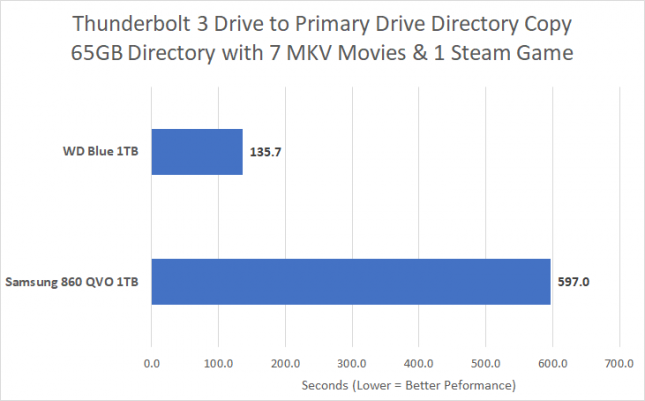 Writing 65GB of data to a 1TB SATA SSD doesnt sound like a big deal, but check out the performance difference between these two drives. Both are solid storage drives from very respectable drive companies, but the one using TLC NAND Flash Memory easily outperforms the drive using QLC NAND Flash memory. This heavy sustained write test scenario shows the TLC NAND Flash drive was nearly 4.5x faster than the QLC NAND Flash drive.
Now that we have the game folder on our fresh install, we need to let Steam discover those files and go through the installation procedure. This is a heavy read test unlike the last test that was all writes.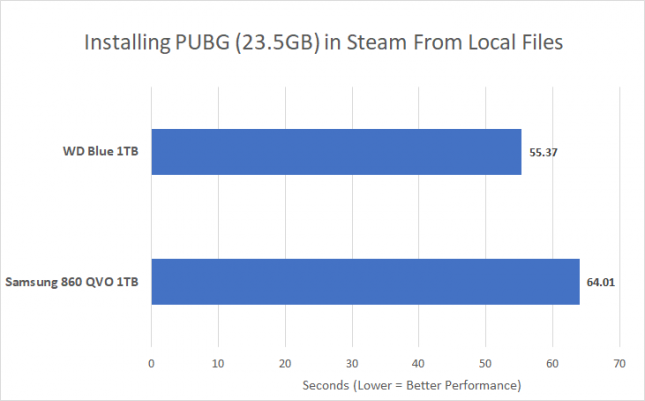 We see that the performance gap narrows for this task, but the WD Blue 1TB SATA SSD with TLC NAND Flash was able to install PUBG over 15% faster than the Samsung 860 QVO with QLC NAND Flash. Gamers usually have a number of games installed and frequently add/remove games, so this could save many minutes over the years that you own one of these drives.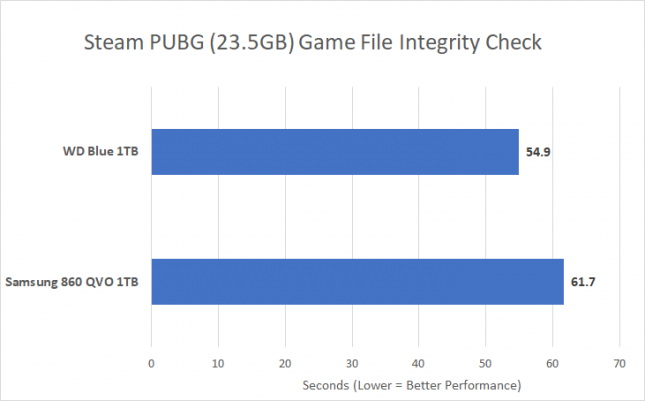 Next up we ran the Steam Verify Integrity of Game Files check on PUBG and found the WD Blue 1TB SATA SSD with TLC NAND Flash was faster by about 11%.
Data security is a hot topic right now and many users are starting to use full drive encryption solutions to help protect their data. We enabled Microsoft BitLocker in Windows 10 Pro v1809 on each of these drives and the difference was startling.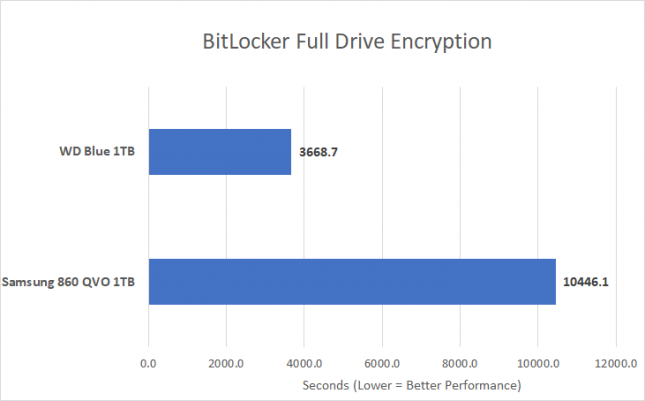 The TLC NAND Flash based WD Blue SATA SSD finished this task in 61 minutes whereas the QLC NAND Flash based Samsung 860 QVO SSD finished in 2 hours and 54 minutes. Just a tiny little difference, right?
The final test that we ran was cloning each drive to an NVMe SSD, secure erasing the SATA SSDs, and then cloning the whole image back to each drive using Acronis True Image 2019 Update 3. This would actually be the first thing that many users do when they get a new SSD. Cloning your old hard drive to a new SSD is one of the simplest ways to upgrade your PC and get improved performance and responsiveness.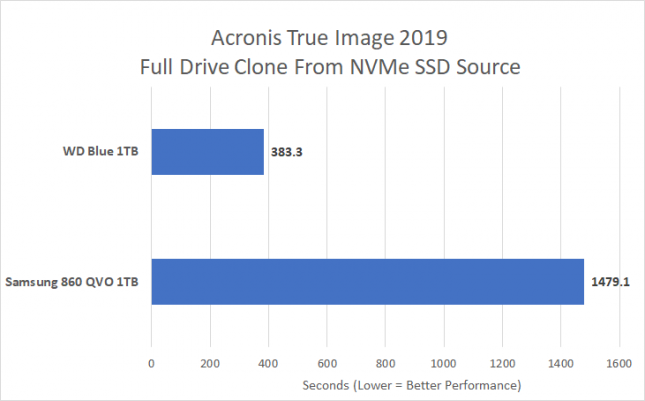 The WD Blue 1TB SATA SSD with TLC NAND Flash finished the cloning process around 3.8x faster or roughly 18 minutes quicker than the QLC NAND Flash powered Samsung 860 QVO. If you plan on cloning your current drive to a brand new SSD you will see the benefits of having an SSD with good sustained write speeds immediately. This is also important for many businesses where many laptops are being upgraded from HDDs to SSDs to extend system service life.
Final Thoughts and Conclusions
QLC-based SSDs have arrived and will help drive costs down, but arent necessarily going to be the overall performance winner. The WD Blue TLC-based SATA drive offers better sustained write performance than the Samsung 860 QVO with QLC NAND Flash as you have been able to see from our handful of real-world tests.
At the end of the day the WD Blue 1TB SATA SSD with TLC NAND Flash runs $114.99 shipped at Amazon. The Samsung 860 QVO 1TB SATA SSD with QLC NAND Flash runs $107.99 shipped at Amazon. That is only a $7 or 6% price difference, but we were seeing up to a 4.5x performance advantage for the TLC-based drives. Over a course of 3-5 years those seconds and minutes saved could possibly add up to hours and days!
Which drive would you want in your system?