Prolimatech Magnetic Pin Fan Mount Review
By
Test Driving The Promlimatech Magnetic Pins
The Promlimatech Magnetic Pin is a unique rubber pin that magnetically attaches your system fan to your case. The embedded magnets are what make this product so unique, because it allows you quickly install and remove your fans, with no screwdriver needed! The rubber pins also absorb vibrations, which reduces fan noise! So, you get tool-free fans and reduced noise when using the Prolimatech Magnetic Pin set. The Prolimatech Magnetic Pin set is also very affordable and can be found for $3.99 plus $1.99 shipping at Newegg right now, but we have seen them for $5 shipped before. You also get to pick from two colors; black or blue.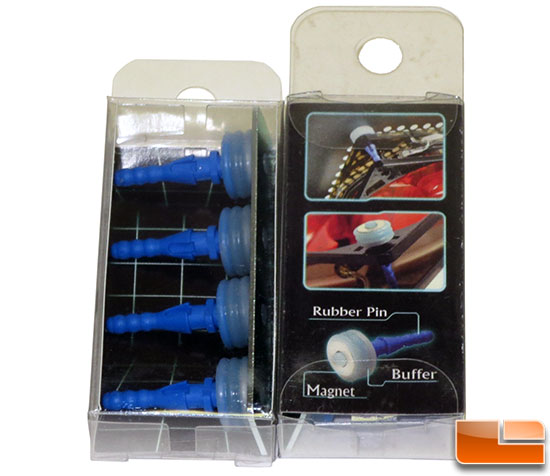 Prolimatech sent over a couple sets of their blue Magnetic Pin sets for us to try out and we figured that we'd give them a shot on one of our systems.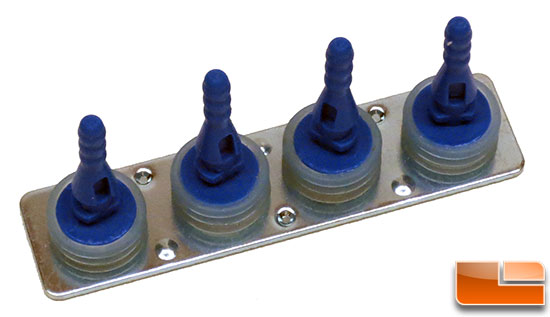 Inside the retail box you'll find four pins, enough for one case fan, that are shipped on a small piece of steel that was used for shipping purposes. This little metal bar can be recycled.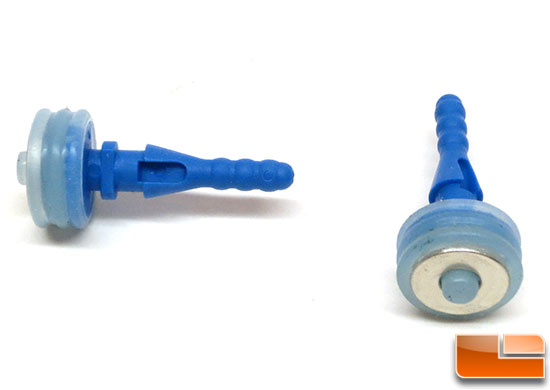 Here is a closer look at the Prolimatech Magnetic Fan Pin as you can see it looks like Prolimatech took a traditional rubber anti-vibration fan mount and placed a magnet on it. At the magnetic end of the mount, you'll notice a piece of rubber that extends past the magnetic. This is called the anchor point and goes in the fan screw hole on the case to prevent the fan from sliding down.
Prolimatech recently did a shake test on video to show consumers that fans will stay put and our testing showed this to be true as well.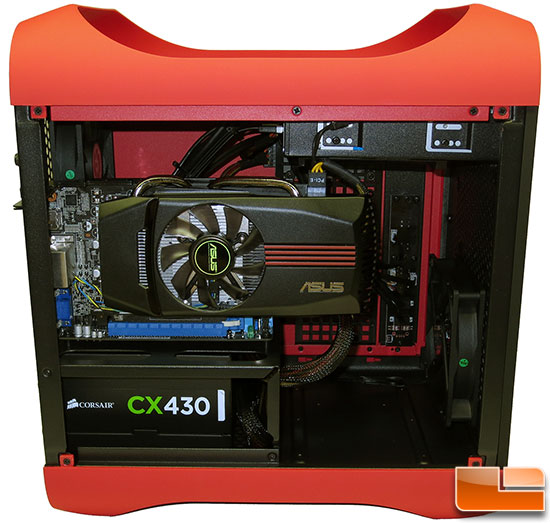 For this review we'll be swapping out the front case fan in a BitFenix Prodigy Mini-ITX case.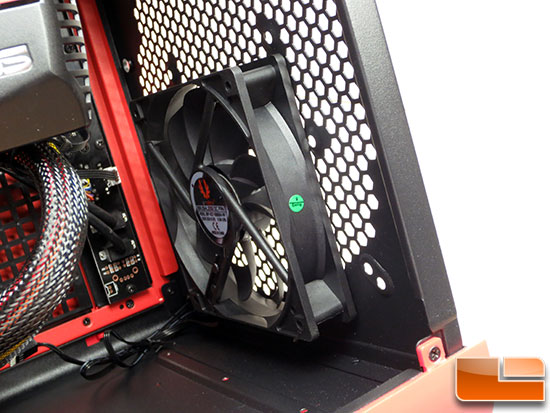 The BitFenix Spectre 120mm fan (Model: BFF-SCF-12025KK-RP) is rated at 1000RPM with an airflow of 43.5CFM (BitFenix just says this fan is under 20 dBA).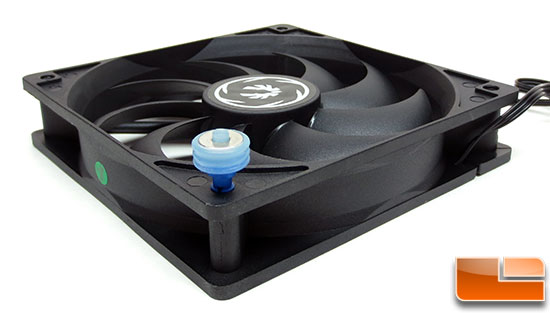 We quickly found out that the Prolimatech Magnetic Pins are not compatible with most traditional case fans that have fully enclosed screw columns as there is no way to pull the rubber pin though to properly secure the pin to the fan. This is a bit of a bummer as a fair number of case fans use this design. The BitFenix Spectre fan series uses enclosed screw columns, so they aren't compatible.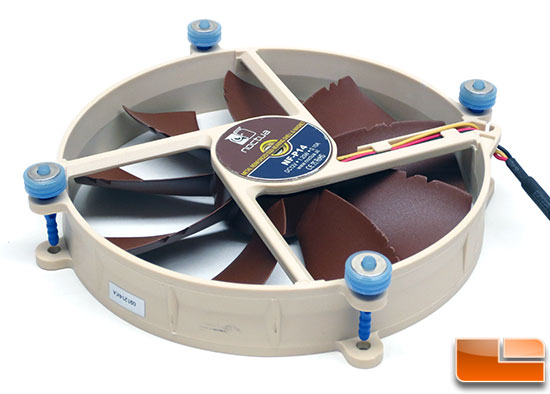 Since the stock fan won't work, we will be replacing the BitFenix 120mm fan with the Noctua NF-P14 FLX 140mm case fan ($28.99). The Noctua NF-P14 FLX is rated at 1200RPM with an airflow of 64.96CFM at 19.6 dBA. The Noctua NF-P14 FLX fan does not have this plastic column, so the Prolimatech Magnetic Pins were easily installed!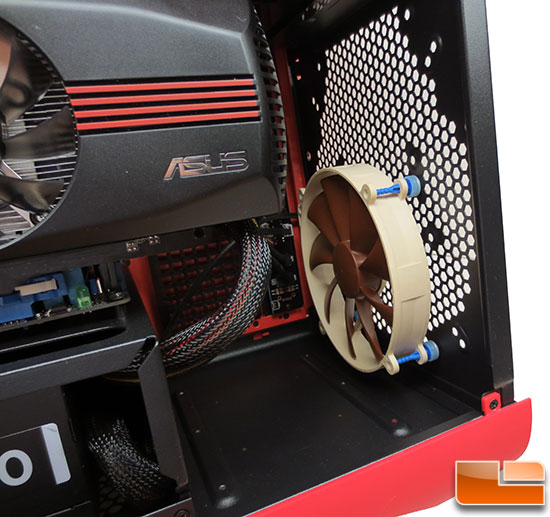 Once the fan pins are installed you can just use the old fan mounting holes and the magnets and rubber anchors will hold the fan in place and keep it from sliding or falling off. It should be noted that since these rubber fan mounts use magnets that they will only work on steel cases. If you have an aluminum case, they will not work!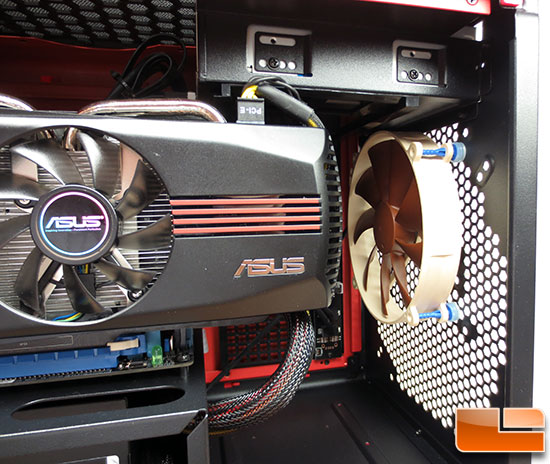 After doing some temperature testing we found that raising the front fan up higher in the BitFenix Prodigy actually kept things inside the case cooler according to the CPU, GPU and motherboard temperature sensors. Since the BitFenix Prodigy Case uses a honeycomb pattern on the front fan grill we were able to easily move the fan around and better direct the airflow to fit the needs of our custom build. Since the fan was being held on by magnets, we could move the fan around quickly and easily.
Final Thoughts and Conclusions:
The Prolimatech Magnetic Fan Pins make it super easy to install, adjust, and remove your system fans without having to mess with screws or having to fiddle with the rubber fan mounts that often tend to crack or rip when installed and removed a bunch. This is a great idea and something that will really come in handy for cleaning fan filters and your fan blades on clear fans. Obviously these won't work on plastic or aluminum cases, but for steel chassis they were found to work great. Just make sure that the fans that you plan on using these with do not have the plastic fan screw column. If you have a steel case and no plastic columns on your fans, then you should be good to go.
The Prolimatech Magnetic Pin set can be found for $3.99 plus $1.99 shipping at Newegg right now. The Magnetic Fan Pins are backed by a 1-year warranty. If you plan on using this on one or two fans that price isn't bad, but if you plan on doing a bunch of fans it can get expensive.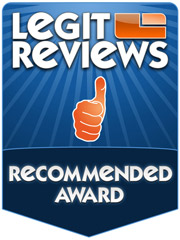 Legit Bottom Line: The Prolimatech Magnetic Pins are ideal for someone with a steel case that often needs to remove case fans for cleaning or any other reason.