PQI S535 256GB SSD Review
By
PQI S535 256GB SSD
Power Quotient International, or PQI as the are better known, began making DRAM modules but has been slowly building up their product line offerings and recently have released a number of solid state drives to the market. The most recent one to hit our test benches is their S535 line of drives in capacities of 64 GB to 256 GB. The latter being the model that we received for testing.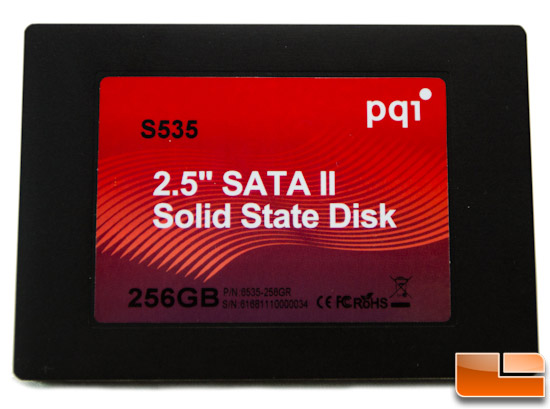 While other drives hitting the market have mostly been of the SATA III variety, the S535 is a SATA II interfaced drive. A lot of users still have not upgraded to the newest boards supporting SATA III so there's still a large market for drives of this design. The current MSRP for the 256 GB is unknown as PQI never got back to us on pricing and we can't find it for sale online.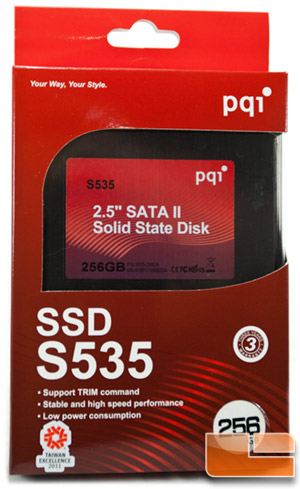 On quick glance, the packaging size and appearance almost looks like a VHS tape but upon closer inspection reveals its true product nature along with listing the various features and specifications that we've summarized below.
PQI S535 Features and Specifications:
Capacity:
Data Transfer Rate:
Read:250MB/s
Write:250MB/s
OS Supported:
Windows 7,ME, 2000, XP, Vista / Mac 10.1 or above
Power Supply:
Power Consumption:
Dimensions:
99.88 x 69.96 x 9.3 mm (3.93 x 2.75 x 0.37 in)
Weight:
Housing:
Environment:
Operating Temperature: 0C ~ +70C
Storage Temperature : -40C ~ +85C
The drive is SandForce driven via an SF-1200 controller which we've seen many times before, supporting TRIM and idle garbage collection while hitting speeds of up to 250 MB/s reads and writes.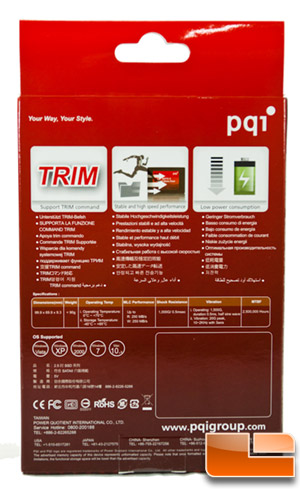 Inside the box resides installation instructions, a jumper, a PQI product booklet and a combined SATA/Molex cable. These make hooking the drive up really easy and mitigating the chances of the user breaking off the delicate SATA tab.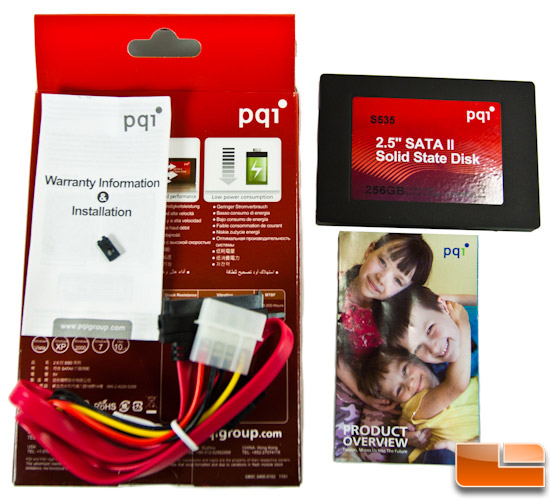 Now that you've been properly introduced, let's pull back the curtain and see what lies in wait behind the shell.