Plugable 0.8m Thunderbolt 3 Cable w/ 100 Watt Charging Quick Review
By
Yesterday our friends over at Plugable introduced a brand new passive 0.8m Thunderbolt 3 Cable that is being sold under model number TBT3-40G80CM. This 0.8-meter cable supports Thunderbolt 3 data transfer speeds of up to 40 Gbps, USB 3.1 Gen 2 data transfer up to 10 Gbps, DisplayPort video output (HBR3), and charging at up to 100W. What makes Plugables Thunderbolt 3 Cable special and 'quick review' worthy is that it is one of the only alternatives available from Apple. This Plugable Thunderbolt 3 Cable is available now for $24.95 shipped and that makes it $14 cheaper than the $39.00 0.8m Thunderbolt 3 cable from Apple. It is also backed by a 1-year warranty with an e-mail support team based in the United States should you ever need to get help.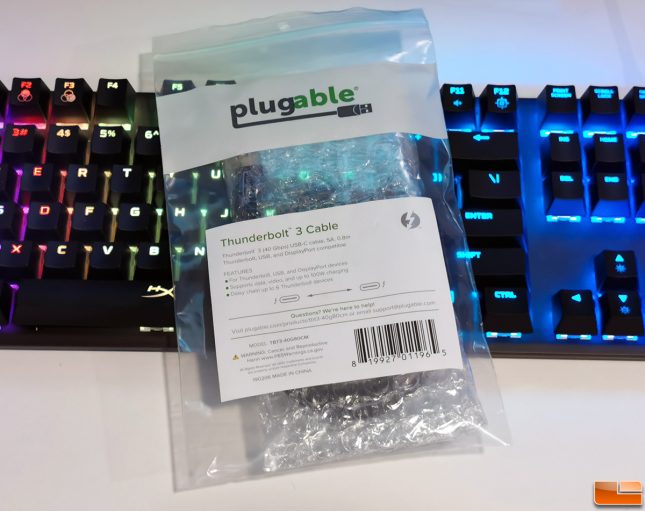 It should be noted that this is a Thunderbolt certified cable. If a company is using the Thunderbolt logo and trademark, that means that they have passed Intel's certification process. It also supports all USB-C cable specifications and up to 5A charging via USB-IF power delivery standards. The only bad news on the power charging front is that this cable is incompatible with Qualcomm Quick Charge 3.0/4/4+ and other (non USB-compliant) "Fast Charge" technologies.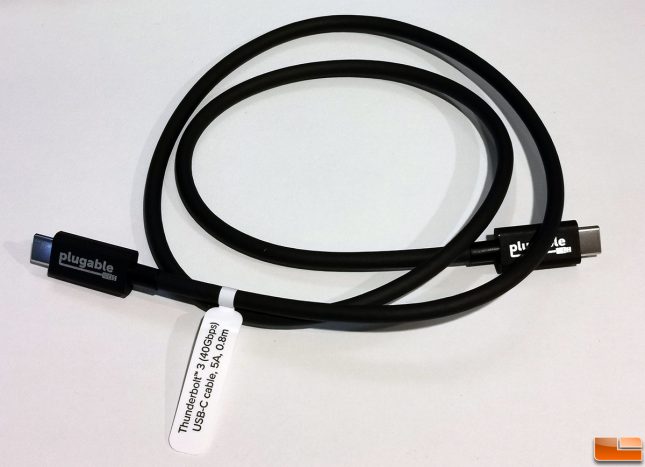 Plugables Thunderbolt 3 cable has the Thunderbolt logo and number 3 etched on end of the cable connector with the other end having the Plugable logo. This makes it easy to find if you happen to have a pile of USB Type-C cables and can't find the one that supports Thunderbolt 3 and/or 100W charging.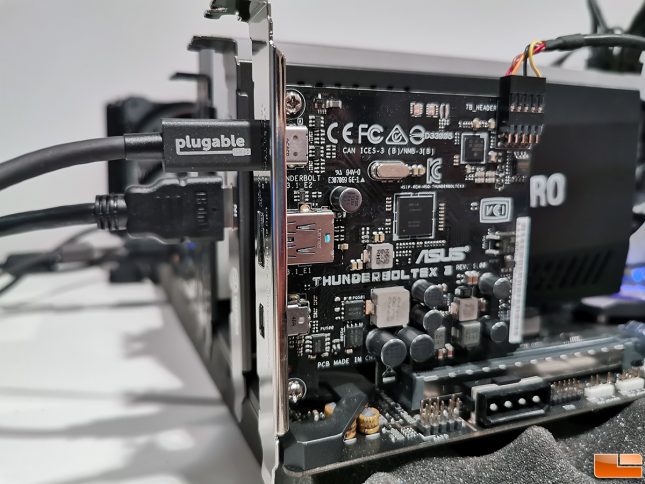 We used this 0.8m cable on our MacBook Pro, Dell XPS 13 laptop as well as our ASUS desktop PC that uses the ASUS ThunderboltEX 3 PCIe Add-in-Card ($66.89 shipped) without any issues at all. We did notice that when we tried to charge smartphones with USB Type-C ports that the end connector was too large to fit through some phone cases. Not a big deal, but this is a thicker cable as you can see from the image above. It's actually a touch thicker than a regular HDMI 2.0 cable and that is due to the thicker gauge wire inside that is needed for safe 100 Watt charging. Speaking about display cables, this 40Gbps cable allows for dual [email protected] video outputs, single 4k at 120Hz output or a single [email protected] output thanks to supporting HBR3 mode that was first introduced with DisplayPort 1.3.
Update: We asked Plugable what gauge wire is used for this 80CM cable and they let us know that is uses AWG30 whereas the shorter 50CM uses thinner AWG32 wiring.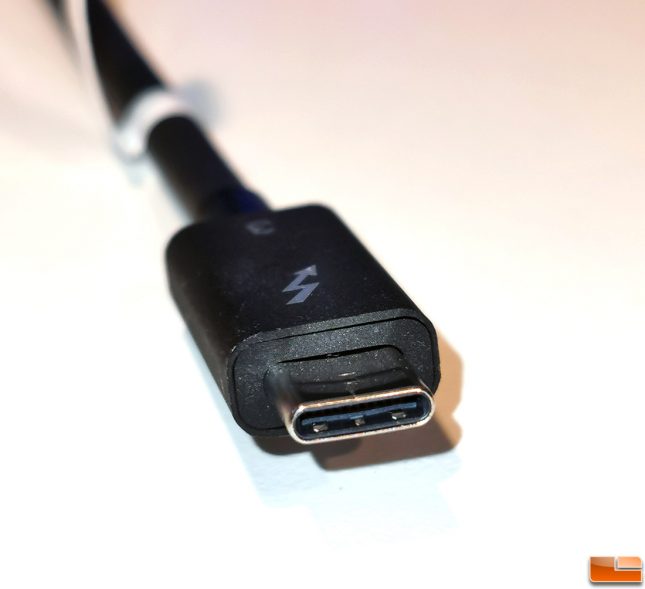 Plugable Thunderbolt 3 0.8m 100W Charing Cable Features
Supports Thunderbolt 3 40Gbps of bandwidth with compatible systems and accessories and all USB generations; USB 1.1, 2.0, 3.0 and USB 3.1 Gen 1/Gen 2 over USB Type-C
Dual [email protected] video outputs (or a single [email protected] output)
Daisy chain up to 6 Thunderbolt devices including docking stations, external graphics cards, and displays
Wire gauge and electronic marking support up to 5A charging via USB-IF Power Delivery charging standard (5V-20V, 5 Amp, 100W max)
Thunderbolt 3 peer-to-peer 10Gbit networking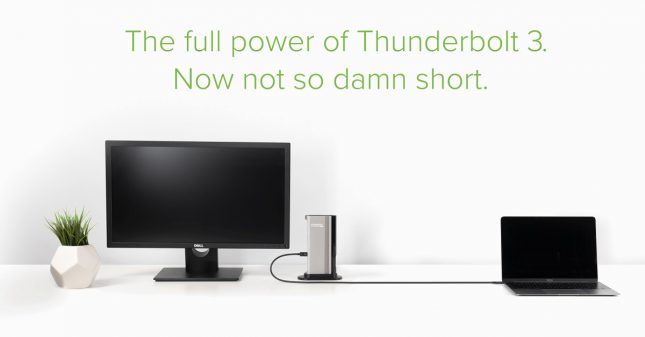 Final thoughts and Conclusions:
The Plugable Thunderbolt 3 Cable is compatible with all Thunderbolt 3 (USB-C) capable laptops such as the MacBook Pro, MacBook Air, Dell XPS, Dell Precision, Lenovo ThinkPad, and HP Spectre. It also supports all PCs with Thunderbolt 3 ports as well as Apple Desktops, including the latest iMac Pro, iMac, and Mac mini. It should also work fine with any USB-C device on the market today, so it will work with docking docking stations, external graphics card housings and so on. Basically it is ready for any USB-C device to a USB-C Power Delivery (PD) charging or USB-C host to a USB-C peripheral connecting task.
Having a lower cost alternative to Apple's more expensive cable is nice. Plugables 0.8m Thunderbolt 3 Cable is also longer than most 100W capable cables of this type, so it allows you to better position devices on your work surface. Most Thunderbolt 3 cables are of the 0.5m variety and that can be frustrating for some. Moving up to a 0.8m cable gives you 60% more length to play with and is a major reason to buy a new Thunderbolt 3 cable.
At $24.95 shipped, the Plugable 0.8m Thunderbolt 3 cable is just that. A good quality Thunderbolt 3 cable that works and is priced below competing brands like Apple.